Get to Know our Sustainability Officer – Amy Munro
Growing up sailing on the Solent in the UK, Amy has salt water running through her veins and a strong passion for ocean health. Get to know 11th Hour Racing Team's Sustainability Officer, Amy Munro. 
Burnham-on-Crouch / Cowes
Portsmouth, United Kingdom
Number of Years in Sail Racing:
Past Sailing Teams/Campaigns:
2015-2017 British Challenge for the 35th America's Cup
Q: Like many members of this team, you grew up with a close connection to the sea, tell us a little bit about that?
Amy Munro: So I grew up between two sailing hubs between my dad on the east coast of England in Essex, and the Isle of Wight in the south where my mum lived. Both are very connected to the water with people whose lives very much revolve around the sea. For me growing up in Essex, it was a lot of activities outside like marsh jumping, exploring creeks, and going out on dinghies. In Cowes, the sea was just ingrained in everything we did. We camped on the cliffs on the south side on the island. I also worked in a pub where we'd see a lot of sailors, boaters and people connected to the waters.
Q: Did you sail much while growing up on the Isle of Wight?
AM: For me it was a lot of dinghy racing in The Solent with RS 200/400 and later in quarter tonners. I would sail and race out of Gurnard Sailing Club and have many good memories there and being out on the water. 
Q: When did you first realize you wanted to work on environmental issues and helping the planet?
AM: Growing up on an island, I felt very connected with the marine environment. With a youth spent having fun on the water, I felt strongly that I wanted to repay some of the healing qualities that the ocean provided me. After working on a project studying the effects of Marine Protected Areas in Fiji on reef health and fisheries, I went and studied Oceanography at the University of Southampton. During that time I was lucky enough to be part of a couple of projects that spoke to me clearly about the need for a holistic approach to ocean conservation and regeneration, and the power of interdisciplinary approaches through the arts and later, through the incredible convening power of sports!
Q: What did you do for your education and how did you end up as an expert in the field of sustainability?
AM: I studied at the National Oceanographic Center in Southampton which is an amazing place to be for this kind of thing. Beyond the university, it's a place where the National Environmental Research Council is located. The world's leading scientists there and we often had impressive research vessels pull up right in front of the school. 
After university I worked on a couple of marine industry projects and got good insight into the opportunity there was to drive positive change. Then, mentored by Dr. Susie Tomson within the British Challenge for the 35th America's Cup was when I really came to grips with putting together sustainability initiatives that harness the platform of sports teams.
Q: What were some of your biggest learnings and themes from the oceanography course load?
AM: It's a lot of studying of tides, waves, large scale ocean processes, ocean-atmosphere interactions and seafloor exploration. We did one project off the coast of Italy during my time there in the Ligurian Sea with a research ship called the SV Adriatica. It was a really cool hands-on project called the "environment knows no boundaries". That project and the studies in general were about promoting a collaborative, international approach to marine conservation. 
Q: You mention, ocean conservation — have you seen a change in the discourse and dialogue on the topic over the years since you started a decade ago in the field?
AM: Looking to the beginning of some of the projects that I've worked on and people were not as open to conversations – it just wasn't even part of the conversation really. But there has really been a tipping point — People are a lot more open now. They are ready to have the conversations and see the real value of a strong sustainability program whether that's a team, a business, a sporting event. It feels like we are part of a big snowball of momentum now!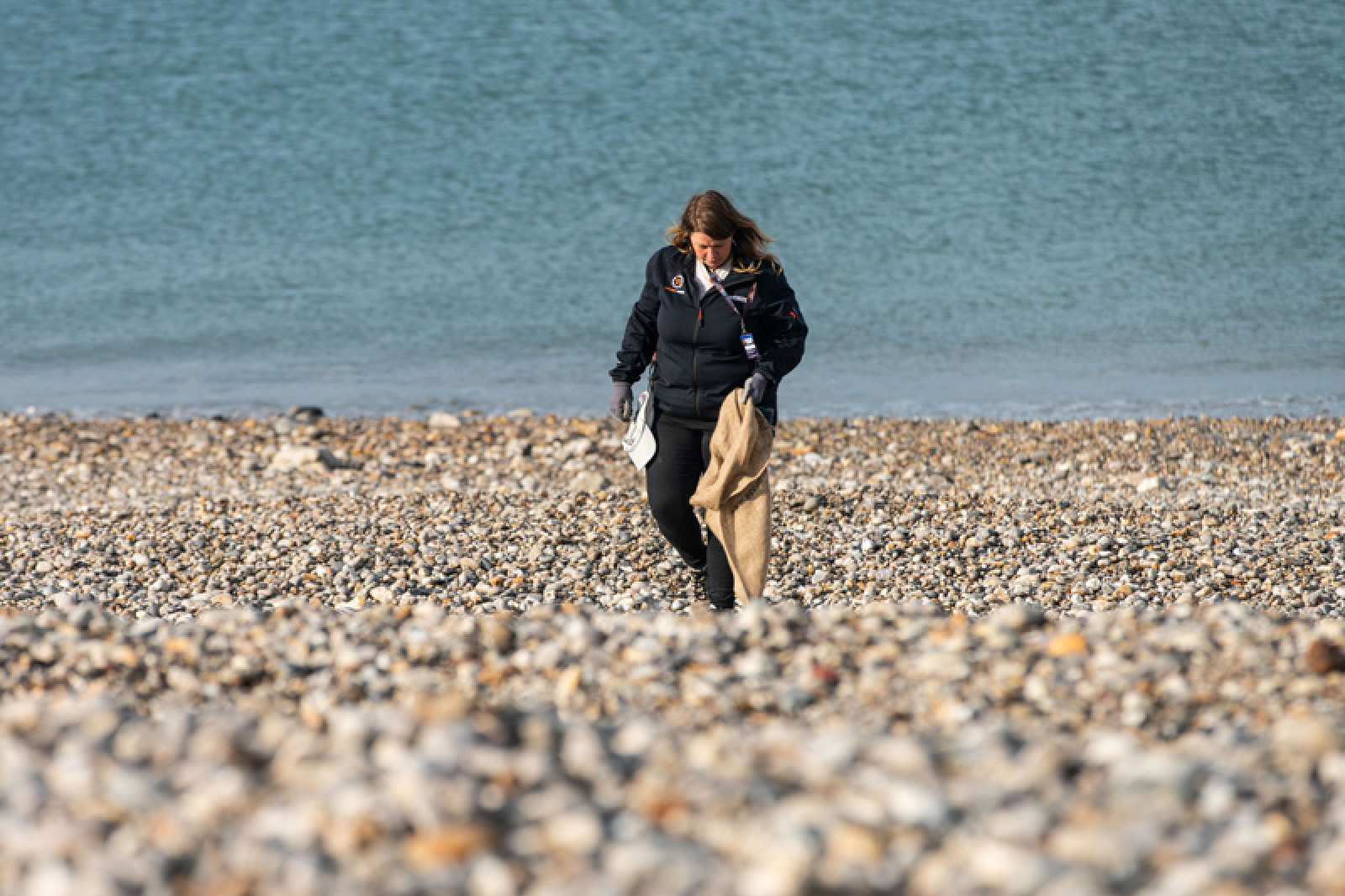 Q: Tell us a bit about your role as Sustainability Officer for 11th Hour Racing Team…
AM: Firstly, I support our Sustainability Program Manager, Damian Foxall for the team's sustainability efforts which includes the delivery of the sustainability plan, operational pieces like logistics tracking, innovation projects and technological solutions that lower our team's footprint. There's a big internal engagement piece. If you have engaged and knowledgeable team members, then everyone is tuned in and you're infinitely more equipped to come across better solutions as a group. Everyone has different knowledge spheres with how they can make an impact within their own fields for the benefit of ocean health, climate justice and our team's sustainability legacy. 
Q: So what is the focus and content of these internal engagement initiatives?
AM: It starts from the beginning with the onboarding training, in which we develop a program that people feel invested in. You want your most important stakeholders to have input into this process. If you understand their passions from the beginning, then you're tackling it as a larger team. That's the aim of the first bit. With the on-going training, we want everyone to be comfortable with the various topics that we're dealing with in regards to ocean health, and highlight general approaches on on topics that relate to our team activities — circular economy principles, life cycle assessment, biomimicry – looking at how can we use our skills and platform to amplify our impact. That's the goal of our 'Ocean Hour Sessions', that we host each month to engage our team.
Q: What would you say to other teams, sports events, organizations or even companies interested in adopting similar sustainability initiatives like the #oceanhour concept?
AM: Well, you can head first to our 'How-to Series'. We're working on a set of resources for teams, sports events and even companies to do just that. Understanding what your starting point is and what your benchmarks are and then explaining the steps to creating a vision and a mission…how you would go about that. This is a great way to help people get started.
Q: Tell me the five small things that you do (or anyone else can do) to live more sustainably?
AM: Well this is an interesting question for me because I believe that we are not just consumers, there are a number of things we can do at home but don't forget to take sustainability to your workplace. 
First, take in nature – any way that you can reconnect with nature and with the emotional benefits that the outdoors gives us will provide motivation to want to care for your environment in return.
Second, I tell people to switch to a 100% renewable energy provider (not just a green tariff), if that's at all possible. This is an easy one that can immediately halve your personal carbon footprint. 
Third, grow don't mow. There's an incredible amount of biodiversity in your backyard so let your wildflowers grow. Think about having some little bee and insect gardens or bee-friendly plants for your backyard  garden (or window sills even). They are so important to the eco-system where you live.
Fourth is rethinking waste. Could you lease instead of purchase? Can you find local clothes swap sites? Or, think about visiting your local waste sorting facility. You'll be amazed at how understanding what happens to your waste impacts how you produce it.
Fifth, support independent shops that stock locally sourced products. Whether that's selecting MSC certified locally sourced seafood or finding a waste free refill store for your cleaning products. Support your local community!
Q: What's been your go-to activity during the recent lockdown?
AM: I've been impulse purchasing house plants [laugh]. Also, doing some painting to slow things down. I like to do life drawings via Zoom where you have a portrait model with a teacher and others and do the drawings together.
Q: What are you most excited about for the next Ocean Race and is there a particular stopover you are most looking forward to?
AM: I'm really most excited about the intense team atmosphere that you get in building up to something like this. All the stopovers will have their unique qualities, I'm guessing. I have a big affinity for islands so in that case, for me, Cabo Verde just stands out as one I have highlighted on my calendar!