Kristi Wilson

Digital Media Director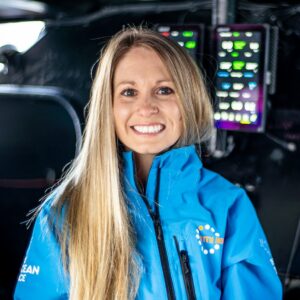 Any place I live I encourage recycling in the household and teach the people in my life about the importance of avoiding single-use plastics. When I refuse a bag or water bottle, I explain why to help encourage the person to think twice in the future.
THE OCEAN RACE EXPERIENCE:
2014-15 Team Alvimedica
WHAT IS YOUR FAVORITE WAY TO CONNECT WITH THE OCEAN?
Being out at sea in the open ocean. Sunrise and sunset are my favorite times of the day.
IF YOU WERE A MARINE ANIMAL WHAT WOULD YOU BE?
A dolphin – they have the unique ability to make anyone happy when you are in their presence. Dolphins are one of the smartest marine animals and also the most playful!
SHARE A FUN FACT ABOUT YOU AND SAILING:
I have over 50,000 miles of offshore sailing experience and circumnavigated the planet in the 2013-14 Clipper Round the World Race.