11th Hour Racing Team announces partnership with luxury Swiss watchmaker Ulysse Nardin
With a shared commitment toward positive impact for ocean health, Ulysse Nardin and 11th Hour Racing Team join forces to promote awareness of climate change and ocean health.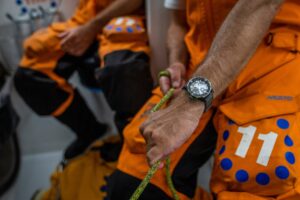 11th Hour Racing Team has announced that luxury watchmaker Ulysse Nardin will join the team as Official Timekeeper. Both share an intrinsic connection to the ocean and champion a message of the importance of ocean health for everyone.
Ulysse Nardin recently announced its role as the Official Time Partner of The Ocean Race and now they are excited to support one of the race's competing teams.
Since its founding in 1846, the brand has historic ties to the maritime world having designed and manufactured some of the world's most accurate mechanical marine chronometers allowing for precise nautical navigation and exploration. Today, Ulysse Nardin honors this tradition and passion for the world's ocean seen both in its use of sustainable materials in the contemporary collections and through the brand's partnerships. 
11th Hour Racing Team is the only US team taking part in The Ocean Race 2022-23—billed as the world's longest and toughest sporting event. With a home base in Newport, Rhode Island, the team has sustainability ingrained at the core of all team operations and the five-strong crew of professional sailors are supported by an international shore crew. The sailors will race their foiling 60-foot race boat, Mālama, 31,700 nautical miles [59,000 kilometers, 36,000 miles] around the world through some of the most inhospitable waters on the planet including the notoriously tough Southern Ocean, inspiring positive action for long-lasting change for ocean health.
Patrick Pruniaux CEO of Ulysse Nardin North America, said, "11th Hour Racing Team is the ideal partner for our brand. Like us, they are explorers. We strive to innovate through use of novel materials that lessen our impact on the environment and 11th Hour Racing Team employs cutting edge technology that proves sustainability can win the race."
11th Hour Racing Team founder, Mark Towill, commented, "Time is ingrained in everything we do at 11th Hour Racing Team. From the precise second we cross the startline of The Ocean Race, the hundreds of thousands of minutes we will be pushing ourselves and the boat on each leg, to the critical hour we are at in relation to climate change. We are proud to be carrying the marque of a sustainably focused brand such as Ulysse Nardin and look forward to our partnership on this epic race around the planet."