11TH HOUR RACING TEAM COMPLETES PODIUM IN AARHUS IN-PORT RACE
11th Hour Racing Team has finished in third place in the Aarhus In-Port Race, extending its lead on the In-Port Race leaderboard by 2 points over rivals Team Malizia.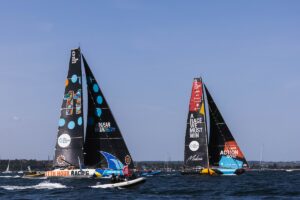 A square course was set for the four 60-foot IMOCAs, and with a building sea breeze, the conditions were stable, settling at around 10 knots (18.5kmph/11.5kmph). The teams were all reaching as they approached the start line, but 11th Hour Racing Team was late to cross, and settled into third place on the three-lap course. Despite pressure from Team Malizia behind them, there were no place changes overall. Biotherm took the top spot, with Holcim-PRB in second, 11th Hour Racing Team in third, and Team Malizia in fourth.
11th Hour Racing Team Skipper Charlie Enright (USA) was joined by Navigator Simon Fisher (GBR), Trimmers Justine Mettraux (SUI) and Francesca Clapcich (ITA), and Meda Crew Member Pierre Bouras (FRA), replacing regular Media Crew Member Amory Ross who was injured in the last leg.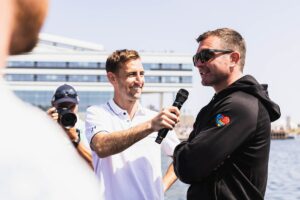 A pragmatic Enright spoke live from the water after they had crossed the finish line, "Not the best result, actually, to be honest, the worst result for us thus far in the In-Port Race Series. We have to be consistent, and we didn't lay an egg today, but we kept the boat we wanted to keep behind us, behind us. It was too conservative from me on the start line, but a great job from everyone down below to keep us in it. We took care of business in some ways, but plenty of room for improvement in others."
The In-Port Race Series provides the crucial tie-breaker in the event of teams finishing with the same points at the end of Leg 7 in Genoa, Italy. 11th Hour Racing Team currently leads the overall series, just one point ahead of Swiss entry Team Holcim-PRB and four points ahead of Team Malizia.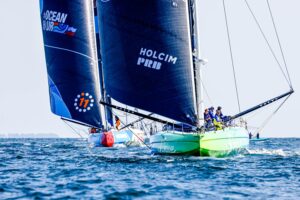 "Charlie is very analytical," commented 11th Hour Racing Team CEO, Mark Towill, on the live broadcast. "We have been on a mission to get better every single day. Top to bottom, inside out, and through all departments. It's continuing to work for us, there will be lessons that we can take away from today and bring forward to the next leg."
Today was the last day of racing for the team's Swiss Trimmer, Justine Mettraux, who, after sailing onboard for the longest-ever leg in the race from Cape Town, South Africa to Itajaí, Brazil, and the crucial double-pointer leg from team home town Newport, Rhode Island to Aarhus, Denmark, will step off the boat for the last time to focus on her Vendée Globe campaign.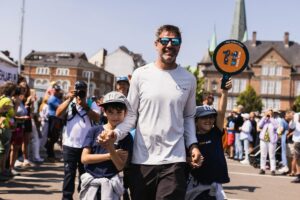 Simon Fisher, who sailed double-handed with Mettraux in last year's Transat Jacques Vabre shared how he was going to miss her knowledge and experience within the team. "JuJu is a fantastic sailor, and she has been a big part of our team. I was lucky enough to sail with her in the double-handed races, and so I have sailed a lot of miles with her now.
"I think when you first meet JuJu she comes across as quite quiet, and you might think she's shy, but actually, she's a force to be reckoned with. She really is a fierce sailor, hugely determined, very, very diligent, and strong. She has been a huge asset to the team, and I look forward to having her back with us all at the end in Genoa."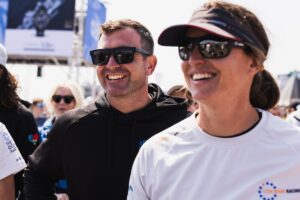 11th Hour Racing Team's full onboard line-up for the quick three-day hop to The Hague, The Netherlands, will be announced in the coming days.
11th Hour Racing Team Crew for Aarhus In-Port Race:
Charlie Enright (USA) – Skipper
Simon Fisher (GBR) – Navigator
Justine Mettraux (SUI) – Trimmer
Francesca Clapcich (ITA) – Trimmer
Pierre Bourat (FRA) – Media Crew Member
In-Port Race Leaderboard:
5 points = first; 4 points = second etc.
1. 11th Hour Racing Team – 20 points (4+4+5+4+3)
2. Team Malizia – 18 points (5+3+3+5+2)
3. Biotherm – 14 points (3+0+4+2+5)
4. Holcim-PRB – 14 points (0+5+2+3+4)
5. GUYOT environnement – team Europe 5 points (2+2+1+0+0)
Overall Leaderboard:
5 points = first; 4 points = second etc.
Note: Leg 3 and Leg 5 socred double points
1. 11th Hour Racing Team – 28 points (4+3+3+3+5+10)
2. Team Holcim – PRB – 27 points (5+5+5+4+8)
3. Team Malizia – 24 points (3+2+4+5+4+6)
4. Biotherm Racing – 13 points (2+4+2+2+3)
5. GUYOT environnement – Team Europe – 2 points (1+1+0+0+0+0)
The Ocean Race 2022-23 Route:
Leg 1: Alicante, Spain to Mindelo, Cabo Verde
Leg 2: Cabo Verde to Cape Town, South Africa
Leg 3: Cape Town, South Africa to Itajaí, Brazil
Leg 4: Itajaí, Brazil, to Newport, Rhode Island
Leg 5: Newport, Rhode Island to Aarhus, Denmark
Leg 6: Aarhus, Denmark to The Hague, The Netherlands (with a flyby past Kiel, Germany)
Leg 7: The Hague, The Netherlands to Genoa, Italy