11TH HOUR RACING TEAM SECOND IN THE HAGUE IN-PORT RACE & EXTENDS LEAD AT TOP OF IN-PORT RACE LEADERBOARD
11th Hour Racing Team has finished second in The Hague In-Port Race, the crucial short-course race series which decides the result of a tie-break in the event of equal points on the overall leaderboard. The US team now has an unassailable lead – nine points – in the In-Port Race Series over overall top spot rivals Holcim-PRB, which means that the Swiss team will have to beat the US team by more than two boats in the final leg, and any tie would be broken in 11th Hour Racing Team's favor.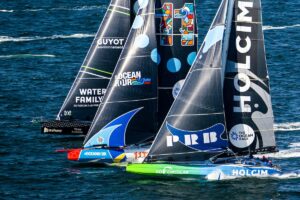 The crew onboard Mālama for this In-Port Race saw a return to the Leg 1 crew, with Skipper, Charlie Enright (USA), joined by Navigator Simon Fisher (GBR), Trimmers, Jack Bouttell (AUS/GBR) and Francesca Clapcich (ITA), and Media Crew Member, Amory Ross (USA). This will also be the crew line-up for Leg 7.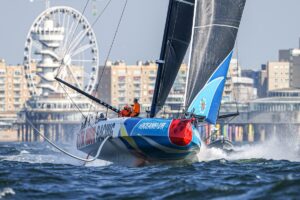 It was an exciting and quick race on the water for the spectators – just a little over 18 minutes in total – with 11th Hour Racing Team first across the startline. But GUYOT environnement-Team Europe also had a brilliant start as the windward boat and, with the boats sailing at pace, the French entry couldn't be caught and dominated the race throughout, taking the top spot on the podium.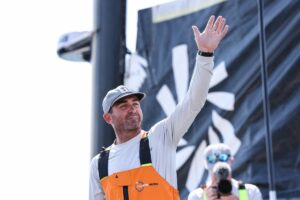 It was a battle for second, with Team Malizia taking an early gybe to slip inside of 11th Hour Racing Team, but the gesture was returned just before the end of the first lap, and the US team was able to hold on to the second spot all the way to the finish.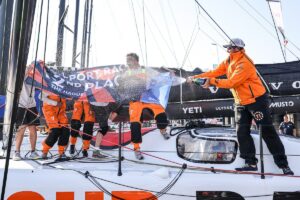 "That was an In-Port version of the leg we have just sailed – full-on!" said Skipper, Enright. "It was really intense, windy, and all the boats were jockeying for position. The start was in 20 knots of wind [23mph | 37 kmph] and at Marks 1 and 2 we were in 25 knots [28mph | 46kmph]. The whole team did a great job today. We got really close to the starting line but we were able to get over the top of Holcim-PRB and put it away early. Malizia got around us but we got them back and added another point on them on the scoreboard as well."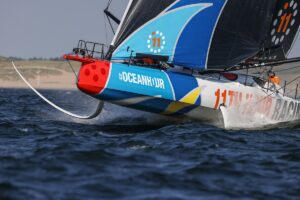 The final leg of the round the world race will decide who is the overall winner of the world's longest and toughest team event, with five points available to the first placed boat, four to second etc. 11th Hour Racing Team currently leads overall by two points ahead of Team Holcim-PRB on 31 points, with Team Malizia on 27 points.
The five IMOCAs will depart The Hague on Thursday, June 15 for the 2,200 nautical mile [2,532 mile/4,074 kilometer] leg to Genoa, Italy, with an ETA of June 25.