11TH HOUR RACING TEAM WINS CRITICAL DOUBLE-POINTER TRANSATLANTIC SPRINT
At 0256 UTC (0456 local), 11th Hour Racing Team crossed the finish line of Leg 5 of The Ocean Race 2022-23 in Aarhus, Denmark, closing out the critically important double-pointer leg in first place, bagging the full ten points. After sailing for 7 days 8 hours 41 minutes, and 49 seconds and with back-to-back leg wins, the US team now lies first on the overall race leaderboard with 28 points, one point ahead of second placed Holcim-PRB, with Malizia in third on 24 points.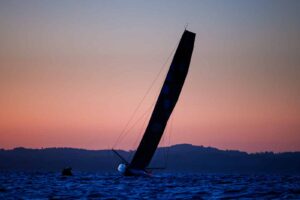 The crew onboard 11th Hour Racing Team's IMOCA, Mālama were skipper Charlie Enright (USA), Navigator Simon Fisher (GBR), Trimmers Justine Mettraux (SUI) and Charlie Dalin (FRA), and Media Crew Member Amory Ross (USA).
On reaching the dock in Aarhus, Enright said, "It feels great to be here! I couldn't have imagined a better outcome. We positioned the boat well, we sailed the boat fast, and we didn't have any technical issues. We knew when we needed to push and when we needed to preserve. We didn't open the tool bag once and that really shows the hard work the tech team put into the preparation in Newport. It was an awesome win for the whole team!"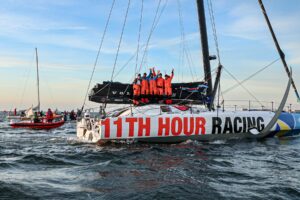 The team left its home town of Newport, Rhode Island, on Sunday, May 21 and dominated for nearly all of the 3,874 nautical mile [4,458 mile, 7,174 kilometer] leg, leading the four-boat fleet across the Atlantic back to Europe for the first time since the race set off from Alicante, Spain, on January 15.
In an incredibly tight battle across the Atlantic, the top three teams each posted record-breaking 24-hour distances, taking advantage of the North Atlantic's downwind reaching conditions, with 25-27 knots of breeze and a relatively calm sea state.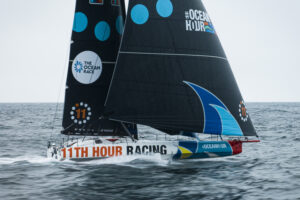 11th Hour Racing Team was the first to break a record, setting a new 24-hour IMOCA distance record of 611.9 nautical miles. However, this was soon surpassed first by Holcim-PRB racking up a mammoth 640.9nm, then by Team Malizia eeking past with 641.13nm, both of which beat the outright 24-hour monohull distance record of 618.01 miles set by the 100-foot maxi yacht Comanche in 2015.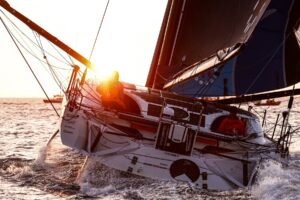 Navigator Simon Fisher (GBR), sounding exhausted, was clearly delighted with the win, "That was really, really tough. It was an important leg and we knew we had to go out and win it to keep ourselves in the race. To arrive here as the first boat after what was a pretty challenging leg was absolutely spectacular.
"We had a lot of wind over the top of Scotland and were sailing in pretty challenging conditions at times. We were in a situation where we knew we probably weren't the strongest player in terms of boat speed, but we grabbed the opportunities – both the attacks and the threats – and really lent on the tactics. We took the fight to our competitors and kept pushing, even when the conditions were really tough. Everyone did a stellar job dealing with the boat in some pretty horrendous conditions and that was what set us up for the win," Fisher concluded.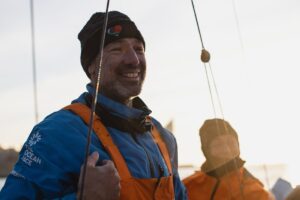 Amory Ross (USA), the team's media crew member, and Charlie Dalin (FRA), the double IMOCA World Champion who joined the crew for this transatlantic leg, were both injured in an incident on the afternoon Thursday, May 25, when the team activated its Hazard Button to alert Race Control and the wider fleet they had hit something, suspected to be a marine mammal or megafauna. The crew were all shaken by the incident and the team will follow best practices, reporting the suspected strike to the International Whaling Commission.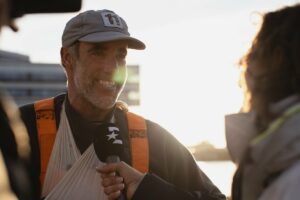 Ross, who had been confined to his bunk for the past four days, left the boat in Aarhus with a big smile and his arm in a sling due to a shoulder injury. "It has been a tough four days in the bunk," he commented. "It was unpleasant, but also the safest place for me to be in the relentless conditions we were experiencing where you need two hands at all times to be moving around.
"As much as I wanted to be with the team and telling the story of this amazing leg and the speeds and the battle at the front, I just couldn't. I'm grateful to the group for looking after me as well as they did and I'm thankful to be able to see all the hard work paying off, leading this leg for almost its entirety. I spent a lot of time in the bunk this time listening instead of seeing, and the communication, the motivation and the expertise was really something. It was great having a rejuvenated Ju Ju [Justine Mettraux] back onboard and you'd never know Charlie Dalin was a shorthanded guy: he fit in so well. The whole effort has been collaborative and I'm lucky to have witnessed it all play out," Ross concluded.
For Dalin, this leg with 11th Hour Racing Team was the first time he had sailed IMOCAs competitively with a full crew, more used to sailing solo or double-handed. "I really liked the way you sail hard all the time. The speed of trimming and fast manoeuvers I enjoyed, they were really well executed, it was almost choreography. Everyone knew their jobs and when you decide to change sails for example, or gybe, it's so fast, you hardly slow the boat down.
"When you are solo, you are always on the edge, always tired, but in a team, you have the time to think about what you can be doing to sail faster. Fully crewed, on deck your only job is to sail fast and then you can sleep for a few hours, recover from your watch, and then you are very fresh when you are trimming the boat and can push the boat faster again. The crew onboard was fantastic, we've all got on really, really well and I think we matched our skills well."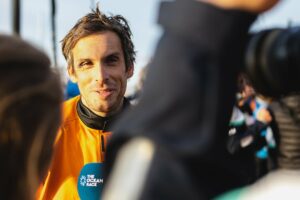 11th Hour Racing Team.arrive first into Aarhus, Denmark winning leg 5 the Ocean Race. May 29 2023. Aarhus, Denmark
Both Dalin and Ross will be checked over by the Race medics in Aarhus.
For Justine Mettraux, this transatlantic leg was her last onboard Mālama, having been a core member of 11th Hour Racing Team since 2020, co-skippering in the 2021 Transat Jacques Vabre with Simon Fisher, and sailing the longest leg in the history of The Ocean Race, from Cape Town, South Africa, to Itajaí, Brazil.
"We had a really good balance between all the sailors onboard during this leg," she shared from onboard, just before the boat docked. "It was great to have Charlie Dalin with us – he brought new points of view and other ideas on the settings and set-up which helped us and we really pushed the boat hard as well. We were all able to focus on our jobs, Si Fi had a good time focusing on the weather, and we reorganized the watches to be more efficient and it all worked really nicely.
"We are about to dock and it is probably my last day sailing on the boat and I was feeling a bit emotional coming in. It's been really nice to finish with a win and I wish everyone the very best for the rest of the race."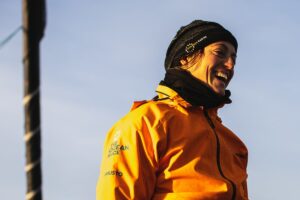 It's a short turnaround for 11th Hour Racing Team's shore crew in Aarhus with the restart of the Race for Leg 6 to The Hague, The Netherlands on Wednesday, June 8, 2023.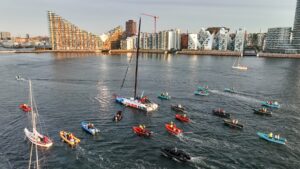 11th Hour Racing Team Crew for Leg 5 of The Ocean Race 2022-23:
Charlie Enright (USA) – Skipper
Simon Fisher (GBR) – Navigator
Justine Mettraux (SUI) – Trimmer
Charlie Dalin (FRA) – Trimmer
Amory Ross (USA) – Media Crew Member
Overall Leaderboard
5 points = first; 4 points = second etc.
Note: Leg 3 and Leg 5 scored double points
11th Hour Racing Team – 28 points (4+3+3+3+5+10)

Team Holcim – PRB – 27 points (5+5+5+4+8)
Team Malizia – 24 points (3+2+4+5+4+6)

Biotherm Racing – 13 points (2+4+2+2+3+TBC)

GUYOT environnement – Team Europe – 2 points (1+1+0+0+0+0)
In-Port Race Leaderboard
5 points = first; 4 points = second etc.
11th Hour Racing Team – 17 points (4+4+5+4)

Team Malizia – 16 points (5+3+3+5)

Holcim-PRB – 10 points (0+5+2+3)

Biotherm – 9 points (3+0+4+2)

GUYOT environnement – team Europe 5 points (2+2+1+0)
The Ocean Race 2022-23 Route:
Leg 1: Alicante, Spain to Mindelo, Cabo Verde
Leg 2: Cabo Verde to Cape Town, South Africa
Leg 3: Cape Town, South Africa to Itajaí, Brazil
Leg 4: Itajaí, Brazil, to Newport, Rhode Island
Leg 5: Newport, Rhode Island to Aarhus, Denmark
Leg 6: Aarhus, Denmark to The Hague, The Netherlands (with a flyby past Kiel, Germany)
Leg 7: The Hague, The Netherlands to Genoa, Italy