A SMALL ORGANIZATION WITH A BIG MISSION
Meet the non-profit organization Biosfera, a small group of people on a mission to change the future of Cabo Verde.
For each of the stopovers of The Ocean Race 2022-23, 11th Hour Racing Team is supporting a local grassroots organization to drive positive change and take action for ocean health as part of our Legacy Grantee Program. 
If you speak to our team they'll tell you the time for 'raising awareness' is over, it's now time for concrete action. This might sound stark to those who are only just coming around to the idea of a more sustainable future, however, for the people and organizations (such as Biosfera) who have been driving change and pushing their vision of the future forward for years, the time to act on a mass scale can't come soon enough. 
What is the Legacy Grantee Program? 
"One of the pillars in our sustainability plan is to leave a clear legacy, and that's what the Legacy Grant Program allows us to do," explains Meredith Carroll, who is managing the Program for 11th Hour Racing Team. We have identified organizations in The Ocean Race stopovers that are working on local solutions to the global problem of ocean health, and we support these NGOs on their journey. 
"Our support is both financial and in-person with an onsite event organized by the grantee, which involves us getting hands-on with something practical at their request and that supports their initiatives – perhaps a beach clean-up, or the chance to bring our platform, voice, and audience to support something they may be campaigning for.
"When we were discussing our core values as a team we felt really strongly that when it came to the stopovers, we didn't want to just arrive and disappear."
​​Biosfera's grant backs a 12-month-long project that combines a variety of in-the-field and educational activities to tackle the pollution problem facing Cabo Verde's shorelines. 
"Working with 11th Hour Racing Team has allowed us to implement our strategy to tackle the issues related to marine and plastic pollution," Leila Teixeira who coordinates the Marine Pollution Department at Biosfera explains. "We are able to work alongside local and fishing communities to develop alternatives to single use plastics, while also engaging with students and teachers with strong awareness and educational sessions. None of this would be possible without the support of the Team." 
Trouble in paradise
The Cape Verde archipelago is a global marine biodiversity hotspot, supporting a wealth of endemic marine species, including 17 types of whales and dolphins, more than 60 shark and ray species, and five species of marine turtles including one of the three largest nesting populations of loggerhead turtles in the world. 
Sounds idyllic, right? 
It is. However, this vitally important ecosystem is threatened by a steadily increasing pollution problem, notably caused by plastic and ghost gear (derelict fishing gear) that get washed up on the archipelago's shores. Due to its exposed location in the Atlantic, marine debris from "literally all over the world" accumulates here, Leila continues. "There is so much trash on our shores that you can find birds' breeding nests completely made out of plastic debris, mostly fishing nets. A lot of wildlife perishes by getting entangled in these nets or ingesting small pieces of plastic. The quantity of trash we see here is overwhelming, but the bigger problem is actually what we cannot see."  
"We're working specifically with Biosfera on a Marine Pollution Action Plan to address the marine pollution issues they have here in Cabo Verde," Meredith adds.
"There are several important elements to it: the first is physical clean ups within the community, the second an educational program implemented with small business and schools, and the third is the creative upcycling of the trash items that are found, with the help of women from the local community." 
Operation clean-up
When The Ocean Race was in Mindelo, Cabo Verde, in February 2023, our team finally had the privilege of seeing first-hand the progress the Biosfera team had made by participating in one of their aquatic cleanups. 
As part of the grant project, Biosfera has undertaken nine shoreline cleanups with the local community, and four team members, who are used to being on top of the water, joined below the surface for the first aquatic cleanup organized by the NGO. The mission of the day was to clean an area of seabed right by Ocean Live Park where a large amount of debris had been disposed of, about ten meters from the shoreline. 
"Within an hour we had recovered close to half a ton of material from the seabed, mainly of car tires and ghost gear from fishing. This rubbish will now be categorized and analyzed and used as part of Biosfera's wider awareness campaign. Whilst the underwater cleanup today is just a small gesture in the context of the actual scale of work to be done, this is most importantly about linking community awareness to change policies and ensure better shore and dockside waste management. The outcome will be clean coastal waters for the coastal communities of Cabo Verde, supporting the amazing marine biodiversity of these islands." commented Sustainability Program Manager, Damian Foxall.
The importance of education
Biosfera is executing three awareness programs to promote the defense of the conservation of coastal and marine species and their habitats and to mobilize Cape Verdean civil society to protect the environment and in particular reduce pollution that disturbs marine species and habitats.
The three programs are:

Primary School Educational Program with Sao Vicente schools becoming part of the

Blue Schools

program, using educational curriculum from The Ocean Race. 

A secondary school educational program piloting a Zero Waste School Challenge to engage students on the issue in a compelling way.

A local business campaign creating a 'Good Practices' label to help and encourage establishments to adopt better habits and practices for single-use items.
Over 80 teachers in Cabo Verde are now trained to address marine pollution in the classrooms. Biosfera's awareness sessions have actively engaged over 200 school children, with 900 visiting their Ocean Live Park exhibit at The Ocean Race Stopover. 
The impact of Biosera's work and the efforts of their team stayed with our sailors, even once their attention returned to racing – as Amory Ross, the media crew member onboard Mālama wrote within the first 24 hours of leaving Cabo Verde.
"I learned a new term during my time in Cabo Verde – a LION, Large Island Ocean Nation, and all they are doing to clean up their waters regulate their fisheries, and educate their youth. It was exciting to see the school children in the race village every day interacting with the sailors, with our local partner and grantee Biosfera, and the general Ocean Race community. The partnership with Biosfera is such an important one, the world needs people and organizations like that. You could see how involved the locals were and really made us feel as though we were a part of something bigger." 
Local solutions for change
As part of Biosfera's wider 'Marine Pollution Action Plan', it also promotes a circular economy and seeks to provide employment to the islands' inhabitants. One example is the work they do with local women's groups to turn collected fishing nets into artisan objects for sale, such as produce bags and totes.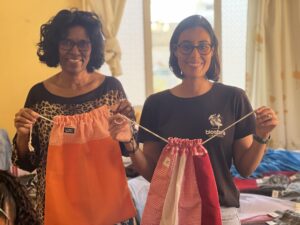 "We quickly came to learn that when people understand the consequences of their actions, they are more likely to act in a way that helps our environment, rather than harm it. And so by working with schools and local businesses, acting as a mediator between nature and humans, we are fostering a positive exchange with the local community, and in turn, they come onboard and join us as supporters and activists," explains Leila.
There will be more exciting news about  this work as our team visited the women behind the scenes of Biosfera's upcycling project.

Do you know about marine pollution? Take the Biosfera quiz here

To learn more about Biosfera, and how you can help support their work, check out their website here.