Amory Ross' Top 10 Photos from 2019
From announcing the team, to sailing double-handed in the Transat Jacques Vabre, to a crewed transatlantic on our Imoca 60, 2019 has been an epic first year for 11th Hour Racing Team. Thankfully, Amory Ross was there to capture it all on camera! He breaks down his top ten photos from the year:
1 – Team Announcement
The first photo I've taken of these two in a long time, but makes me super nostalgic and very happy. Been a long time with Charlie and Mark, going all the way back to early 2011 – and it's been an amazing 9 years. Very excited to be back together.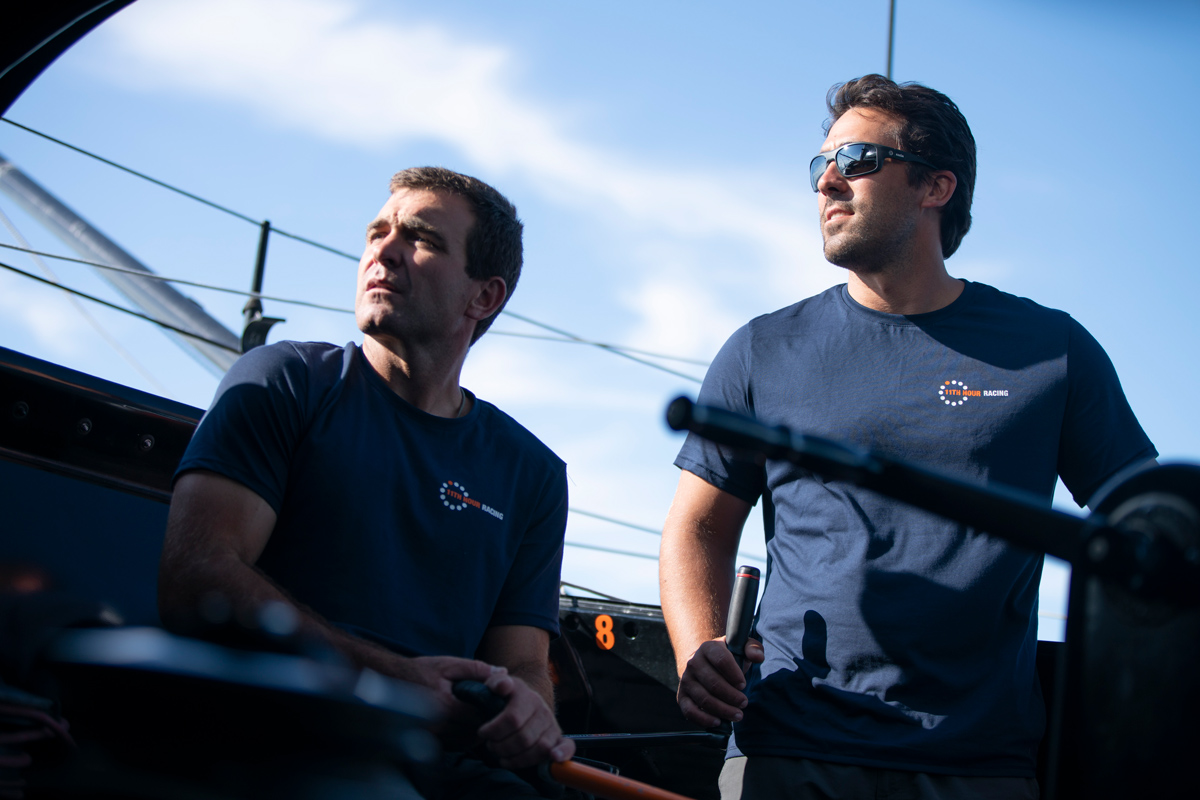 2 – August Training Sessions
Great things start from small beginnings. The team came together very quickly for the Transat Jacques Vabre buildup and after a long day on the water, nothing beats a fun post-session snack on the dock as a group. These are the kind of good times that make this race and small teams so much fun; quickly starts to feel like a family.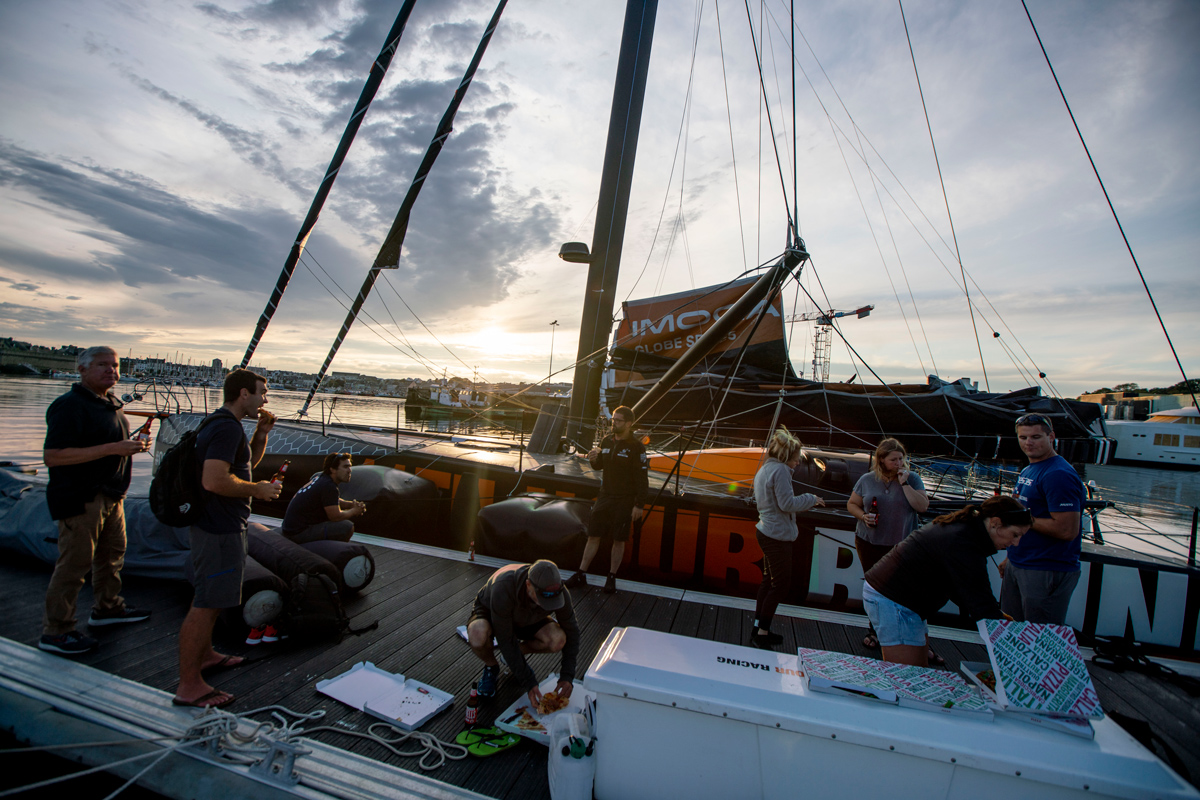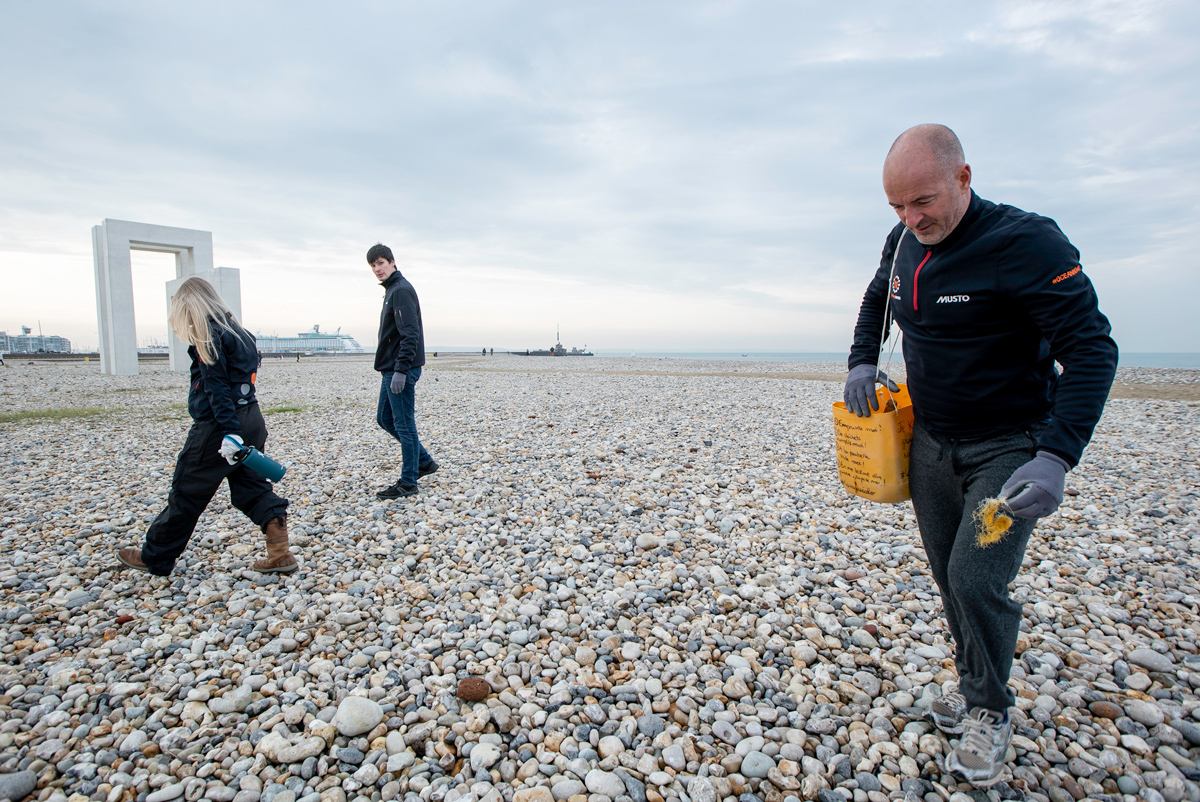 4 – Docking Out for the Transat Jacques Vabre
Charlie waving to the Le Havre crowds on the way out to the Transat Jacques Vabre start. It was the beginning of a completely new adventure for him, and very cool to see an American in the midst of a very French world. Wonder what he was thinking!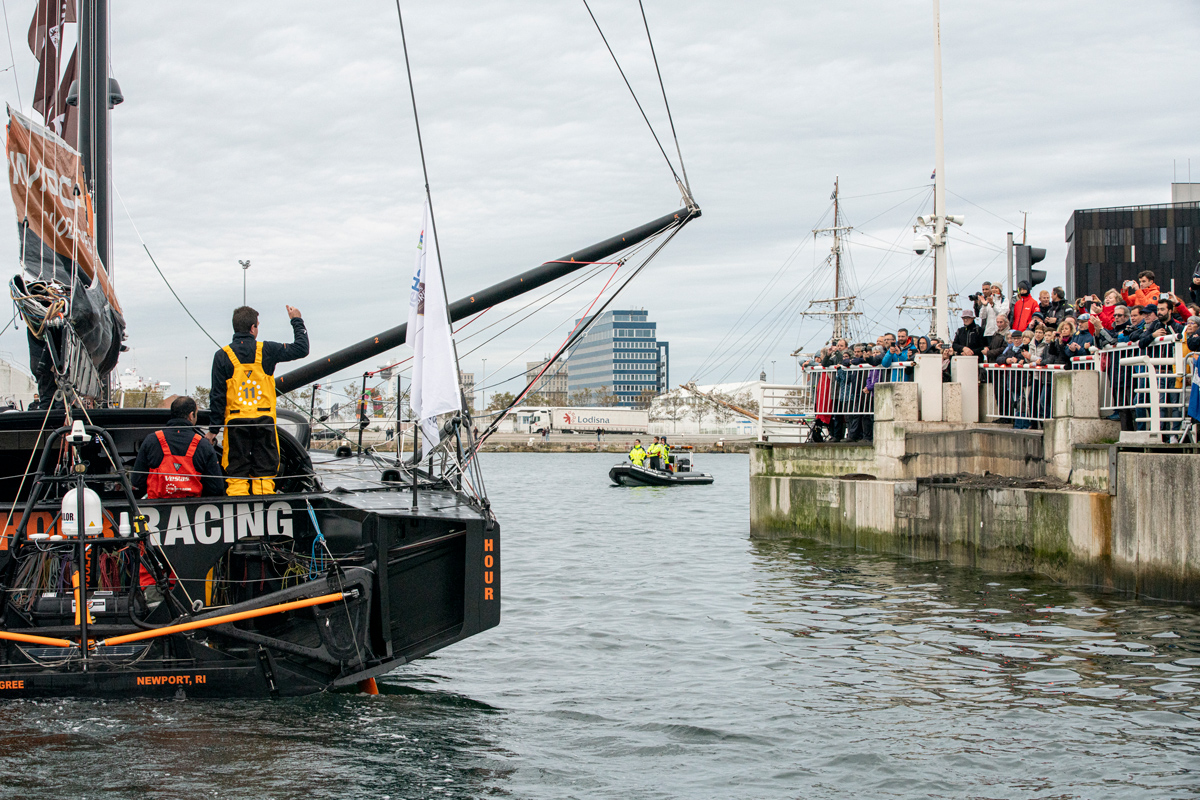 5 – Start of Transat Jacques Vabre
Pascal and Charlie are officially on their way to Salvador, Brazil, with the team from our sponsor 11th Hour Racing from Newport, Rhode Island, following behind to show their support. Always great to see a full team effort on display.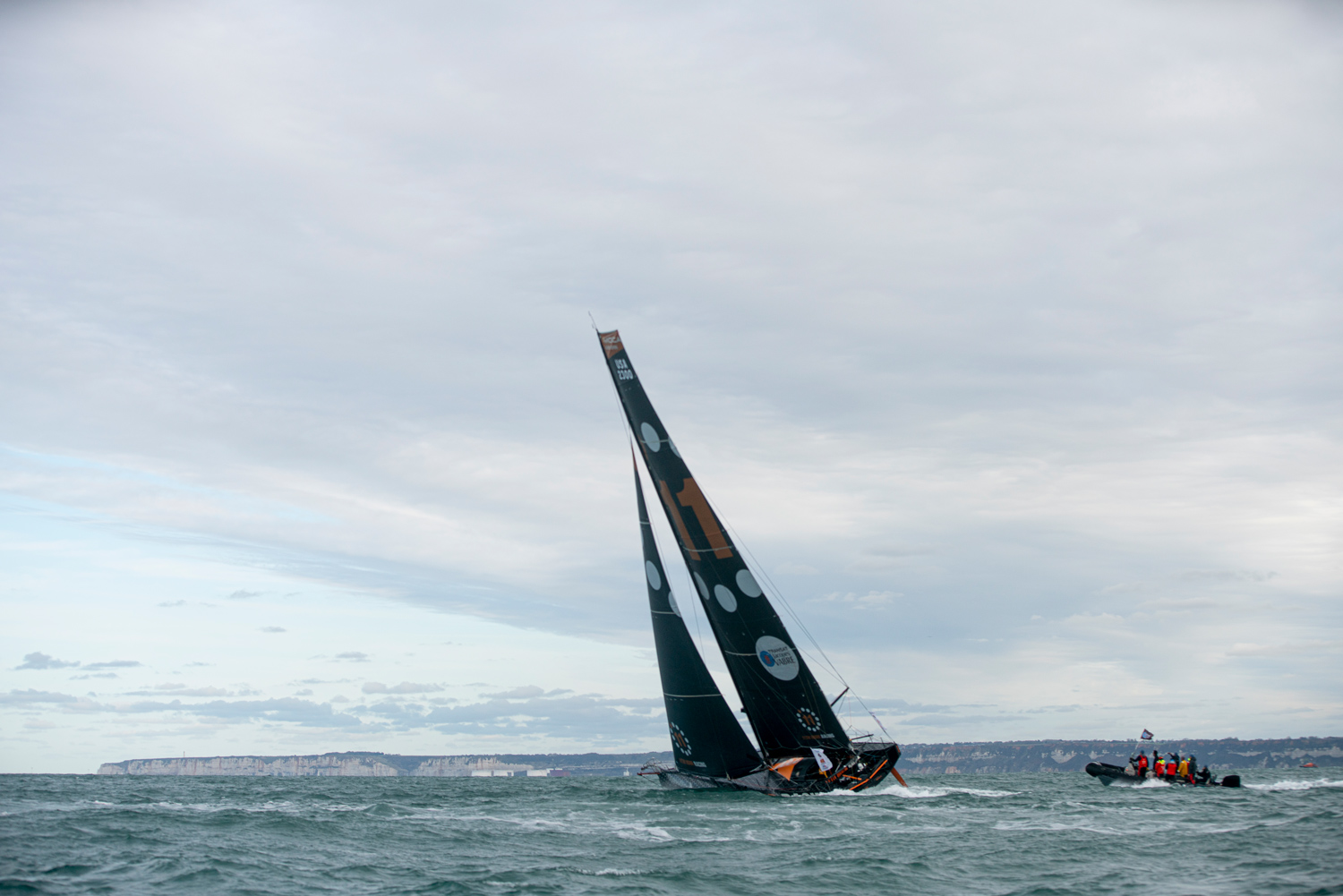 6 – Under the Coach Roof
Kyle looking through a small window while another wave cascades off the coachroof. These boats are wet and visibility is really limited. We spent 95% of our time under the roof and it's going to be a serious challenge seeing well. The existing IMOCAs prioritize autopilot but we have to learn to sail manually, and it's hard to drive well without seeing well.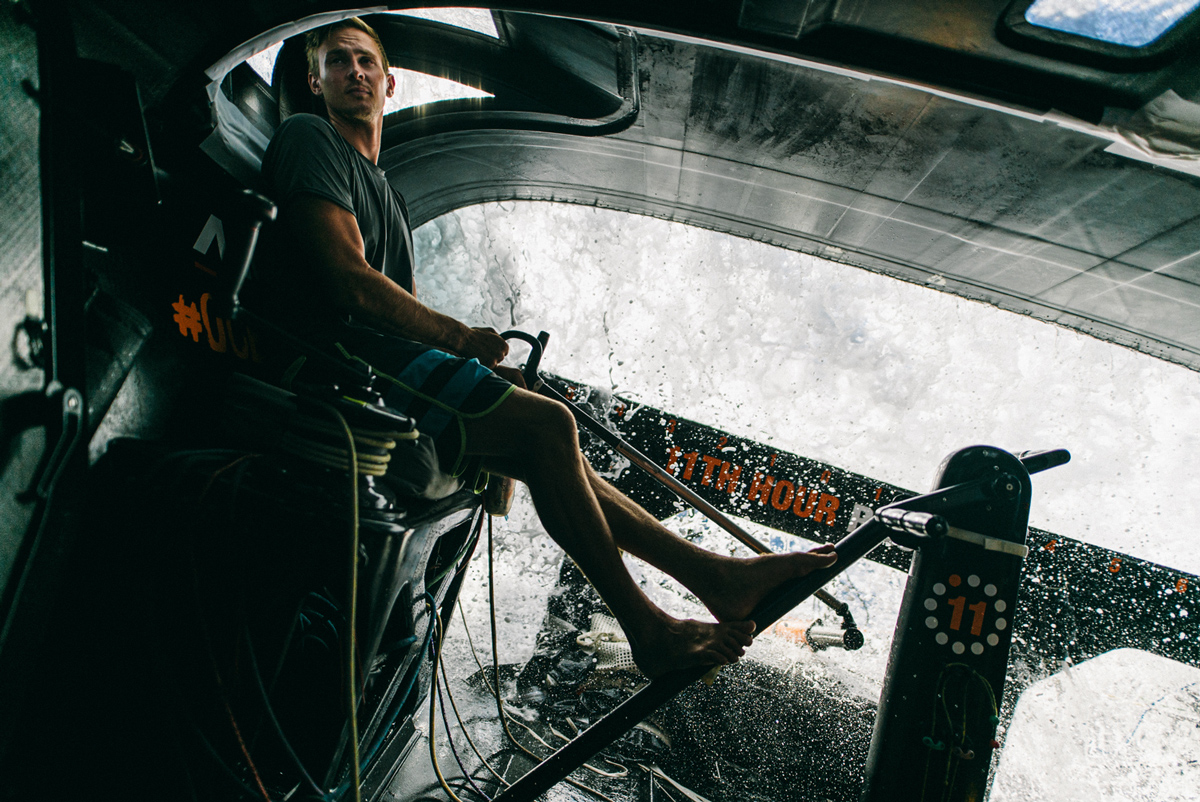 7 – Breath of Fresh Air
While Kyle and Charlie tidy up a reef, I get a rare glimpse of the horizon and take in some fresh air. The boat is so fast and so wet, and you're so vulnerable on deck, that you need to slow the boat down when you leave the cockpit. Nice to take a photo of something other than a black capsule!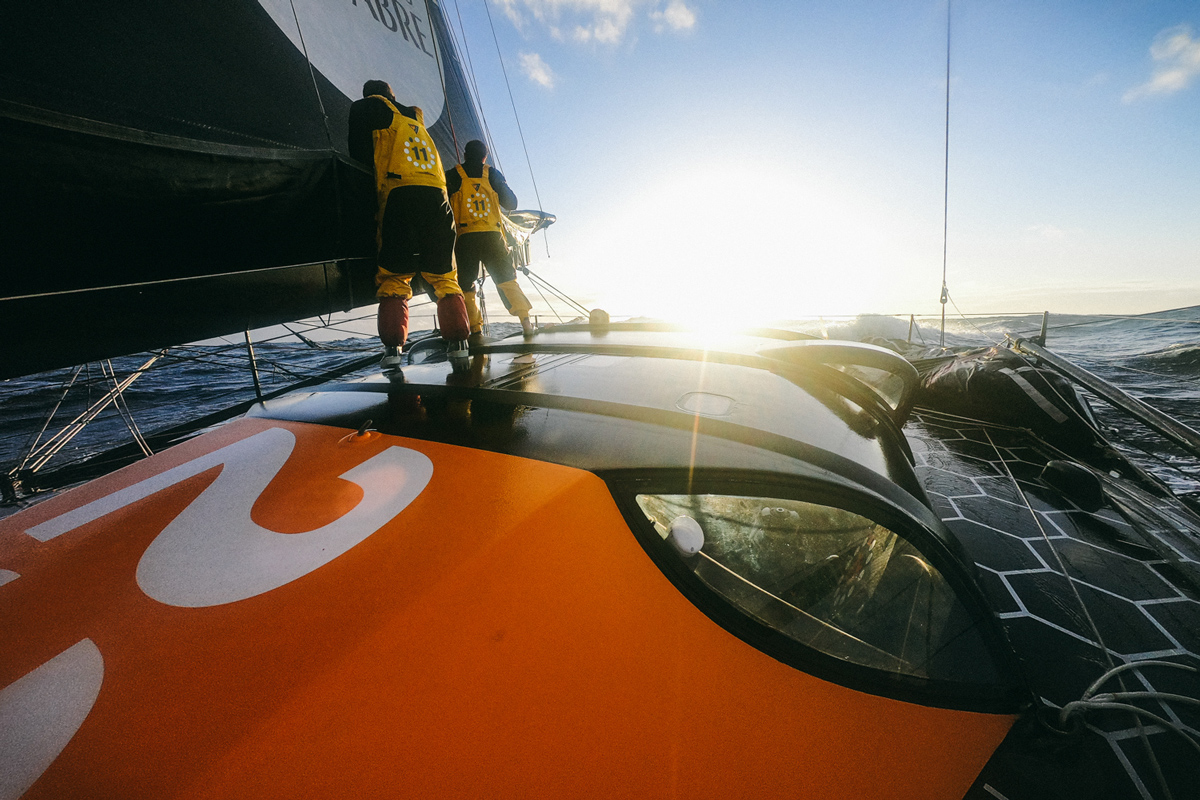 8 – Navigating Onboard
Michael running through the routing. A benefit to a smaller boat is that everything is closer. It's easy to sit at the "nav station" while on watch, communicate with the helmsman, look out the window, check sail trim – do it all while never having to leave the companionway.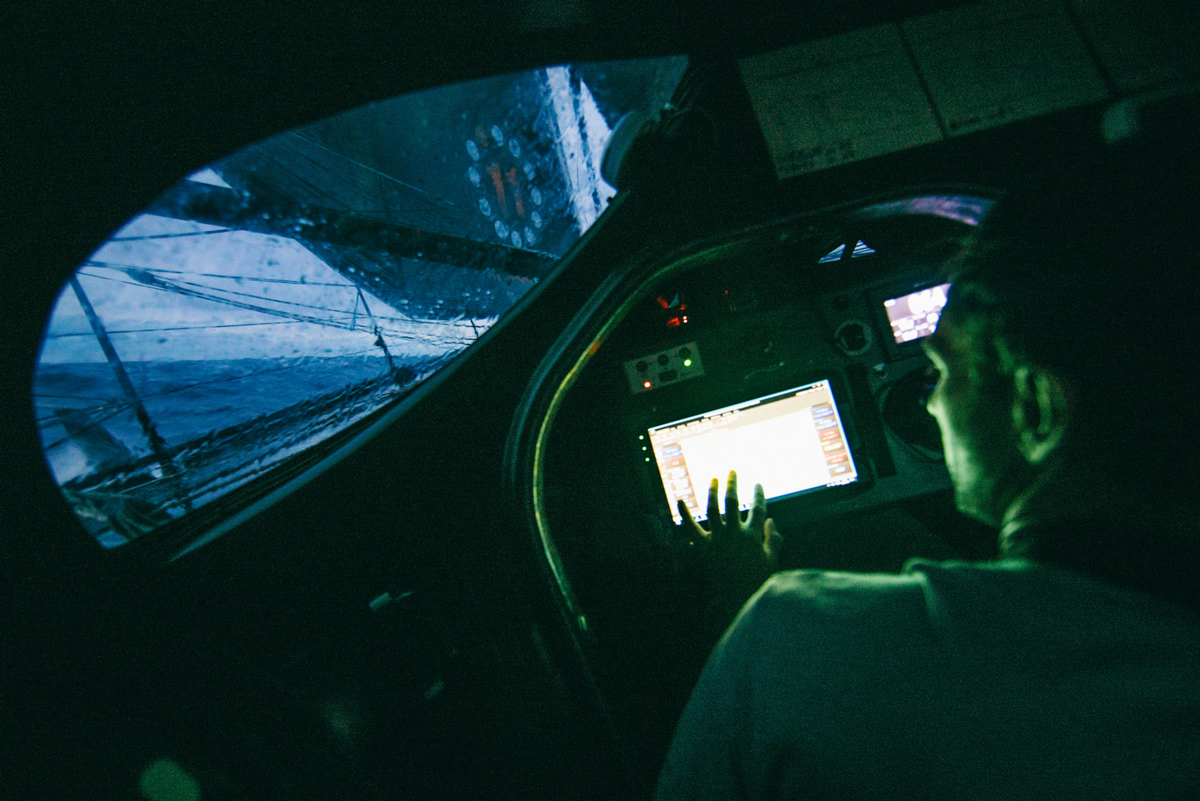 9 – A Crowded Cockpit
The smaller boat weighs you down at other times, though. Here, four people are crammed in a small cockpit with little escape after a maneuver and there's just no room. It can be crowded and claustrophobic, but there's not much you can do about it. Protection is paramount, and workable space is a limited resource.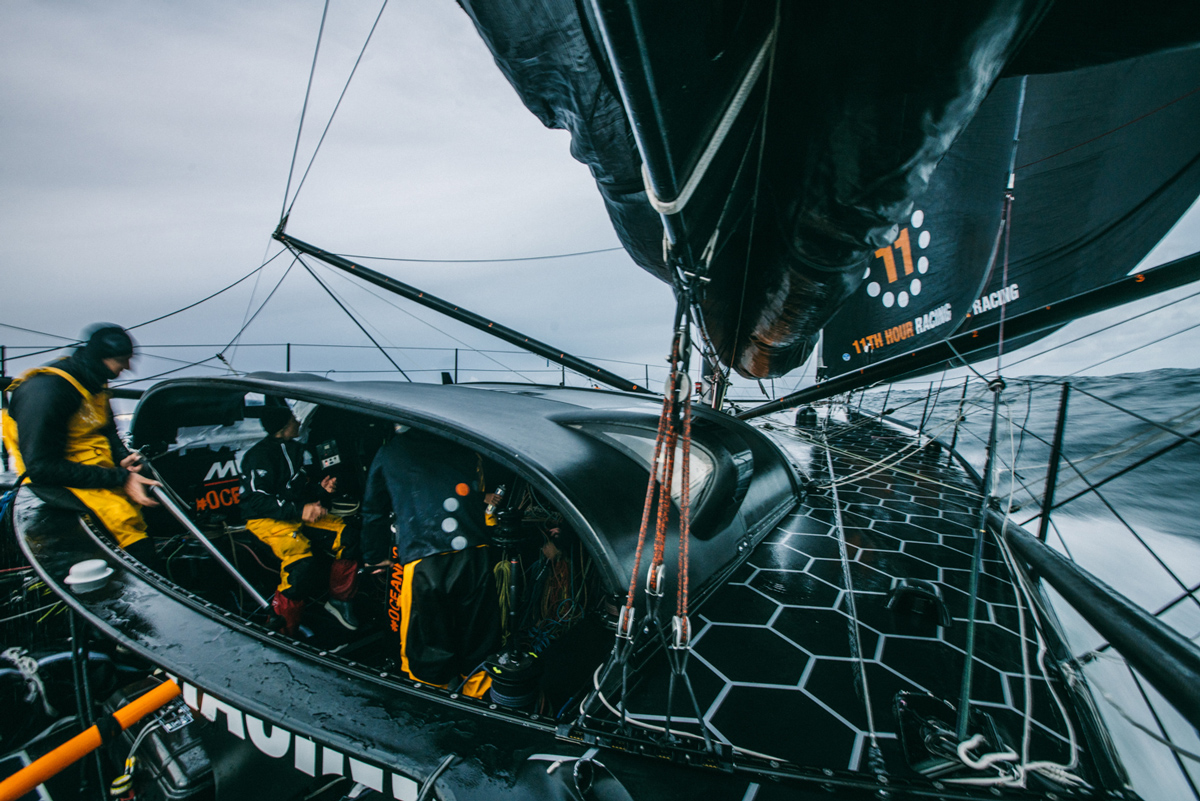 10 – A First for Everything!
My first time foiling offshore. Quite an experience. The sensation is… different. Lots of high-speed hull slapping, very few big crashes. Really, really noisy with the constant high pitched wine of the foil, especially inside.. Immediate accelerations, much like a multihull. Very little heel, very little sleep. Feels like the future!