THE BATTLE TO CONQUER THE NORTH
In brief:
11th Hour Racing Team continues to fight for the lead on Leg 4 of The Ocean Race to Newport, RI, U.S.

Skipper Charlie Enright relieved to escape the Doldrums unscathed

Sargassum weed is the current challenge as the team duels with Malizia in close proximity

Final week into Newport is fraught with navigational complexities 
In full:
Charlie Enright (USA) and the crew on 11th Hour Racing Team are relieved to have enjoyed a fairly simple ride through the Doldrums and are back into the northern hemisphere. Eleven days into the 5,500 nautical mile [10,186 kilometers / 6,329 miles] Leg 4, from Itajaí, Brazil, to Newport, Rhode Island, there's still a week of complicated racing to go. Currently the team continues to lock horns with the German entry, Team Malizia, in a close-fought duel in the Atlantic Ocean, at times racing so close they are just a couple of hundred meters apart.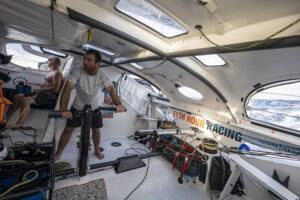 From being far too cold below 55 degrees south when rounding Cape Horn just a few weeks ago, the crew have been experiencing the polar opposite in temperature as they worked their way past the Equator in the sweatbox of a cockpit onboard Mãlama. "I think that extreme heat is worse than extreme cold because if you're hot, you can take all your clothes off, but then you have no other moves," laughed Charlie. "With cold, if you're prepared you always have more gear to put on if you need it."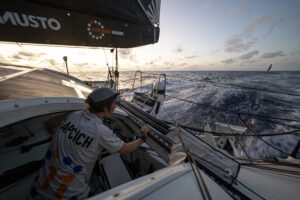 While the Doldrums have been fairly kind to the team's progress, the dreaded Sargassum weed has been as prevalent as feared for the fleet. Big clumps have been blocking their way north, and the weed can significantly sap speed if and when it gets caught around foils, rudder or the keel. "The key is speed," said Charlie. "If you're going fast enough, it's not a problem, but there's still a ton of it. There are some Sargassum islands here and there, but mostly just streams of it, usually driven by trade wind lines. If you're going fast enough, you can macerate it, but if you slow down and catch it, it aggregates. So far we've had to do three back downs for because of the weed."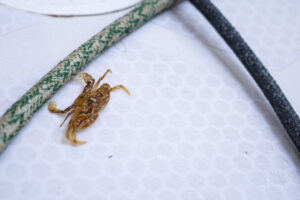 Despite the trouble with the weed, competition with Team Malizia has remained remarkably close for more than a week, with Biotherm not too far behind in third place. Charlie has been pleased with their speed. "The performance of the boat has been quite good relative to the competition in tight reaching conditions, now that we're experiencing a little bit more sea state and putting the bow down and dragging the stack [of spare sails and other heavy equipment] back. 
"It has been tight with Team Malizia for days, and for the most part, we've always been to their west, and we've seen them go from 50 bearing to 150 bearing multiple times over the course of multiple hours and multiple days. So, it's cat and mouse between us. But I think this whole part of the competition pales in comparison to what we're going to see later in the leg. It gets a lot more complicated after our next gybe. That's when the next biggest challenge will come."
While sailing has been relatively formulaic in recent days, the weather scenario is about to get a lot more complicated. "We'll engage this high-pressure system and it will be upwind more or less to Newport. But there's a multitude of different things that have to happen after we gybe between there and the finish. There's a lot of opportunity to get these things right, but also a lot of opportunities to get them wrong. We want to find ourselves in a defensive position, but let's see."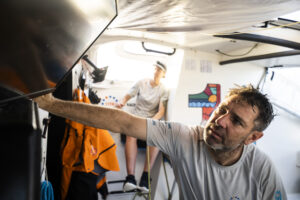 Navigator Simon 'Si Fi' Fisher (GBR) will certainly be busy looking at all the options at the nav station on the final run-in to Newport. "We still have the Gulf Stream to negotiate," explains Charlie. "For now, it looks like decent pressure [wind] to the finish, but you know, that could be totally dependent on time of day and proximity from land and various other factors. Right now, it's blowing 15 knots from the north-east, but there could be 25 knots out of Block Island, and it could be five knots in Narragansett Bay."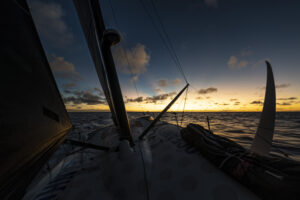 Meanwhile Charlie is enjoying sailing again with Francesca Clapcich (ITA) and new addition Damian Foxall (IRL). "Life on board with Frankie and Damian has been great. They're bringing fresh blood and fresh perspective. Frankie is obviously someone who's a bit more familiar with the boat, and Damian is someone who's just excited to go sailing again. I've never seen a man pop out of bed ready to reset the battens or change a sail quite like this guy. It's wonderful having this group onboard and hopefully we can do justice to the team in the final five or six days.
"There are plenty of complexities ahead with the most difficult phase yet to come. Previous race finishes in Newport have seen lead changes up until the final minutes of crossing the finish line. It's a game of chess the whole way home."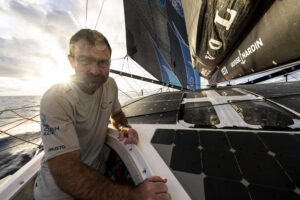 As of 1800 UTC on May 4, 11th Hour Racing Team is currently in second place, 3.2 nautical miles behind Team Malizia. The team lost the lead a few hours ago due to a forced back down onboard as a result of excess Sargassum seaweed. As of the latest update on the tracker, they are currently back sailing at 17.9 knots and fighting to regain the lead. 
Leg 4 current positions as of Thursday, May 4, 2023 1800 UTC
DTL=distance to leader
Team Malizia – Leading

11th Hour Racing Team – DTL 3.2nm

Biotherm – DTL 37.2nm

Guyot environnement – Team Europe – DTL 270.7nm

Holcim-PRB – suspended racing
11th Hour Racing Team Crew for Leg 4 of The Ocean Race 2022-23:
Charlie Enright (USA) – Skipper
Simon Fisher 'SiFi' (GBR) – Navigator
Francesca Clapcich (ITA) – Trimmer
Damian Foxall (ITA) – Trimmer
Amory Ross (USA) – Media Crew Member
Overall Leaderboard:
5 points = first; 4 points = second etc.
Note: Leg 3 was a double pointer
Team Holcim – PRB – 19 points (5+5+5+4)

Team Malizia – 14 points (3+2+4+5)

11th Hour Racing Team – 13 points (4+3+3+3)

Biotherm Racing – 10 points (2+4+2+2)

GUYOT environnement – Team Europe – 2 points (1+1+0+0)
The Ocean Race 2022-23 Route:
Leg 1: Alicante, Spain to Mindelo, Cabo Verde
Leg 2: Cabo Verde to Cape Town, South Africa
Leg 3: Cape Town, South Africa to Itajaí, Brazil
Leg 4: Itajaí, Brazil, to Newport, Rhode Island
Leg 5: Newport, Rhode Island to Aarhus, Denmark
Leg 6: Aarhus, Denmark to The Hague, The Netherlands (with a flyby past Kiel, Germany)
Leg 7: The Hague, The Netherlands to Genoa, Italy