CAPE HORN IS BEHIND THEM, AND THE RACE NORTH BEGINS
Rounding Cape Horn is one of the great moments of any sailor's career, although the enjoyment tends to come later, a few weeks, months or even years later, according to skipper Charlie Enright (USA). Mālama passed the most iconic landmark of The Ocean Race at 1255 UTC on Tuesday March 28 after almost exactly 30 days at sea since the start of Leg 3 from Cape Town. More than 10,000 nautical miles [11,507 miles or 18,520 kilometers]of tough, unrelenting sailing completed in the past month. Yet still a long way to go, which is why celebrations were completed fairly quickly before the crew put their mind back to the hard business of sailboat racing.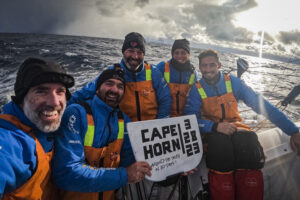 "You take a moment to celebrate, have a drink of rum, but soon remind yourself that there's still 2,000 nautical miles [2,300 miles or 3,704 kilometers] of racing to be done," says Charlie. "You don't really tend to realize the moment, the magnitude of what you've achieved until you reach Brazil. Or when you're at home, sitting on the couch watching the football – and you look over and see that picture of yourself on the wall, of that moment when you rounded the Horn, and you know you accomplished something great."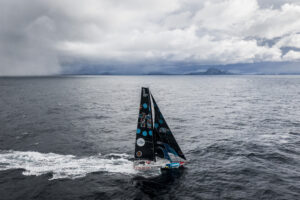 All of the crew on Mālama have passed Cape Horn at least once before, except for Justine 'Juju' Mettraux (SUI), who has just completed her first rounding at the bottom of the American continent. "We followed tradition and celebrated with some rum and shared a cigar," says Juju, who was happy to be able to see Cape Horn as they rounded in daylight. "We were lucky to see the land, and we could see Cape Horn quite clearly which was very cool. There were some big clouds and a lot of different colors in amongst all the gray. It was a beautiful moment, and a relief to be leaving the Southern Ocean after the strongest weather we've seen so far on the whole leg.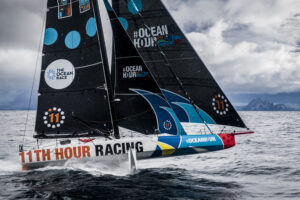 "Generally we have been quite lucky with quite nice conditions in the Southern Ocean. Not too many low pressure systems for us to deal with, but over the past few days we have been back in boat-preservation mode. We've seen some quite impressive sea states and very strong winds, but generally I think we've been fortunate that it hasn't been as tough a leg as it might have been."
Reflecting on the challenges the team has had since the start of the Leg, Justine was philosophical about the team's exploits so far. "It has been difficult compromising on the performance, with the technical issues we've had, with the mainsail and the rudders, but we've found some good solutions to the problems, even if it is frustrating not to be able to push the boat as hard as we would like. I think we have worked well together to solve the problems, but now we are all really looking forward to going north again, back into the Atlantic. 
"It has been four weeks in cold, wet weather down here, where things get wet and you can never really dry them out properly. We're all looking forward to being able to wear less gear and be a bit warmer again. We have learned alot about how to sail these boats in strong wind and big waves, it's been an interesting time in the Southern Ocean."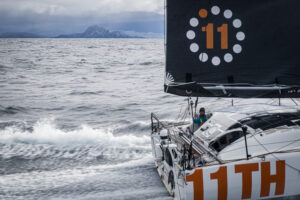 Having just completed his sixth rounding of Cape Horn, Simon 'Si Fi' Fisher (GBR) is the most experienced of the team. Like Charlie, Si Fi feels not so much excitement as overwhelming relief to see Cape Horn disappearing in the rear-view mirror. "It's symbolic and it's a massive achievement, because it means you've got through the Southern Ocean in good shape. How many people can say they've done that! 
"Someone told me that fewer people have sailed around Cape Horn than climbed to the top of Mount Everest, so in a way you could say passing Cape Horn is the Everest of sailing, because of the hard conditions you have been through to get there. It's why Cape Horn is the most mythical of all the great capes."
11th Hour Racing crossed the Cape in third position, 358 miles behind Team Malizia, with Holcim-PRB in second. Fourth placed Biotherm is just 35 miles astern of the American team. As of 1900 UTC on Tuesday March 28, the team has 1,864 nautical miles to sail before the finish line in Itajaí, Brazil.