Charlie Enright Dishes on Newport – The Ocean Race Stopover in 2022
It will be the third consecutive time that the sailing hub of Newport, RI will host the race dating back to the 2014-15 race. We sat down with team skipper Charlie Enright, who is from the "Ocean State" and was raised in nearby Bristol, to get his thoughts on Tuesday's big news.

Q: Charlie, what does this announcement mean to you personally? 
CE: It's great to have The Ocean Race coming back to Newport, a place where I grew up and I'm very passionate about. It's terrific to see the commitment that not only the state has made, but the city of Newport and the organization of Sail Newport has shown for the race for nearly a decade now. I consider myself very lucky to have been in two editions of The Ocean Race, but I'm even luckier to have it stop right here in Newport, the place where I'm from. There are not a lot of people that get to sail into their home port and to have had that opportunity and hopefully do it again in the next campaign is an amazing experience. It's great to be sailing in and out of here, and seeing all the spectators.
Q: What is so special about Newport and community in particular that has made it the most successful stopover in the U.S. in recent editions. 
CE: Obviously you have incredible folks and people behind the organization from Sail Newport, the City of Newport, the state and so many others. I like to say it takes a village but it takes so much more than that to put on a global event like this and the job they do is just fantastic. Ultimately for me, what's most special is the fan base. Not only the amount of people walking through the race village or out in their boats to see us come in or send us off, but also the passion, the knowledge, the intimacy with which they know our sport. It's the only North American stopover so people come from far and wide to enjoy this international yachting experience and it's an amazing thing to be part of.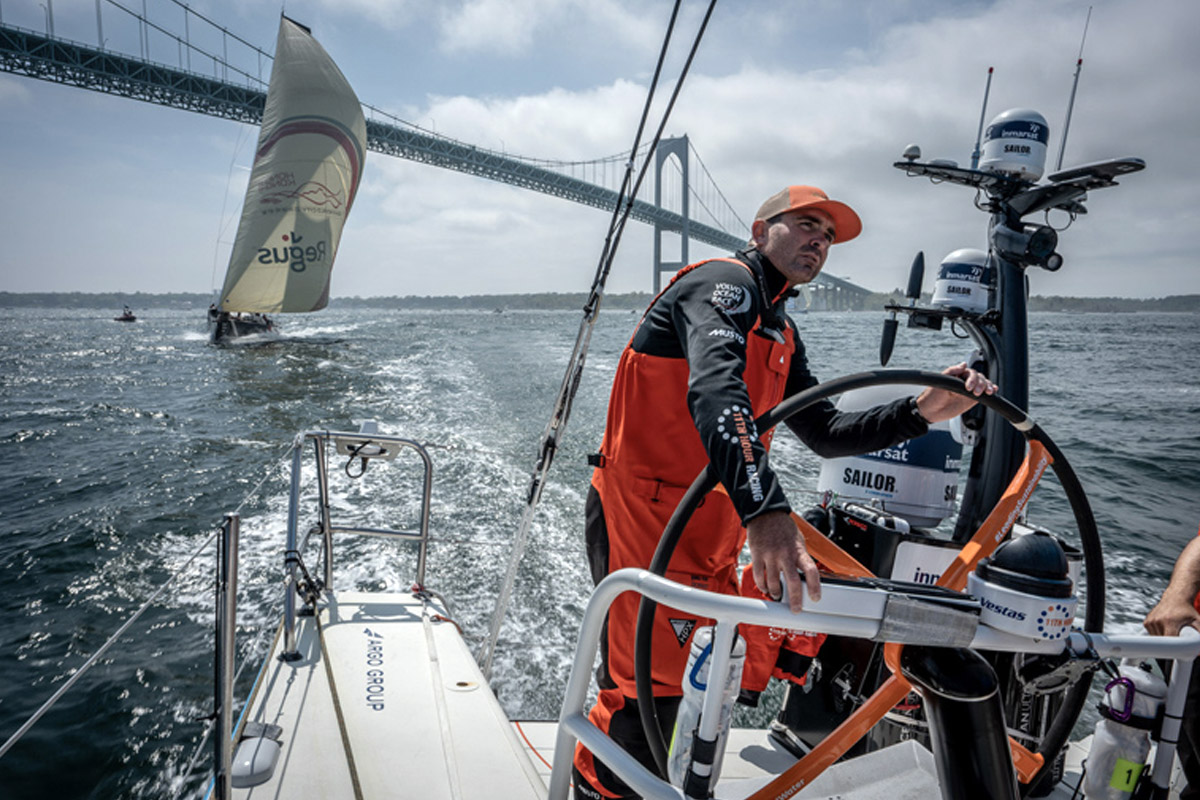 Q: So it's a pretty good vibe in Newport, it sounds like?
CE: In the end, The Ocean Race has only 10 international stopovers so to have one here in Rhode Island — we're very lucky for that to be the case. Being from here it's very special personally to be sailing into a place that's so passionate about sailing and the race. In some places around the world, you walk down the street and you're just another person. You walk down the street here in Newport with your team gear on and your name on your back and people know who you are. So we embrace that – it's a pretty cool thing.
Q: What other memories do you have from Newport stopovers?
CE: There are a lot of memories — the send-offs, the boats following us, the fans on the rocks at Fort Adams, the people lining the shore. Those are vivid memories. Also the positive impact the stopover has had with The Ocean Summit that debuted in 2014-15 discussing the critical issues around ocean health and the Ocean Exploration Zones in 2014-15 and 2017-18 inspiring fans and kids to be good stewards of their planet. With these race efforts, having Rhode Island be the first state to sign the UN Environment Clean Seas Pledge was a pretty cool thing. I know we can continue to celebrate and support our local community for their collective efforts to protect the health of our oceans — Aquidneck Island has some remarkable initiatives that support our land and seas. We hope to inspire our own 11th Hour Racing Team fans to share their love for the ocean over the next few years. All these things make an impact and the enthusiasm we've seen at both stopovers just speaks to the passion of the community and the size and magnitude of the event.
Q: What are you expecting for the team at the 2022 stopover?
CE: First we have to get to the start line. We have a long way to go in putting our team together so I'm not quite sure I'm thinking that far ahead yet. But having a stopover here in Newport has been a dream come true for us in the past and to have lightning strike a third time is not something we take lightly. In that sense there will be a lot of pressure on us this third time around to come in ahead of the fleet. It's a new race and a new class of boats. We have more time on our side than in the past to put this campaign together. We feel much better prepared and we look forward to notching a good result when we sail in here in spring 2022.