FROM CONCEPTION TO REALITY
How one idea conceived on a rainy day in lockdown is about to support 206 Olympic Committees through an unexpected sustainability partnership.   
Today the General Assembly for the Association for National Olympic Committees (ANOC) took place in Seoul, South Korea. Representatives from the International Olympic Committee (IOC), International Federations (IFs), Organizing Committees of Olympic Games (OCOGs), and other Olympic stakeholders were all invited to attend the General Assembly. Over 206 countries are represented and these annual gatherings play a key part in the communication (in four languages) between Olympic stakeholders.
But why, as an American sailing team, currently based in France, are we talking about the ANOC General Assembly in South Korea?
Because one small idea conceived in lockdown is about to lead to a ripple effect of positive action within the international sporting community.
As a sailing team, lockdown left us (like many) re-evaluating our day-to-day roles. The sailors couldn't sail, the shore team couldn't prep, the communications team didn't have a lot to write about. With the team scattered to all four corners of the world, we communicated through virtual meetings.
One rainy, gray day in December 2019, during a(nother) video call, the idea of creating a series of 'How To' sustainability guides for our peers in the sailing industry was born. After all, at 11th Hour Racing Team, we had two full-time employees focused solely on the team's sustainability strategy. This was (and still is) a luxury other sporting teams do not have. 
After working through a list of over 1,000 peers and suppliers, it was clear that many knew that a sustainable transition is mission critical, and the willingness was there to put one in place, but the feedback was that many felt overwhelmed with the scale of the challenge, and they didn't know where to even begin (and not to mention a lack of resources). 
So the team set about sharing the knowledge they had, breaking it down into an easy-to-use, step-by-step process for anyone looking to implement a sustainability program, no matter the size of organization or industry sector.
The Toolbox was born.
Back in Seoul, and a little under three years later, the announcement was made that the Association of National Olympic Committees (ANOC) is the most recent governing body to adopt The Toolbox, to support sustainable best practices being embedded in the operations of Olympic Committees and Associations around the world. Not forgetting the associated strategies and benefits cascading through the sporting federations they represent. 
When our team had the lightbulb moment of creating The Toolbox, we had big ambitions, but no-one could've anticipated it would reach such a  global scale.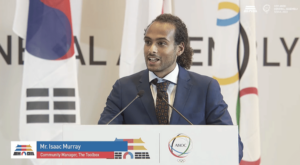 It's kind of a big deal
This is a groundbreaking collaboration that is unique in providing sports organizations around the world with the tools they need to meet the UNFCCC Sport For Climate Action pledge to be net zero by 2040. 
In other words, this is a turning point in the industry, and a vision of how the sport we love will play a part in a regenerative future. We're talking about 206 National Olympic Committees having full access to the eight-step framework in English, French and Spanish, taking them on the pathway to implementing their own sustainability program.
"ANOC is a small organization of maybe 10 people, but our strength lies in sending messages that can be syndicated. This information sharing is critical so we don't try to reinvent the wheel at every turn as we become more sustainable. That is why we have partnered with The Toolbox," explains Mr Gustavo Harada, International Relations, ANOC. 
Available for free through a Creative Commons license, The Toolbox now has a growing community of over 300 organizations from a wide range of sectors. Based on the ethos that 'when information is shared, everyone wins' it provides How To guides, templates and tools that are easy to follow. Just Google Sustainability Toolbox and you'll find it. 
Global commitment to long-term sustainable change across the board in sport is happening now and the transition is very real. Thanks to that lightbulb moment on a drizzly day in December, we feel proud to have played our small part.