Gearing Up Against Ghost Gear in Narragansett Bay
Rhode Island's Commercial Fisheries Research Foundation (CFRF), an 11th Hour Racing grantee, is working with video technology amongst other innovative solutions to map and remove ghost gear polluting from the marine environment in Narragansett Bay. 11th Hour Racing Team Skipper Charlie Enright and media crew member Amory Ross visited them this summer.  
Halloween might be around the corner, but the ghost gear we are talking about in this article has nothing to do with the costumes you'll be wearing to hand out or collect candy this October! 
Referring to any fishing gear that has been abandoned, lost, or otherwise discarded, ghost gear is estimated to account for at least 10% of all plastic debris in the ocean. 
11th Hour Racing grantee, The Commercial Fisheries Research Foundation (CFRF), has recently launched a new project to pilot the use of underwater video to supplement ghost gear removal tactics and enhance hotspot mapping in Narragansett Bay. Based in Kingston, Rhode Island, the non-profit organization was started by local fishermen in order to conduct collaborative research and education programs. 
Little is known about the true extent of ghost gear piled up on the bottom of Narragansett Bay, even though the negative effects on marine ecosystems are well documented. From the needless killing of uncountable marine mammals, fish, and seabirds, to the enormous pollution caused both off and onshore – ghost gear is a real threat to the environment and numerous species, humans included. 
Studies have also shown that over 90% of the species caught in ghost gear are of commercial value and would be able to provide for millions of people worldwide who are dependent on the ocean to sustain themselves. Ghost gear has ecological and economic consequences that undermine sustainable fishery management. 
Once on the seafloor, it can be extremely difficult to remove and even involves considerable risks for the people involved, including scuba divers to safely contain and extract the debris.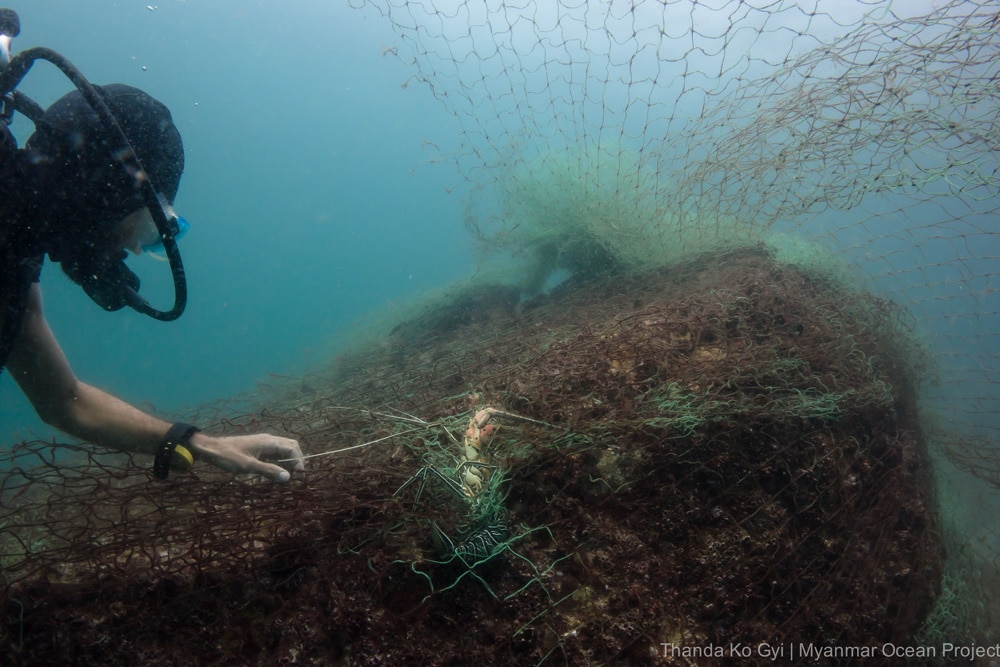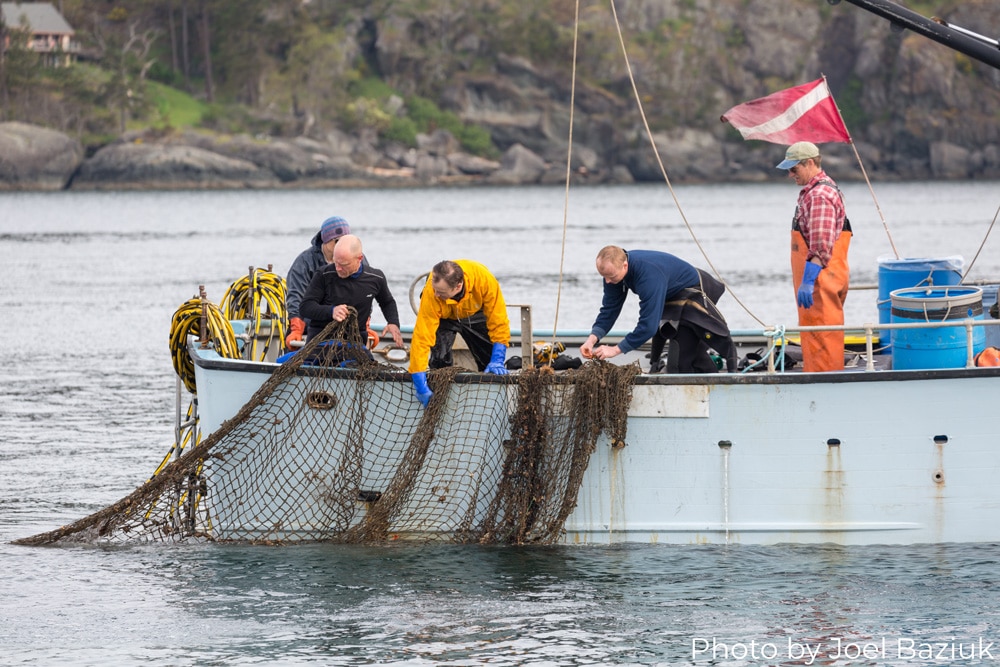 Underwater mapping
This is why CFRF is undertaking great efforts to map out derelict fishing pots, traps and nets to then better organize their clean-up. 
Working with the local fishing community, the foundation has put in place a strong collaborative network to tackle the problem and clean out the bay. Combining local knowledge and resources, CFRF has become a driving force in the area, dedicated to improving the situation the entire coastal community is directly or indirectly affected by. 
A key component of their initiative is the incorporation of underwater camera technology, allowing them to evaluate the amount, material and position of ghost gear before launching a removal mission. 
The foundation is also working to create general awareness for the issue through this pilot project. Charlie Enright and Amory Ross, both Newport locals, went out on a mapping mission with CFRF onboard the F/V Christopher Andrew and were blown away by the amount of gear stuck to the seafloor, in most cases completely invisible from the surface.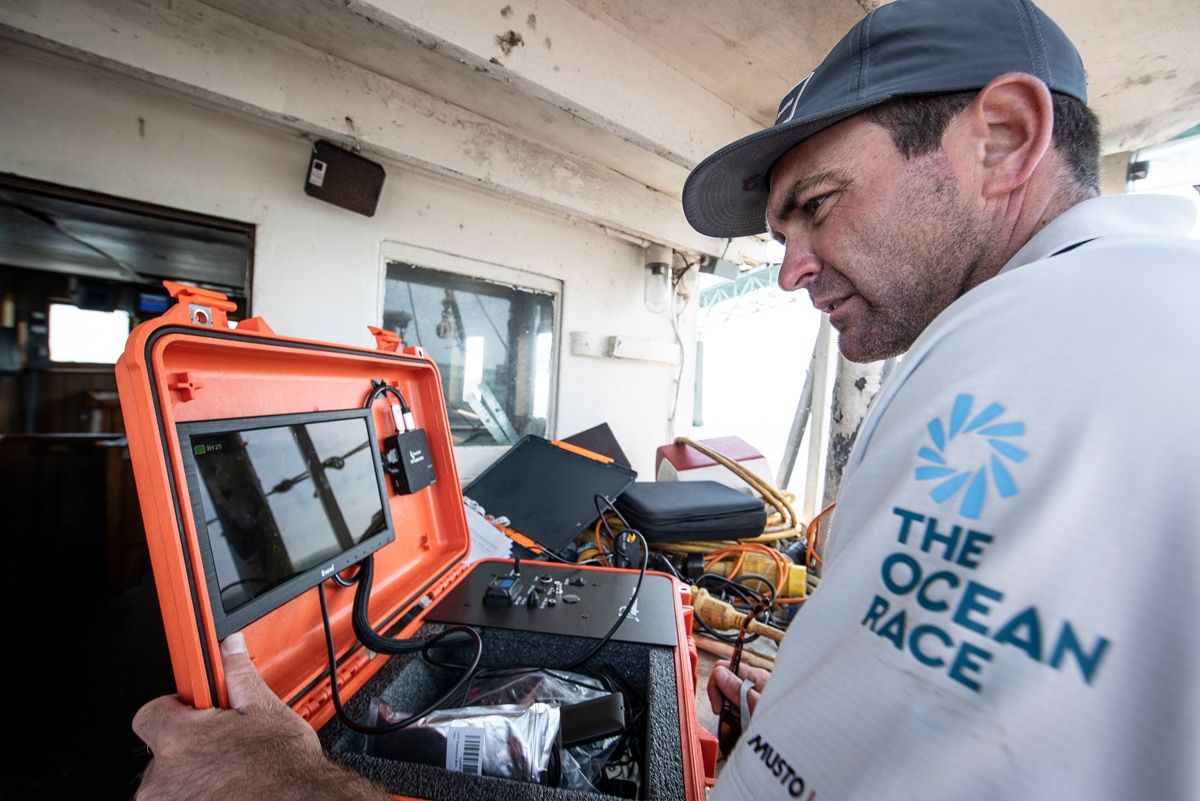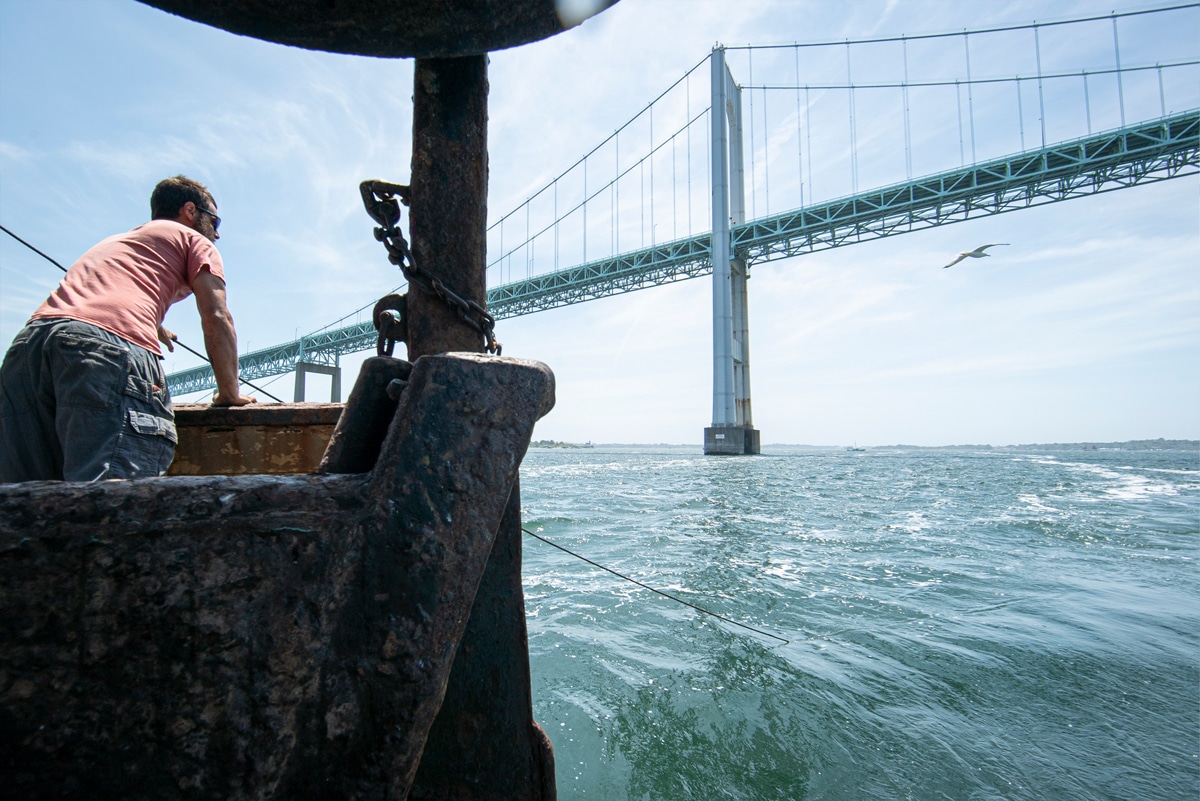 On top of the harm caused to marine animals or the health risk plastic pollution represents once absorbed in the food chain, ghost gear also puts ocean navigation at risk. 
Only recently, at the Défi Azimut 48h challenge, our Alaka'i (11th Hour Racing Team's IMOCA 60) crew Justine Mettraux and Simon Fisher had to back down and remove a fishing line caught in the boat's rudder and foils. 
Simon Fisher recalls what happened:
"It was in the early morning hours, around the second checkpoint [of Le Défi Azimut 48 hour Challenge]. It was pitch black and we felt a sudden drag and immediately slowed down to see what had hit us and how bad the potential damage could be. When we realized it was a fishing line, we turned the boat around to unravel the net parts and lines that were caught up in our foils and rudders – we actually got pretty lucky to be able to get rid of it so fast and then be able to keep on sailing. 

Especially when you're in race mode, and in the dark as we were, these collisions can be extremely unsettling and obviously dangerous. I am really glad nothing serious happened. We ended up bringing the ghost gear we could get hold of with us onboard, to hopefully prevent marine animals from getting caught up in the gear, as well as other boats." (read more here). 
The removal of ghost gear is only the tip of the iceberg when looking at the complex problem of plastic pollution threatening our planet. 
Affiliated with the Global Ghostgear Initiative (GGGI), equally an 11th Hour Racing grantee, projects such as the Commercial Fisheries Research Foundation's also aim to inform and educate others in order to prevent the discard of ghost gear wherever possible. 
What can you do?
You can become an active part of the global community addressing this issue. GGGI publishes regular updates on their research and findings as well as Best Practice Framework for the Management of Fishing Gear. Programs to identify and retrieve ghost gear help protect marine ecosystems and create economic opportunities for communities that rely on fragile marine resources. 
The collective has also put in place an interactive app to report ghost gear sightings which accelerates the removal process and can prevent further damage. The free 'Ghost Gear Reporter' app can be downloaded here. 
You can read more on 11th Hour Racing's grantee project with the Commercial Fisheries Research Foundation on their website.