Get to Know Justin Shaffer – Special Projects Manager
Three years ago, Justin Shaffer said goodbye to his Silicon Valley life to pursue his dream of a career in the sailing industry. We catch up with our Special Projects Manager to find out more about his journey of achieving his life goals…
Position with team:

Special Projects Manager

Hometown: 

New York City, NY

Current residence:

San Francisco, CA

Number of years in Sail Racing

3 years

Past Campaigns

Sydney-Hobart Race, Newport-Bermuda,




Caribbean 600, Copa del Rey/Maxi Worlds (2018)




Transpac, Halifax, Caribbean 600, Fastnet (2019)




Pac52 Class (2018-2019)




America's Cup (2018-2019)
Q: You have quite the unique background for someone working in the sailing industry: how did you end up working in this world?
Justin Shaffer: I spent most of my working life working in technology and media, in a variety of leadership roles across product development, design, and engineering. I was part of the team that built the online arm of Major League Baseball, developing a product called MLB.TV, which is a live video streaming business – at one point, the largest on the internet.
After MLB I founded a new company, Hot Potato, which was an early social app that connected the audiences of live events. In 2010, we sold that business to Facebook and I served on the product team there, leading the teams that built Groups and Video. I've always made an effort to continue racing when I had free time, but over the past few years I decided to change my focus to racing full time and to join the industry. It's definitely an interesting background for someone who now works in sailing!
Q: Why the move into the sailing industry?
JS: I've been racing sailboats my whole life. My dad sailed and introduced me to the sport when I was six. I grew up racing principally in Eastern Long Island. Since I didn't go to college, I took a less traditional path within the sport. After high school, I raced as an amateur in a variety of classes when I could, while working and growing my career in technology. My passion for the sport has always been there though.
Eventually, I realized that I was never going to achieve my goals in the sport if I didn't really commit to it. I always felt I could push myself further, but needed to make the time to focus.
So, about three years ago, I decided to go all in. My desire was to be an athlete and to work as a professional sailor. I didn't want to be a sponsor, like I could've been while continuing to work in the tech world. I was pretty dedicated to working my way up from the bottom to see how far I could go.
It was a risk, but I just had to go for it and hope it would all work out!
Q: Has your tech background been of use since you've taken on roles in the sailing industry?
JS: I'm really fortunate to have worked in tech and have that experience, because it's allowed me to access higher level racing quickly, and to contribute more meaningfully as a navigator to the campaigns I've been involved with.
When I first decided to move into sailing, the sport was already making huge technological advances. I realized I could use my background to benefit sailors and the sport as a whole.
Technology is so vitally important to everything we do in sailing. Because of my background, I was able to come into the sport with a unique perspective. I even surprised myself with how much I could actually contribute to begin with. I suppose when you combine it with my sailing knowledge and physical skills, that's what makes me appealing to 11th Hour Racing Team!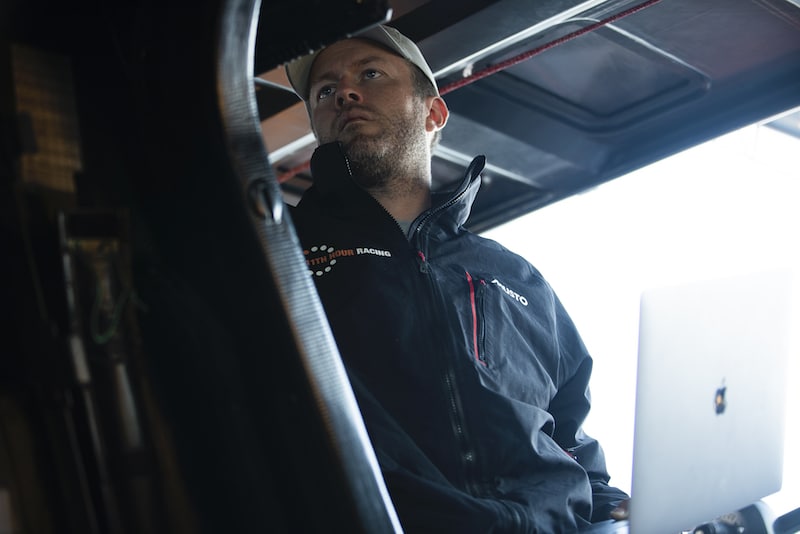 Q: Talk us through some of the sailing you've done over the last few years…
JS: I started out working as a navigator on a Pac52 team in the US during 2018. I did two years of pretty high level 52 racing, culminating with a class championship win in San Francisco. I also did the 2018 season on the Maxi72 circuit before getting involved with the America's Cup, as one of the leaders of the Stars and Stripes program. Unfortunately, that campaign didn't go quite as planned due to fundraising challenges, but it was still an experience that I'm grateful for.
I've done plenty of racing offshore over the past few years on a variety of boats as well. Newport-Bermuda, multiple Caribbean 600s on the F4, Sydney-Hobart with Winning Appliances,  all of the West Coast classics including the Transpac with Rio100, and the Fastnet. I've been trying to squeeze in as much as possible! I really believe there's nothing better in life than the chance to learn – it's the best way to stay mentally fresh and young! I've certainly done a lot of learning over the last three years.
Current cross-training includes sailing my Foiling Moth whenever I have time. I'm fully focused on foiling as much as possible and building the muscle memory needed to make quick decisions when driving or trimming on bigger boats.
Q: How did you get involved with 11th Hour Racing Team?
JS: I've known of and looked up to Mark and Charlie since around the time of Morning Light. Charlie and I had done some sailing together in the US following that as well. When they started to assemble their team that became Alvimedica, we discussed whether I could get involved in helping with the program. It was very, very hard to turn down, but it wasn't the right time for me – I'd just sold my business to Facebook and I was committed to seeing through my work there.
It's always important to focus, but letting that door close was difficult at the time. I knew I wanted to seize the opportunity to go deeper into the sport, and the best chance would be to do it with this team. This was on my mind when I jumped into the sport professionally in 2018.
About a year and a half passed and then after the 2019 Fastnet, I realized the best thing for me to do was to completely clear my schedule so that when the right opportunity came, I was free to take it. I didn't know what that opportunity was, but I figured I'd know when it arrived… although this whole process did make me a little angsty!
I'd gotten to the point where I really wanted to work with the best of the best and was ready for a much bigger challenge. I saw Charlie and Mark at the 2019 Fastnet, when they won the race on Wizard. That was my chance to tell them how much I'd like to work with them, so I did! This was very early days, before 11th Hour Racing Team had even launched.
About a month after this, I had a call from Bouwe Bekking asking if I would do a Transatlantic race with him. I knew it could lead to an Ocean Race campaign but in that moment, I felt that wasn't the opportunity I was meant to take. So I surprised myself once again and declined the offer.
What's meant to be, will be. A few weeks later, Mark and Charlie called me up. They were very clear that they weren't offering me a role on the sailing team, but they could really use my help with technology and that it would be a great chance to get exposure to this level within the sport. Hang around the hoop and who knows what may happen! In life, it's incredibly rare for doors to swing open twice, and I knew this was the time to jump in and get involved.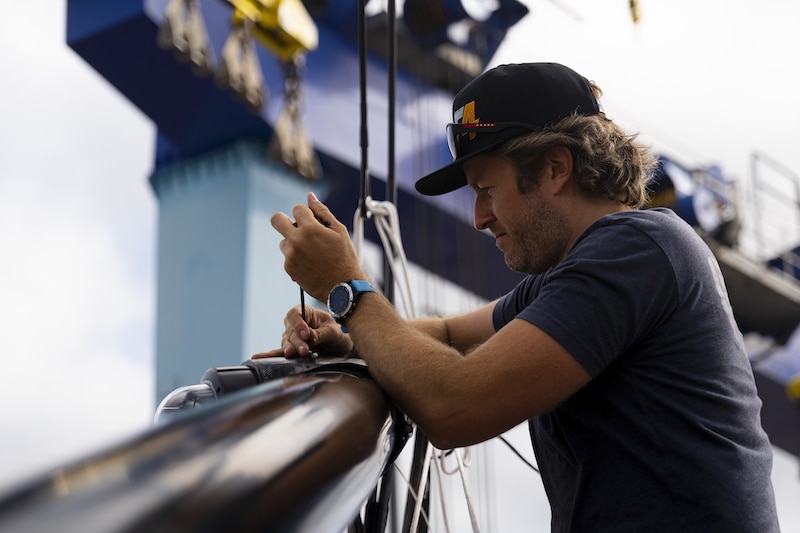 Q: Tell us a bit about what you've been doing in your role with the Team…
JS: I joined the team in November 2019. In December 2019, I headed over to France for some of the first design meetings where I was able to meet a lot of the wider team. It was a great moment because it really was the beginning of the project. When things are coming together at the start, there's a unique opportunity to influence culture and to help form the organization.
My role is largely about using technology to create a sustainable, competitive advantage for the team. Systems design, performance analysis, efficient or unique use of existing tools, and integrating all of this into the sailing team. It's very different to anything I've done before, but I'm learning a lot and hopefully contributing a lot too! It's an amazing role for me because the boats are technical and complicated, and I love navigating those challenges. The principles of sailing might always be the same, but the role of technology is only getting more important. Particularly as we are doing so much development work with offshore foiling in the class, measuring and understanding our performance so we can continue to progress has never been more critical.
I've always enjoyed building technology. I love the design work, the development work, but I also really love the leadership side and the opportunity to work with incredible people and teams.
Q: It's still early stages for the program, but having never done an Ocean Race campaign before, what's your initial impressions and thoughts on this race?
JS: There are three pinnacles in sailing – the Olympics, the America's Cup and The Ocean Race. They're different disciplines and all have incredible challenges associated with them.
There's something so special about The Ocean Race in particular. The opportunity to circumnavigate is still, for me, the greatest. As sailors, we leave home, heading out into the ocean where we work hard to find the edge. We're on the precipice, in touch with nature in a way that is hard to describe for those who haven't experienced it. The way teams come together to achieve in that environment is unique, and the experience relating to nature is so pure. I love the connection between that and our sustainability mission at 11th Hour Racing Team. We don't just want to win a race but to demonstrate we can do it in a more sustainable way. We want to show people what you can achieve if you make sustainability a priority.
Q: How has the last year been for you, with the pandemic impacting plans?
JS: The last year definitely didn't go as expected, but it was an interesting year nevertheless. As a team, we were still able to make progress, even though the world was effectively at a standstill.
There's something incredibly clarifying about a pause, though. I hope society can learn from slowing down too. It was actually refreshing not to have to travel as much, and I started exploring meditation, which has been a great tool to help me focus. I've also really enjoyed reconnecting with my home in California, and there's been a lot of cooking and virtual sailing going on as well. The downtime gave me the opportunity to get my teeth into work too, including working on some of the software that we'll use on the boat – I've tried used my time wisely!
Once we were able to get to France last July, getting to work daily with Simon Fisher while we were preparing the boat for the transatlantic was a real honor. I've looked up to him as a fellow navigator for some time. The cherry on the top was certainly the opportunity to sail the transatlantic with Charlie, Simon, Amory, Rob, Kyle and Emily. Arriving in Newport is a memory I'll have for the rest of my life.
Following that, getting deeper into my work in our training session in Newport was incredibly satisfying, and sets the tone for more in 2021. With the launch of our new IMOCA and the campaigning of both boats for the Fastnet and the Transat Jacques Vabre, we are all going to have plenty to do!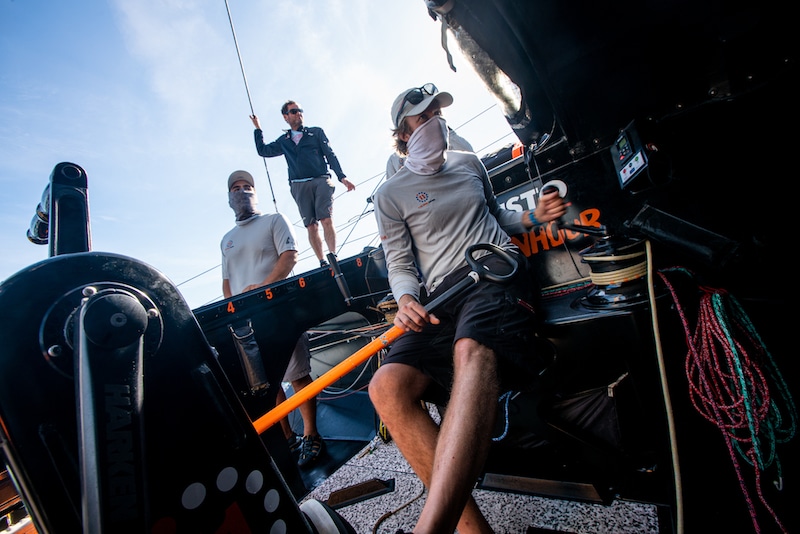 Q: You're also a fair bit into photography as a skill and passion? How did that come about?
JS: My father was a fashion photographer at the center of the scene in NY in the 70s, so I grew up with it around me. Photography was huge at that time and was really exploding. My interest in it isn't just storytelling, but the relationship and creative process between the photographer and the subject. As a tool to show and explore human connection; there's really nothing quite like it.
My photography experience is pretty broad. My interest definitely lies in portraiture at this point and also printing. I've shown prints at the Evergold gallery here in San Francisco that represent collaborative work with Dad's archives, and I've spent time all over the world shooting when I can. Relatively recent highlights include Morocco, Alaska, photographing the Wrangell-St. Elias range, and Kauai.
Q: Like most adventurers (and sailors), you are very well-traveled. Let's finish with some quick hitters and short answers!
Favorite place to visit?
JS: Northern Italy by road trip (with some sailing along the way) – Lake Garda and the Dolomites/Alps.
Coolest sailboat you've been on?
JS: I've looked up to the IMOCA class forever. As an American, to be able to work with a US team in this class is a dream come true. Getting into offshore foiling with Shannon Falcone on the F4 project has been a huge highlight as well.
Most memorable race you have been part of?
JS: Definitely the Sydney-Hobart as navigator with Winning Appliances in December 2018. It was such a special moment and an amazing group of sailors. Of particular note, having Pete Dean on board with us, the son of legendary John Dean. It was the 20-year anniversary of his father's passing in the great race. We were so honored to be part of that. We came in 2nd in our class, 4th overall.
Favorite foodie location?
JS: Near East cuisine is so fascinating and diverse. Tel Aviv is really unique because of the Israeli focus on innovation in agriculture, along with the mix of flavors and seasonal produce. It's just beautiful cuisine and celebrated by incredible chefs. Street food in Beirut is some of my favorite in the world. Shish taouk with toum (garlic aioli) is the best – it's like nothing else in the world.