Get to Know Pascal Bidégorry
If you are a sailor, a sailing fan, or you work in the sport, you undoubtedly know the name 'Pascal Bidégorry'… but just how well do you know this French sailing star? In our latest Q&A, we take a deep dive into Pascal's sailing past, present and future to find out all there is to know about our co-skipper…
Position with team:

Co-skipper with Charlie Enright

Hometown: 

Ile de Ré

Started Sailing

Age 17

Past Ocean Race campaigns

2001-02 SEB

2014-15 Dongfeng Race Team

2017-18 Dongfeng Race Team
Q: Your offshore sailing experience is vast, and you've raced across the Atlantic over 30 times. Tell us how you started out.
Pascal Bidégorry: Sailing wasn't in my original plan! I was focused on mountain sports, particularly skiing. I was living in Bayonne, so I spent a lot of time in the Pyrenees. I loved the atmosphere in the mountains, but I had a knee injury so I stopped skiing so much in my late teens. One day, I chartered a day boat with my father and it was amazing – a revelation! I was hooked on sailing after that.
Q: What have been your favorite offshore moments over the years?
PB: I have so many! When I won the Solitaire du Figaro in 2000, that was really important for my career, but I also loved some of the sailing I've done in multihulls. I like a challenge. In 2009, we set a new speed record for crossing the Atlantic on Banque Populaire V – 3 days, 15 hours, 25 minutes and 48 seconds. We still hold the record today. It's something quite special, especially to share an achievement like that with your crew.
I also have to mention winning the last Volvo Ocean Race with Dongfeng Race Team. That was crazy because the race was so close. I worked with the team for four or five years with Charlie Caudrelier (there are so many Charlies in sailing!). Racing with them was intense and emotional because we all really believed in the project. I'll never forget it.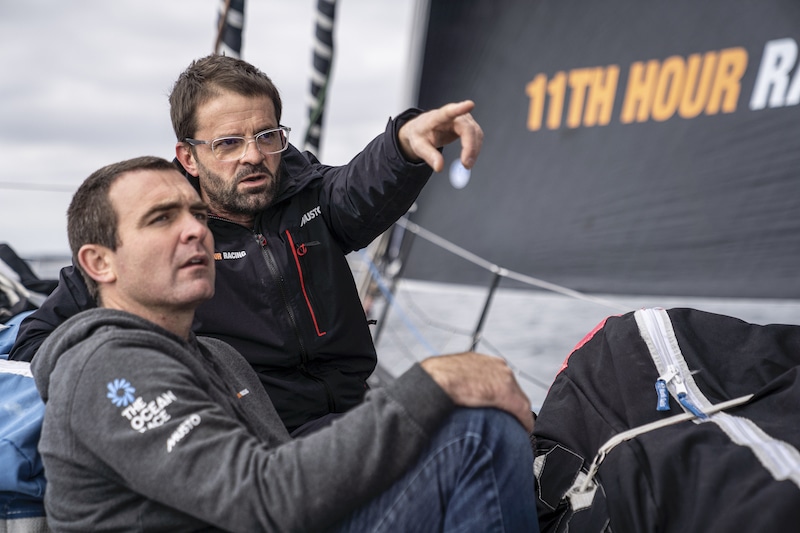 Q: You'll be sailing with Charlie Enright again this year. How do you work together onboard?
PB: It's quite funny because we've competed against each other in two Ocean Race campaigns previously. I didn't actually know him very well then because of the way our campaigns were run. We were super busy, so I didn't get the chance to speak to him much.
We come from different sailing backgrounds and we bring different experiences to the table. We are, however, focused on the same result. We work hard together and my hopes are that we'll do a really good job this year.
We have fun sailing together too! It's funny a lot of the time, because of the language differences. We get on really well, I like sailing with him!
Q: You last sailed with Charlie in 2019 – coming fourth in the Transat Jacques Vabre. What do you enjoy most about sailing with him?
PB: We're on the same page about the result, and the way to achieve that result. We have a very natural relationship so it's not a hard partnership. His personality makes it easy for me, and we are able to achieve good results together because we get on so well. It's always great when you find a sailing partner like that.
Q: What is it about The Ocean Race that appeals to you?
PB: I love being in race mode. For nine months, you think about nothing else but the end goal. Every time you sleep, every time you wake up, there is only one thing on your mind and nothing else matters. Your whole world becomes the race. Emotions run high, things get a little crazy, there's nothing else like it.
The last race was especially tense, with the boats all one-design and the caliber of the sailors was impressive. It made it really hard to achieve a good result, because all the best sailors in the world were competing with the same tools. It was such a challenge.
I also love sailing with a crew. It's typical of the French sailing culture to do a lot of solo offshore sailing, but the dynamic of a team really elevates your experience on the water. I thrive off the team spirit and we all discover so much about each other during a campaign. It's an incredible experience to share with your team.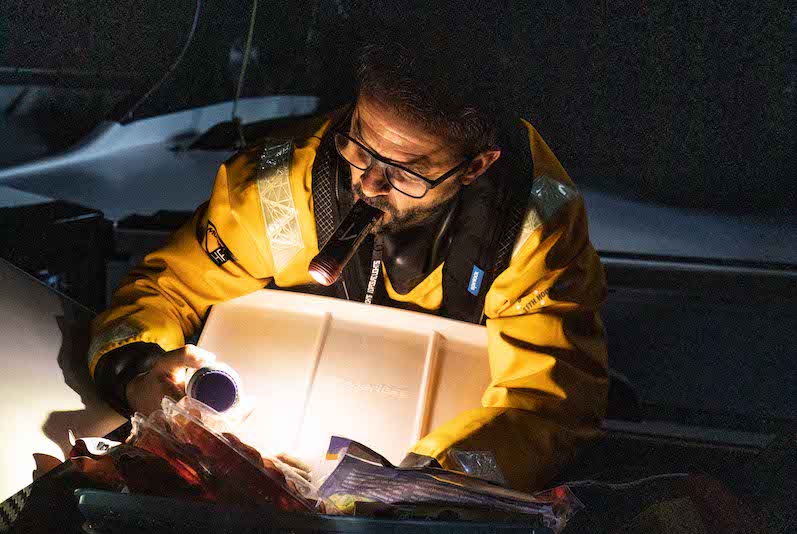 Q: What advice would you give for young people wanting to have a career in sailing?
PB: You have to be passionate. When you start out, sailing can be quite tough. It's cold, you can suffer from sea sickness, it's not always enjoyable. Even if you have a huge amount of potential on the water, you have to work hard. Sailing is constantly changing and you have to change with the sport. If you look back at sailing over the last 20 years, it's a completely different sport now to what it was. You have to put the hours in, you can't take a break, you have to really love it.
Q: What is your specific passion or interest when it comes to the team's sustainability program?
PB: I think we're all in agreement at 11th Hour Racing Team that we don't just want to improve things – we want, and need, to change things radically. This thinking never leaves you when you're part of this team. Everything we do is about sustainability. It's something that I'm proud to be a part of and I'm very passionate about it.
Q: With so much experience, you must have ticked nearly everything off your bucket list. What are your long-term goals in sailing?
PB: I would love to do another one, or two – or maybe even three – races around the world with a crew. I have some big goals when it comes to multihulls as well. And, before I stop sailing, I definitely want to race around the world alone. So there's still a lot for me to do before I leave the sport!
Q: Where is your favorite place to sail?
PB: I have so many favorites. Cape Town has to be up there. I'll never forget our arrival there in The Ocean Race – I was totally overwhelmed. I also love sailing in the Pays Basque. It's my country, it's my place, it's my home. It's beautiful.