Get to Know Wade Morgan – Build Manager
Managing our boat build requires an expert, and there's no one better suited to the job than Wade Morgan. From years spent as a professional sailor to spending his days identifying new sustainable construction practices, Wade's varied career makes for some great storytelling.
Position with team:

Build Manager

Hometown: 

Newcastle, NSW

Current residence:

Newcastle, NSW

Number of years in Sail Racing

22 years

Past Campaigns
2000 America's Cup – Young Australia 2000
2007 America's Cup – Areva Challenge
2011-12 Abu Dhabi Ocean Racing – Volvo Ocean Race
2013 America's Cup – Luna Rossa


16x participant in Sydney-Hobart Race (2x Line Honors – 2 x handicap)
Q: Tell us a little bit about your role with 11th Hour Racing Team…
Wade Morgan: My job is to represent the team with all the contractors, designers, support teams and personnel who are building our new IMOCA 60. I filter all the feedback from everyone – whether that's MerConcept, CDK or Guillaume Verdier's studio – and then keep our team in the know. It makes sense to just have one point of contact for everyone, otherwise it would get too confusing. I'd say I'm pretty well qualified for the role! You have to specify all the appropriate equipment and requirements that will go into the boat so an understanding of all parts of a race boat is a must!
Q: The team has been pretty open about the importance of having its training and boat base in France. Do you have some experience with the French racing culture?
WM: I worked for the French America's Cup team Areva Challenge in 2007, so have been immersed in their culture before. I was living in Spain, but spent a lot of time in France. I also spent a few summers with Alfa Romeo Sailing Team, which was then zipping around off the coast of Antibes and around Marseille. We did a lot of boat optimization so I'm pretty familiar with the French ways of working
Q: What makes the French boat building and racing culture so impressive?
WM: For us, a major goal of being in France is to mesh the two cultures – mixing the French offshore know-how and history with some of our build and design methods on the Anglo-Saxon side. Both have great strengths and traits of boat building. The French style is focused on a lot of single-handed, solo-style sailing, as well as large multihulls, whereas the Anglo-style concentrates more on inshore sailing. The expertise of the French is impressive. Our ultimate goal is to draw on that and bring the best parts of both worlds together. With this boat build, we want to meet in the middle somewhere.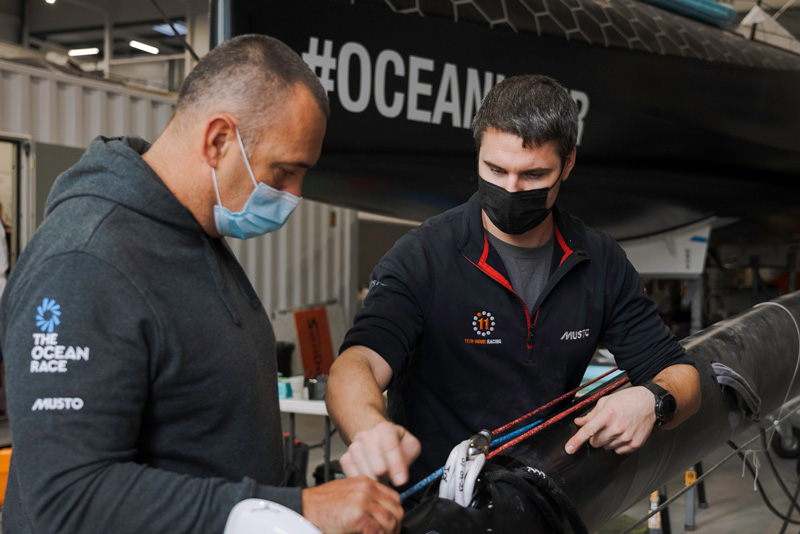 Q: As Build Manager, I would imagine you are working closely with the sustainability team on the measurement and tracking of this build, in order to make recommendations for future IMOCA?
WM: One of my key roles is exploring how to utilize and exploit alternative materials. We're constantly asking the questions: 'How can we use different composites to build parts, and what are the applications of those?' I will pick components on the boat that are strong candidates for a sustainable alternative and we explore whether it is a possibility . Sometimes my ideas don't work but often we are able to prove that more sustainable alternatives really can compete with the more common construction methods. We have regular workshops around this to keep the ideas coming in
We're also working super hard towards our goal of having zero waste and we're applying circular economy principles. When they build the hull, the rolls of carbon are trimmed. What happens to those corners? We looked at recycling, but then we said, "Let's build something out of it that the team needs!" We're giving things a new life, when they'd traditionally be thrown out! Out of that carbon trim, we're looking at making a bunch of sturdy (and very lightweight) team benches. By thinking about our waste in advance, it's pretty easy to come up with clever ideas to limit and divert it from waste.
Q: You've been in this business for over 20 years with multiple America's Cups and past Ocean Race experiences; What's been your personal highlight?
WM: There are so many different ones when you're in the sport for so long. I'm really fortunate to have sailed with some big teams. Sailing on the AC72 with Luna Rossa in 2013 was huge and I'm so lucky to have had that opportunity – not many get to do that. The Volvo 70 is an amazing boat too!
Results wise, the 2011-12 Volvo Ocean Race with Abu Dhabi Ocean Racing has to be one of the top highlights. We struggled for speed with our boat throughout the race, but we ended up winning a classic transatlantic leg from Miami to Lisbon later on. We had built up a big lead of a few hundred miles, but teams were chipping away at our advantage as we approached Portugal. But we managed to hold on! That's a memorable one for me in ocean racing.
Obviously the four wins in the Sydney Hobart stand out as well… but the truth is, when you've had 20 years traveling the world and you're doing something you're passionate about, there are so many personal highlights. It's not something I'd ever want to have done differently.
Q: What's the toughest day or stretch of sailing you have ever been part of?
WM: Two things come to mind during that first Volvo Ocean Race, because that's really the toughest when it comes to challenges. The first night when we [Abu Dhabi Ocean Racing] left Alicante, we dismasted and had to return. Just dealing with that was a challenge. Then on Leg 5, we had to return to New Zealand in the first 24 hours with issues, before heading back out. Eight to 10 days later, we delaminated our hull in the Southern Ocean in the middle of nowhere. I was the boat captain for that boat… those were some pretty interesting times.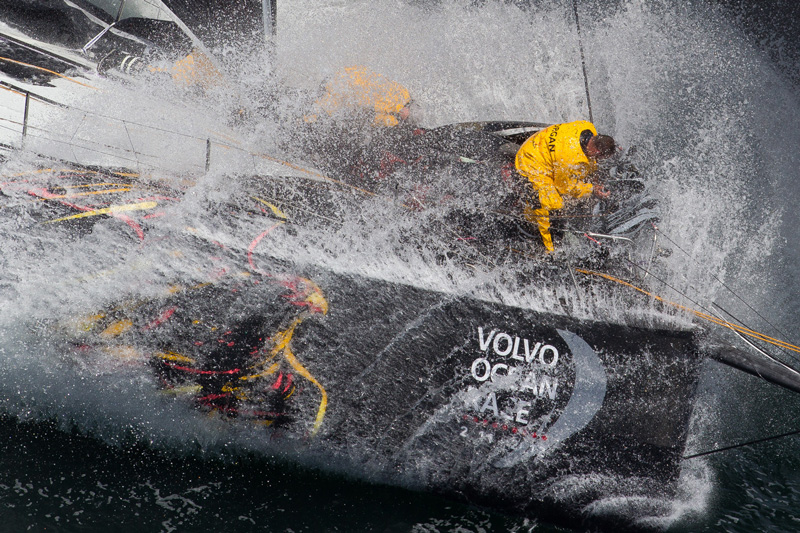 Q: And how about Sydney Hobart, any special memories?
WM: Leaving Sydney Harbor is always such an amazing experience. It's just such an iconic setting for our sport. In that race, you're sailing against the weather systems and it's always changing every few hours, so you're never solely in one weather pattern. I just love the stages in the race, the scenery and the challenge around the finish which all combine to make it such a unique event to be a part of.
Q: You have a lot of experience with boat builds: what makes the IMOCA 60 such a special class of boat, particularly the second generation foiling IMOCA design?
WM: Historically, the IMOCA class has led the way in offshore monohull development, but it's a class that I hadn't really worked on before.
About a decade ago, in the America's Cup started to see the daggerboards angle out rather than in, looking for more lift at speed. Yet the IMOCA teams – while inventive – are generally fairly low budget, so risky calls were not so common. I think the AC72 really changed the game. After this, the IMOCA sailors really went for it. By the 2016 Vendée Globe, it was clear that even partial flight brought knots of difference in speed at times. From that point, the appetite to get up in the air was obvious.
It actually feels like we are well past second generation now. In four years, the jump has just been incredible. It's exciting to see the new shapes from the designers, the change in sailing techniques and different sail plans. Each foil shape will have its sweet spot, and equally show weakness at times. The best teams will learn and adapt their techniques to these traits in conjunction with their techniques, sail plans and ballast configurations. That's what I'm looking forward to being involved in. It's a challenge that is hard to come by!
Q: Tell us a little bit about where you grew up sailing and how you got the bug for the sport?
WM: My father was big into sailing. He did half a dozen Sydney Hobarts himself. We had some trailer sailboats, so we'd go away on holidays pulling those small boats behind us. I got a boat when I was just six. It was a little timber boat that I used with my sister. I started racing at age eight with a small two-hander. By the time I was 13 or 14, our yacht club had mini keel boats. I didn't stand out or win too many inter-club events because a guy named James Spithill was on the scene then! But that's when I got into smaller keel boats and then on to bigger yachts.
When I was 18, I did the America's Cup with the Australian team. That was like a University degree for me. Small program, no budget, very little support, but we developed a pretty good work ethic, a great team attitude and a lot of those guys on that campaign went on to do big things.
Q: Is around home still a favorite spot of yours to sail?
WM: Yeah! Lake Macquarie where I grew up is still a special spot to sail. My favorite race is probably the Sydney Hobart although the Hong Kong to Vietnam race is a nice one too. I also love sailing between Sardinia and Corsica. The Whitsunday Islands are a spot that we go up to every year, as well… I like to sail all over!