HEARTBREAK IS A TWO-SIDED COIN: A STORY OF 24 HOURS
Leg 7 of The Ocean Race. The Grande Finale. The final hurdle. The decider. 
It was supposed to be the highlight of the race for 11th Hour Racing Team, but just 17 minutes into the final leg disaster struck. A pendulum of emotions ensued as high hopes for a big win were shattered, and the team were left picking up the pieces of a broken boat, and broken hearts.
"How do I look in my new sunglasses?" asks an excited Francesca Clapcich in the team base ahead of the departure for Leg 7 of The Ocean Race. "Do I look fast?"
Not only was 11th Hour Racing Team leading The Ocean Race overall, with closest competitors Team Holcim – PRB needing a two boat difference to gain on points, but the final destination of The Ocean Race was in Genoa, Italy, Francesca's home country – making this leg extra special.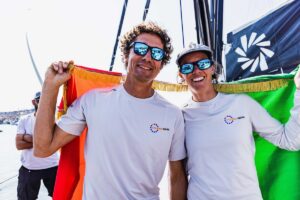 "This is a big event that takes a lot from people, takes them away from their homes and family and friends," she continues. "But when I look at the position we're in as a team going into this final leg, I think about everyone behind the scenes. I think of the wider team, the shore team, 11th Hour Racing, our friends and families who allow us to do this and you realize, it's just one big family.
"Do I want to win this leg into Italy, yes. But not just for myself. It's not just about the sailors. When we're racing, in the moments that are tricky, we use the strength of our wider family to keep pushing because we're not just pushing for ourselves. We're pushing for everybody else.."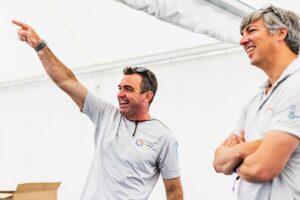 Do the Dutch clap like this all the time? 
The atmosphere during dock off in The Hague was insane. The excitement was palpable and the crowds were wild.

"Do the Dutch clap like this all the time?" one of the shore team members asks Anje Marijcke van Boxtel, the team's (Dutch) mental coach in awe. "Oh yes," she responds laughing. "We love a party."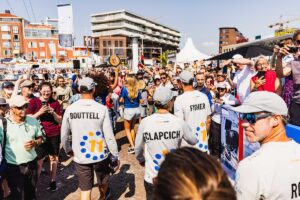 Skipper Charlie Enright finishes his routine dockside interview with Eurosport and immediately starts searching the pontoon for his best friend and the team CEO Mark Towill. The two embrace briefly and Mark grabs Charlie by the shoulder and simply says quietly "You've got this." 
The countdown begins and the crew are waved off the dock by an excited team. After all, the big win is finally within their sights. A win that has been a lifetime in the making for Charlie and Mark, a decade in the making for 11th Hour Racing and three years in the making for this team.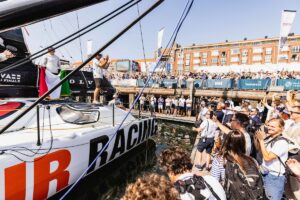 A win for either the leg or the race wasn't guaranteed of course, Team Holcim – PRB are fierce competitors and more than capable of putting the two boats needed in between them and 11th Hour Racing Team to steal the trophy, but it would have been exactly that – a steal. Because 11th Hour Racing Team was flying. 
Cheers to that 
Shortly after dock-off the remaining non-sailing members of the team all gathered in the Sailors' Terrace to watch the start of the race. 
"Well, well, well," begins James 'Irish' O'Mahony, Boat Captain of 11th Hour Racing Team shoreside holding a beer. "Well done team. We've done everything we possibly can. The rest is out of our hands… so I'm going to say cheers to that!"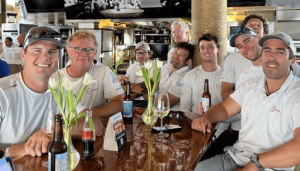 The first 17 minutes of the race were relatively uneventful, the various Ocean Race teams watched the broadcast together at the beginning of a traditional gathering unofficially referred to as the 'Thank God They've Gone' party. 
Brace for impact 
Out of nowhere the room collectively gasps and those loosely paying attention to the TVs jerk their heads up to look at the screen just in time to see GUYOT environemment – Team Europe's bow very clearly heading straight for the aft section of 11th Hour Racing Team's port side hull.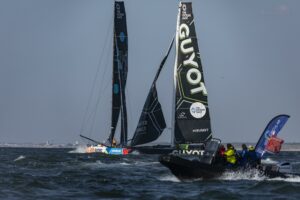 "Whoa, WHOA," shouts Irish as the broadcast suddenly cuts away leaving the entire room guessing what had just happened. The 11th Hour Racing Team shore crew look panic-stricken, some with their hands on their heads and others grabbing the closest person. CEO Mark Towill hasn't moved or reacted, he's just staring blankly at the screen, waiting for confirmation of what everyone in the room knew, deep down, was inevitable. 
Sure enough, when the replay came back on with the familiar voice of Niall Myant-Best, it showed a devastating collision of high impact between the two boats. 
"NOOOOOOOOOOOOOOOOO," screamed various voices in the room, perhaps GUYOT's shore team the loudest of all.

"No, no no no no no no! F**k!" Irish jumps out of his chair in disbelief.

"Team. It's beers down." The calm, unflappable voice comes from Mark. "Back to base everyone."
There's a sense of incredulity in the room. How, in daylight, easy conditions, and an uncrowded race course could something like this happen? 35,000 nautical miles around the world, through some of the harshest and perilous conditions on earth and it comes down to THIS? 
This video from on the water shows the collision from various angles as it happened to the team onboard Mālama.

"Is everyone okay?"
As 11th Hour Racing Team and GUYOT limp back to shore, the impact, both physically to the boats and emotionally to the people involved, is evident. The live broadcast continues rolling and it shows the bowsprit of GUYOT firmly broken off after having smashed through the side of Mālama, and then the clearly visible huge hole in the side of Mālama. At a glimpse, it's clear neither boat is racing to Genoa in a hurry.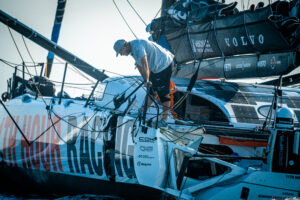 The TV feed switches cameras and shows a crew member on the bow of GUYOT hunched up, clearly distraught holding the broken bowsprit, then it switches to the live onboard camera with Amory Ross, and shows Jack Bouttell in the cockpit of Mālama in floods of tears and Charlie asking on repeat "Is everyone okay? Are we okay?" 
"Yep!" shouts Jack Bouttell from the cockpit, recovering rapidly from the initial shock of the collision and bouncing back to assess the situation facing the team on the water on a race track full of boats. 
"How did they not see us?" asks Media Crew Member Amory Ross. "Are they okay? Do we know?"
"Is everyone okay?" asks Charlie again. "Is everyone okay?" 
No one on either team was hurt. Physically at least.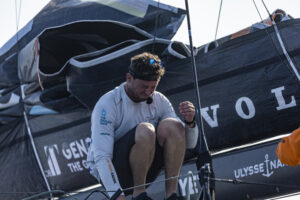 Heartbreak is a two-sided coin
Shore crews for both teams run back to the team bases to grab the fenders and head to the dock as race organizers turn the music in the race village off. Somehow no one felt it appropriate to have Katy Perry blaring in the background of such a bleak situation.

"Seems surreal to be standing here again. I just… I mean… we weren't supposed to be back here," says a member of GUYOT's shore team, who have had their fair share of struggles during the race. When the two teams intertwined on the dock, there weren't many words exchanged, just looks of regret and a few back pats.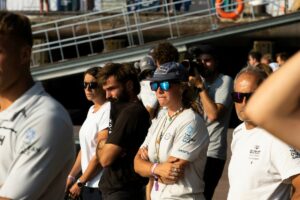 As the broadcast continues to show the flow of events, tears roll down Francesca's face as her earlier (and lifelong) hopes of crossing the finish line in Italy are dashed.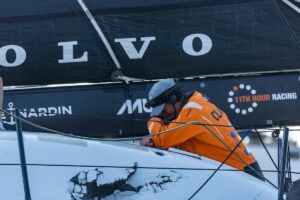 Both shore crews are also red-faced and bleary-eyed. GUYOT themselves had only just rejoined the race after dismasting 600 miles off the coast of Rhode Island during Leg 4. Although no longer able to win the race they had come back onto the circuit with a bang, winning the In-Port Race here in The Hague. The hours their crew has put into having a race ready boat for Leg 7 has been off the chart.

The boats dock within seconds of each other to a muted audience. Benjamin Duttreux, Skipper of GUYOT environemment – Team Europe and an experienced IMOCA skipper immediately jumps off his boat and rapidly makes his way to 11th Hour Racing Team, wading through the frenzy of cameras and media.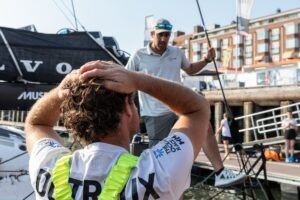 "I am so sorry. I am so f*****g sorry," he blurts out. 
"Ben… did you not see them?" asks Mark.

"No. I didn't, it was too late. I am… guys I am so sorry," he says with tears in his eyes and his head in his hands. "I never… you have helped us so much. I am so sorry." 
"Ben," says Charlie, taking the French Skipper's shoulders in his hands. "There is not a universe in this world where you or anyone on your team would have wanted this to happen. We know that. It makes no sense, ok? We've got you."

"If we can do something, anything. I hope you will win this race," replies Ben as the two skipper embrace.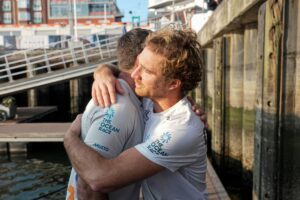 When the going gets tough…
"Don't leave me alone," says Charlie as he walks back to the team base with a small cohort of people. "I'm not listening but just keep talking to me, I was alone for a second there and let me tell you, it wasn't great. I'm going to call my family and let them know I'm okay, yeah, and if you could just keep talking, thanks." 
The team regroups, finding each other back at base.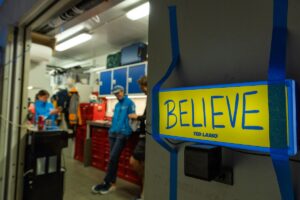 Team CEO Mark gathers everyone together in the base and calmly states the facts and what we know about the situation. The sweaty red faces around the room stare back at him, no one can quite believe it.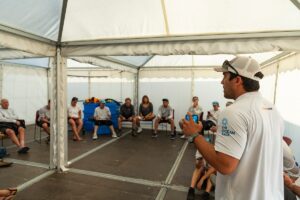 "The most important thing is that everyone on their boat and our boat is ok," says Charlie. "There is nothing we would have done differently, and accidents happen.
"This race has a way of testing people in different ways – physically and mentally, and there is no team I would rather be on, that I would rather have with me. If anyone can figure this out, it is us, I genuinely believe that, we will just have to see what that process looks like as we get more information."
After the meeting, the various departments disperse and jump into action, management on insurance and procedures, the shore crew on repairs, communications on content gathering, all stations were in motion and no one was getting an early night. 
"Has anyone seen Frankie?" Irish shouts. "I need her, anyone got eyes on Frankie?"

"I'm here," comes a deflated voice from inside one of the containers. 
"Ah Frankie, I've been looking for you. Very important. My Dad wants me to give you  a massive hug and tell you it's going to be okay," says Irish as he gives her a long and deliberate hug. 
The only way is up
At 2am last night, after the dust had settled, and the messages of support started flooding in, the sailors of 11th Hour Racing Team could be found in the hotel lobby huddled together, Simon Fisher (Si Fi) with his knee pads still around his ankles.

"This is never, ever what I imagined when I woke up this morning," he says dazed. "I'm okay, and thankfully everyone else is too but… yeah, wow. I was really close to tears today, several times. I still can't believe it. I won't sleep until I know what our next steps are."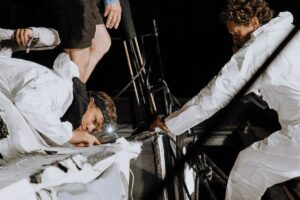 As the shore crew take stock of the damage and begin repairs and a small group of management from both the team and race organizers assess options, next steps have yet to be decided.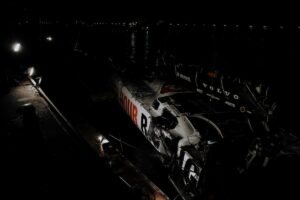 As it stands, some of the technical team have been awake all night and are now operating in six-hour shifts around the clock, the words of Si Fi on the dock, on the verge of tears, echoing in their ears. "Personally, I refuse to admit this [race] is over. 
"I have seen plenty of stuff in my time over six Ocean Races, this is not one of the better ones, but we have a fantastic team, and going into today, we were in a fantastic position, and that is thanks to the team we have. If I wanted to be with any group of people in adversity, it's them."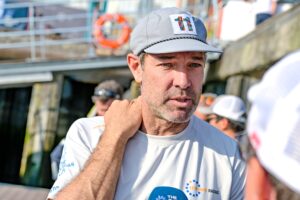 Thank you
Like Frankie said at the beginning of this article, the win would have been for everyone, the team's extended family which includes partners, suppliers and fans, and we'd just like to say thank you for reaching out. 
Whether it's a sympathy-based message from Rhode Island:

"I have never seen the level of heartbreak that this town has expressed over the past day over everything you and the team are going through. 
Nor have I seen the level of pride I've heard, from every corner, for you, your sportsmanship, and your perseverance. 
I am more proud of you and the team now than I have been at any other point in this race. All of Newport is rooting for you."
Or a solutions-based message from another high level sporting team:
"I have just seen what's happened. Tell us what you need, we have some of the best composite builders in the world in motorsport and we can fly them to you. Tell us what your options are and we can help."
The support has been overwhelming. Whatever happens over the next 24 or 48 hours, the messages from around the world have shown us that our 'one big family' as Frankie describes is, is perhaps even bigger than we originally imagined. So thank you. 
24 hours after the collision, at 1800 CEST on Friday, June 16, 11th Hour Racing retired from Leg 7 of The Ocean Race.