HOW TO FOLLOW CAPE TOWN ARRIVALS
How, after 4,000+ nautical miles, is it possible for the teams to be this close? It's going to be an extraordinary finish here into Cape Town South Africa, and although there's no live TV broadcast – there are plenty of ways to follow the arrivals…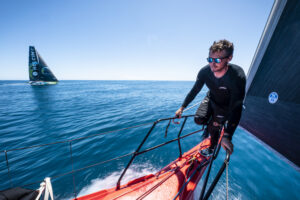 It's neck and neck out there, at times we have been so close to Kevin Escoffier's Team Holcim – PRB, fans have only been able to see one boat on the tracker.
As it stands, the top three boats; ourselves, Biotherm and Team Holcim – PRB are in a fierce battle to the finish line with less than 40 nautical miles to go. Team Malizia are slightly further behind and GUYOT Environnement – Team Europe are further behind the fleet with 91 nautical miles to leaders Biotherm.
"I trust us," says Charlie Enright, "I trust us when things get tough. We've done well and made smart decisions so far. Of course there is a great deal of uncertainty during this approach to Cape Town and with that comes a great deal of anxiety – it's all I'm thinking about."
Expected Time of Arrival (ETA) – Leg 2 finish in Cape Town – is currently from 0830 UTC / 1030 local time in Cape Town, today.
➡️ FOLLOW THE RACE TRACKER HERE
➡️ FOLLOW THE LIVE ARRIVAL BLOG HERE
➡️ READ THE LATEST FROM 11TH HOUR RACING TEAM HERE
➡️ DISCOVER THE CONTENT FROM THE FLEET HERE
➡️ FOLLOW THE EUROSPORT UPDATES HERE