IT TAKES VISION: MEET WATER FOOTPRINT IMPLEMENTATION by AMORY ROSS
In a world faced with complex climate challenges, the need for transformative change has never been more urgent. We often speak to the added value of this global race as a platform for education, for increasing awareness, and for providing a forum for the exchange of information. Our legacy grantee program is one such example of a way in which we, as a sports team, can extend our sphere of influence outside the boundaries of competition and leave a lasting impact as we race around the world. At each stopover of the race we work together with an organization of choice which is creating its own impact by advancing local initiatives that improve the health of our ocean and address the dynamic environmental challenges facing the sailing and marine communities – the local solution to the global problem of climate change. Here in The Hague, we support Water Footprint Implementation, a partner of ours since the early days of this campaign.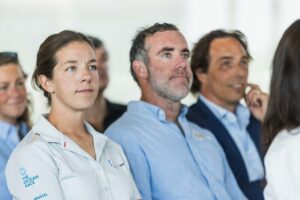 A water footprint refers to the quantified use of freshwater, used directly or indirectly by an individual, organization, or product throughout its life cycle. It is a tangible measure of the impact of human consumption on water resources, many of these totally hidden to the average citizen.
There are three kinds of footprints we've come to understand over the tenure of this race:
'Blue Water' is the consumption of surface and groundwater resources, so things like irrigation, industrial processes, and domestic use. The CNC machine used in the construction of our boats' mold used water as a cutting agent, to cool the process.

'Green Water' refers to the amount of rainwater consumed in the growth of crops or vegetation, that otherwise would have been used by nature or replenished our rivers and lakes


'Grey Water' measures the amount of freshwater we pollute while by human activities, like showering or washing in the sink.
Combined, these water uses help to understand the total draw on the world's water supply, and without quantifying this cost you'd never know how much to 'offset', in traditional terms.
We all need to understand our water footprint, and then we can determine how best to address the impact
Here in their hometown of The Hague, we gathered with WFI and 50 of their stakeholders and partners to celebrate the launch of their Water Footprint Compensation Concept. Until now, their work has primarily focused on helping organizations to assess and reduce their water consumption. With encouragement and support from their clients and partners – including 11th Hour Racing Team – they have built a framework to compensate for the remaining unavoidable water footprint.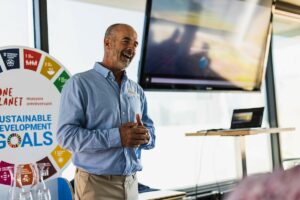 So in 2022 they started to develop a compensation methodology that strives to replenish, restore, and protect the world's fresh water. First you need to measure your footprint. Second you come up with a reduction plan. The new part, unveiled today, is about the compensation plan. How do you create a long term action plan of measures or projects to offset your water use. How do you make it direct, within an arms reach, either geographically (your site of consumption), or through your suppliers, their methods and their geography. And the last action is about delivering on that plan, and then monitoring it, evaluating it, annually.
How does that look practically? WFI have kicked off a series of pilot compensation projects, including (significantly for us), one with Environmental Monitoring Group (EMG) focussed on community capacity building in the wetlands region of the Makhaza community in South Africa. Both EMG and WFI are part of 11th Hour Racing Team's legacy grantee program, with EMG on the frontline of the serious consequences of water scarcity. 
The two are joining forces in a unique way. With global water resources under pressure, and regulatory and restorative actions on the local or river basin level are needed, WFI and EMG responding to this need, through linking water consumption for production to water compensation activities.
Social research has proven that citizens can play a prominent role in managing water resources at the community level. Community capacity building in water management can result in water footprint compensation over the medium to long term. The 11th Hour Racing Team, EMG, and WFI are working together on a pilot project to determine the feasibility of community capacity building in water management as a water footprint compensation activity. 
The long-term pilot project goal is to establish an environmental community made of many local stakeholders in Makhaza along the Kuils River, working collectively towards reclaiming and cleaning the Kuils River with projects that support the community and address poverty and unemployment inequality. The pilot will explore the development of quantifiable indicators and metrics for water compensation in terms of quality and/or quantity based on small-scale voluntary wetland restoration through community action.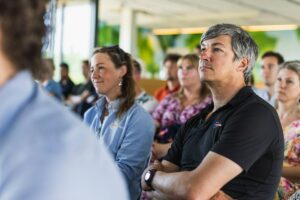 It has been a long time that people have acknowledged water as an under-appreciated source of our existence. The sooner we start quantifying our human toll on water as a precious resource, the sooner we can start managing its availability. And the sooner we start educating and informing organizations to its importance, and its embedded impacts within their supply chain, the sooner we foster innovation and creative solutions. It's no different than designing and building our boat. We first have to understand the challenge before we can go about finding answers.
As this race unfolds across four continents, and as we continue to visit our stopover grantees around the world, it's impossible not to be constantly inspired and hopeful for the future. The Ocean Race is an ideal platform to champion sustainability and promote responsible, eco-friendly practices ourselves. As athletes and teams, this is more than just a sporting event. It captures the attention and enthusiasm of people around the world, and we get to engage a global audience and share the incredible work that is being done in places like The Hague, by brilliant, passionate organizations like WFI. It's a privilege to step away from Mālama for a bit and see just how much potential lies in these incredible 11th Hour Racing Team grantee partnerships.