Justine Mettraux: a newcomer to the IMOCA class – "I dream of the Vendée Globe 2024"

Voiles et Voiliers have kindly allowed us to translate and reprint this interview with our co-skipper of 11.1, Justine Mettraux. You can read the original version here.
Justine Mettraux will sail in 2021 under the colors of 11th Hour Racing Team, onboard Alex Thomson's former Hugo Boss. She will race two-handed alongside Simon Fisher in the Rolex Fastnet Race, the Défi Azimut and the Transat Jacques Vabre. Hailing from Switzerland, she will then be part of the American team for The Ocean Race 2022-23 onboard a brand new IMOCA. On the strength of this crewed experience, it may lead to the Vendée Globe 2024 ….
Voiles et Voiliers: What's your experience in IMOCAs?
Justin Mettraux: I sailed a bit with Isabelle Joschke onboard MACSF before her participation in the Vendée Globe, to help her with maneuvers. And also for short deliveries, before or after races. I have spent about ten days onboard in total. My biggest experience was a transatlantic last October from Newport to Concarneau with 11th Hour Racing Team, onboard the former Hugo Boss 6. We were four sailors onboard: Charlie Enright, Simon Fisher, Rob Greenhalgh and me.
V&V: What did you learn from this first Transat onboard a foiling IMOCA 60:
JM: It was a good warm-up with some difficult weather conditions. We were able to use the foils at full throttle at times. In those moments you realise how you can eat up miles so fast. This first experience made me realise that I can hold my own onboard and it went well for me. It's important because you can't kid yourself – on these boats you have to want to be hurting a bit! I also realised that I still have a lot to learn. I can't wait to start training again in a more structured way in the spring.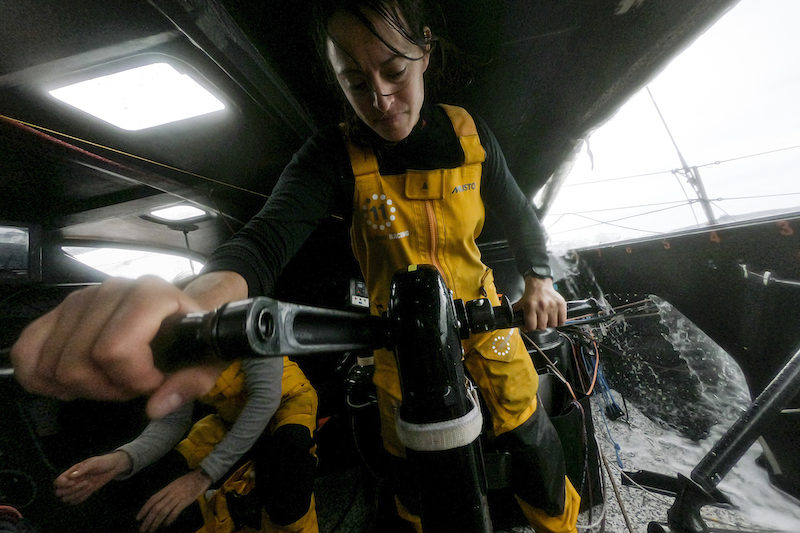 V&V: How did you find yourself with 11th Hour Racing Team?
JM: At the start, it was me who contacted Charlie Enright with a view on The Ocean Race. I knew that his project was off to a good start and that he would need a female crew member for the race around the world. There aren't many women with experience in The Ocean Race and I thought my profile would be of interest to him. You have to make your own luck! The delivery between Newport and Concarneau was the selection process. It went well and he asked me to join the team.
V&V: For 2021, the 11th Hour Racing Team project revolves around two boats, one of which, Alex Thomson's Hugo Boss (from the 2016-17 race), you will co-skipper with Simon Fisher. What will be your program for this season?
JM: We will start training again around the 20 February. It will be a big session for six weeks based out of Concarneau because we are based at MerConcept. We will take a small break in April before restarting again for The Ocean Race Europe, which will start at the end of May. I'll be sailing with Pascal Bidégorry, Charlie Enright and Simon Fisher. The whole team will be in the same boat because our second IMOCA will still be under construction at CDK Technologies. [Editor's note: Once in the water, it will be sailed by Charlie Enright and Pascal Bidégorry in double handed races in 2021].
After The Ocean Race Europe, I will switch to a double-handed program with Simon Fisher. We'll take part in The Rolex Fastnet Race, the Défi Azimut and the Transat Jacques Vabre. For these preparations, we'll train at Pôle Finistère in Port-la-Forêt. It will be great to be lined up against other boats. I've always trained in Lorient and it is good to change, to discover something else in order to keep on learning. I will gradually gain strength little by little and things will be done naturally. I will be able to double my experience gained as a crew member.
V&V: Can you tell us more about your co-skipper, Simon Fisher? He isn't well known in France, but he's a big name in Anglo-Saxon sailing.
JM: He is! He's taken part in five Volvo Ocean Race's which goes to show the extent of his experience! He is very well respected, notably for his skills as a navigator and strategist. But he also knows how to do everything onboard. He has already done four Transats onboard the 11th Hour Racing IMOCA. He hasn't had much of  an opportunity to sail short-handed or double-handed in his career so it is a really good opportunity for him as well.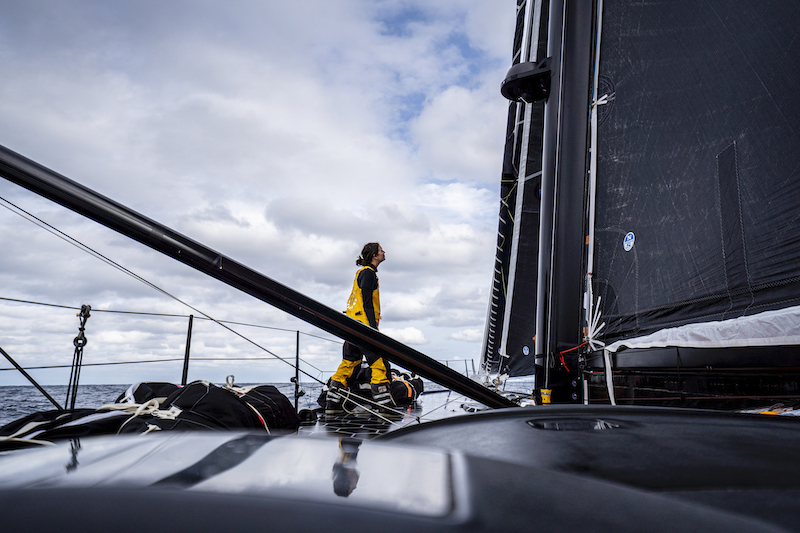 V&V: 2021 is going to be dedicated to sailing the current IMOCA. Will you also be involved in monitoring the build of the new boat, which is scheduled for launch at the end of July?
JM: I joined the project recently and I have got involved in the areas that suit my skills. I have mostly sailed one design so far so it will be interesting to work on a prototype. I will have the opportunity to sail onboard the new boat after the Transat Jacques Vabre in preparation for The Ocean Race 2022-23.
V&V: Your involvement with 11th Hour Racing will continue in to 2022?
JM: That's the idea – to compete in The Ocean Race in the new boat.
V&V: We can imagine you are tempted to sail in the Vendée Globe 2024…
JM: Yes, I've been thinking about the Vendée Globe since my participation in the Volvo Ocean Race with Team SCA, in fact. I completed a round the world trip with stopovers and learned a lot from it. There is nothing better than spending time in the race to train. I tell myself that I know how to sail big boats and the experience in the next Ocean Race will give me a lot of experience and miles in an IMOCA. I know that you have to start the research early in the hope of entering the Vendée Globe, therefore I am already starting the process of searching for funding. We will have to see where this leads.
V&V: What type of project would you like to get involved in?
JM: Obviously I would like to have a really good project but given my busy sporting programme in the next few years, I know that it is not realistic to build a new boat. I could go for a reliable IMOCA, second or third generation, but they are likely to be snapped up. The Vendee Globe has been a great success this year and a lot of sailors will want to do it.
V&V: There have been six women who set off in the Vendée Globe this year, which was a record. Diversity in sailing has been an important driver for you – are things now moving in the right direction?
JM: I would have liked to see a woman finish in the first group, but of course it is positive. These last few years there have been improvements but we still need to improve access for women to be sailing in teams so they can be trained up. The Ocean Race carries this dynamic. I think that sailors and the public appreciate this mix. Personally, I take less pleasure when I follow races like the Vendée Globe where there aren't any women involved.
You can learn more about Justine's plans with our team this year by clicking here.