Keeping our planet healthy, one mouthful at a time
As athletes, we need to take care of our bodies and fuel them appropriately, but we can also take care of the planet at the same time by carefully considering the food we eat.
Our team has developed our own Sustainable Meal Program with the creation of a 'Good Food Guide' to ensure we are making the most sustainable food choices, both while at sea and on shore. For every location we visit, we have a stopover guide that offers advice on local options for environmentally friendly eating, including where to purchase local, organic product and recommendations on restaurants that prioritize sustainable practices.
These past few months when we were at our home base of Newport, Rhode Island, we enlisted the help of Kaitlyn Mello Maxted to manage our Food Program for the duration of the training session.
With Kaitlyn, we've put together a few pointers on sustainable eating that can easily be adopted, wherever you are in the world:
Shop local, shop seasonal – Kaitlyn really lives by this one. Not only is the quality of produce a whole lot better when it's not mass-produced, the impact on the environment is significantly less and you're supporting local businesses! Kaitlyn would buy the majority of our food from local farmer markets. Shopping seasonally means the food travels less miles before landing on our plates and requires less resources to grow. To get the best assortment of local, seasonal produce Kaitlyn did most of her shopping using the Mobile Market service from Farm Fresh RI – a consortium of local farms offering a wide range of options for meal planning, available for ordering online.

Composting!

We talk about this a lot

but it's easy to do and can make a big difference to the planet. The team base and each crew house we used in Newport had Rhodeside Revival composting buckets (a

Healthy Soils, Healthy Seas

partner) that would be collected each week for composting.

Meatless Mondays – all meals prepared by Kaitlyn on Mondays were meat-free. A plant-based diet is beneficial in the fight against climate change, so this small lifestyle change is a great first step for anyone looking to make more sustainable choices about the way they eat.

Meal planning – by planning all our meals, we minimize waste and can ensure we're making the best choices for our bodies and for our planet.

Limiting Waste – buying in bulk and reusing containers and tins keeps our waste down. We simply wash all containers out and reuse them, rather than purchasing more.
Team Recipes
Try your hand at making the team's favorite 'Meatless Monday' meal and desert with these recipes:
Roasted Butternut Squash & Spinach Quiche – Taken from King Arthur Baking Company
Ingredients
Crust
Your favorite single pie crust recipe or store-bought crust  
Filling
1 medium-large (227g) yellow onion, peeled

2 tablespoons (25g) olive oil, divided

1 tablespoon (14g) balsamic vinegar

1 1/2 cups (213g) butternut squash, cut into very small cubes

1 cup (227g) whole milk

5 large eggs

1 tablespoon fresh rosemary

1/2 teaspoon fresh thyme

1/2 teaspoon salt

1/2 teaspoon black pepper

1 cup (113g) grated cheddar or crumbled goat cheese

1 cup (28g) fresh baby spinach, chopped
Instructions:
Preheat the oven to 375°F.

To prepare the crust: Roll the prepared crust to fit a 9″ pie pan. Prick it all over with a fork. Bake the crust for 10 minutes, then remove it from the oven and set it aside to cool. If you are using a store-bought pie crust – follow package instructions.

To make the filling: Quarter the onion, and slice thinly. Heat 1 tablespoon of the olive oil in a medium saucepan over medium-low heat. Add the onion and cook, occasionally stirring, until caramelized and deep golden brown. This will take about 20 minutes. Right before the onion finishes cooking, add the balsamic vinegar to the pan and cook for a few more minutes. 

While the onion is caramelizing, spread the cubed butternut squash on a parchment-lined baking sheet and toss it with the remaining olive oil, along with a couple of good dashes of salt and pepper. Roast the squash until it starts to brown and soften.

In a large bowl, whisk together the milk and eggs. Add the rosemary, thyme, salt and pepper. Add the caramelized onions, roasted squash, grated cheese or crumbled goat cheese, and baby spinach. Pour the mixture into the pie crust. Don't overfill it! If you find you have too much filling, just leave a little out, baking it alongside the pie in a custard cup, if desired.

Bake the quiche for about 35 to 40 minutes. The edges should be golden brown and the center should feel just set. 

Remove the quiche from the oven and let it cool on a rack. Serve warm or at room temperature.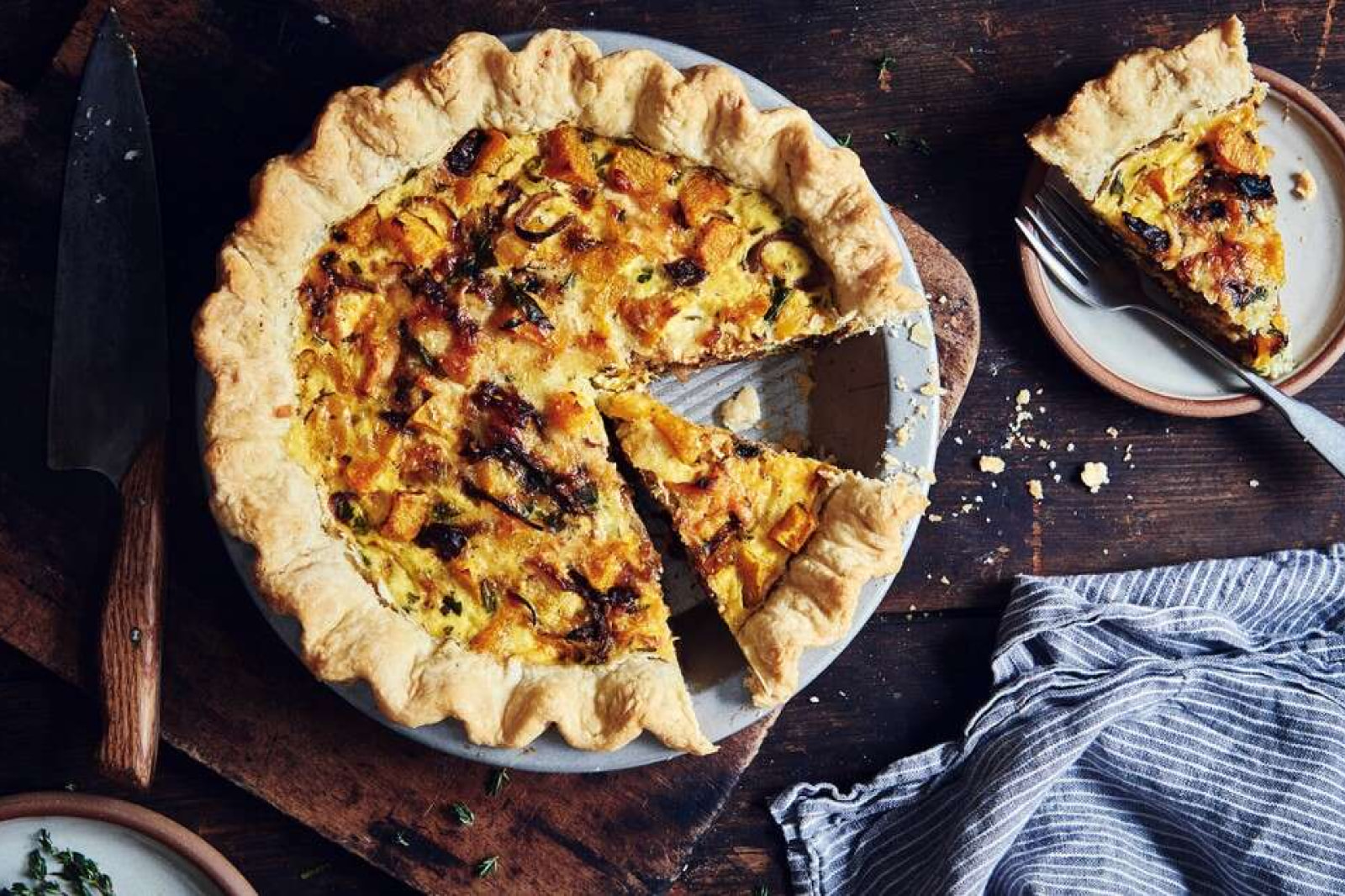 Chocolate Almond Butter Cups
Ingredients
16oz. dark chocolate or semi-sweet chocolate chips
1 cup of almond butter
A dash of maple syrup or honey
Maldon sea salt flakes
Instructions
Line a muffin tin with 12 parchment muffin liners. Set aside.
Mix almond butter and a dash of maple syrup or honey until well combined. Set aside.
Melt chocolate in a double boiler over simmering water until the chocolate is smooth and glossy. Keep the melted chocolate over hot water near your work area. Use a small spoon to coat the lower half of the inside of the muffin liner.  Transfer the muffin tin to the refrigerator or freezer until the chocolate has set.
Remove muffin tin with cold chocolate cups from the refrigerator or freezer. Add a teaspoon of the almond butter mixture to each cold chocolate lined muffin liner. If the chocolate in the double broiler is still melted, spoon the melted chocolate into each muffin liner, making sure the almond butter is now covered. If the chocolate in the double boiler has hardened, re-melt the chocolate, be careful not to burn in it, then repeat the last step. Sprinkle the top of each with sea salt flakes.
Return the muffin tin with the almond butter cups to the refrigerator or freezer until they are fully set and hard. Remove parchment muffin liner from each and serve.
*makes about 12 almond butter cups
Always learning
Once we were all back home, we all joined together – from all four corners of the world – for our most recent #OceanHour Session, a Netflix party to watch the Kiss the Ground documentary. Narrated by Woody Harrelson, the program details why healthy soil and regenerative agriculture is so important in combating climate change. It not only reinforced the processes we have in place for choosing sustainable nutrition, it also gave us a few more things to think about…
Regenerative farming means no pesticides! We already know that these aren't great for our health and wellbeing, but pesticides actually contribute significantly to climate change. Fumigants produce nitrous oxide – a greenhouse gas 300 times more potent than carbon dioxide. In order to help minimize the emissions caused by the food we eat, we can choose organic produce and source food from local farmers who we know to be pesticide-free. Alternatively, we can grow some of our own food!
Healthy soil means healthy seas and a healthy planet, so composting is an easy way to give a helping hand to Mother Earth. Lots of composting initiatives exist around the world but if you live somewhere that doesn't have one, building your own compost bin is a good solution. Simply scrape your leftovers into the bin and it'll eventually turn into nutrient-rich compost – the 'black gold' of the farming industry. Read more about composting here.
While eating a plant-based diet is preferable, we can make more sustainable choices when eating meat. Although cows have largely become the most vilified animal on the planet for contributing to climate change, a number of ranchers are rearing cattle in a way that actually benefits the environment. These 'Regenerative Ranchers' move their cattle systematically around multiple paddocks, so that the ground doesn't become overworked. This produces plenty of healthy grassland that sequesters carbon. When the cows eventually eat the grass, the carbon from the root is absorbed by the soil, keeping the ground healthy enough to maintain carbon sequestration from the atmosphere. Win-win!
With the holidays approaching, there's no better time to start re-energizing our food consumption. Why not challenge yourself to have a more sustainable Thanksgiving? Try composting, shop local, and create delicious recipes using seasonal produce. There are plenty of positive changes we can make, and if we make them together, we can all make a difference.