As the crew from 11th Hour Racing Team race from Alicante, Spain to Mindelo, Cabo Verde, we're onboard with Amory Ross, our Media Crew Member with live updates from the boat!
Don't forget you can track the fleet here.
---
📅 FRIDAY, JANUARY 20, 2023
🕒 1300 UTC
🌍 DISTANCE TO FINISH: 283.3 NAUTICAL MILES
💨 SPEED: 20.7 KNOTS
📏 DISTANCE TO LEADER: 47.3 NAUTICAL MILES
As we move in to the final 18 hours or so of Leg 1 of The Ocean Race from Alicante to Cabo Verde, it's tense – for those onshore as well as those onboard Mālama. With Malizia closing fast from behind, it may now be a matter of defending for second place, rather than fighting for first. With a repair to the starboard board-down line required this morning now completed(which saw two the crew have to put in two extra maneuvers) will they be able to claw back the miles on first placed Holcim-PRB? Only time will tell …
ETA is currently early hours of Saturday morning.
Update from Amory Ross onboard:
With a gybe or two left to play out before the long fetch west to the finish, just over 280 miles away, we're quickly running out of ways to create leverage and opportunities with Holcim, and there doesn't seem to be a way past in a straight line. Try as we may to force an error and find a clear lane, they are fast and smart and time is the new enemy. That, and Malizia, storming down from the north. They are fast downwind – we saw it firsthand during the practice race when they rolled us from five miles back!
Another untimely hiccup this morning when, finally on a favorable shift, the starboard board-down line snapped. These lines hold the foils down and see some of the highest loads on the boat. While we've broken them in training and carry spares, it meant we had to gybe onto the other foil (and now an unfavorable shift) replace the line, and gybe back. Two extra maneuvers and plenty of time down-speed in between going the wrong direction. That is racing and that is life. A great job by Jack to get things sorted quickly and we'll keep looking ahead. Though this breeze will likely hold to the finish, night time amongst the shadows of tall volcanic islands could turn everything upside down and we have to be stay close enough to pounce!
Spirits are high, the chase is still on, and we'll keep at it until the end.
And happy birthday Si Fi! You're wise enough as it is so here's to hoping you share some with the rest of us.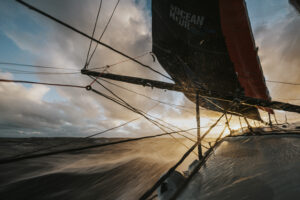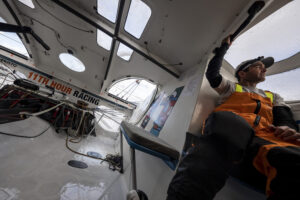 ---
📅 THURSDAY, JANUARY 19, 2023
🕒 0900 UTC
🌍 DISTANCE TO FINISH: 713.9 NAUTICAL MILES
💨 SPEED: 16.9 KNOTS
📏 DISTANCE TO LEADER: 27.3 NAUTICAL MILES
It's been a tense night for those onboard 11th Hour Racing Team, but also for those of us ashore glued to the tracker. With the hourly updates from The Ocean Race HQ comes the temptation in the middle of the night to 'just take a quick look …', and then the mind turns to crew and how life is onboard.
Justin Shaffer explains that the Azores High has shifted, which has impacted the tactics … "When we started the race we believed the second half of the route was fairly fixed but the shape and position of the Azores High has changed, so the plan has to change. They still don't look to be on the layline which leaves the opportunity for leverage in this last stretch of the track."
After tracking down the layline yesterday morning, four of the five IMOCAs started to move to the west, to pick up the Azores High [winds which flow clockwise around the Azores and the most common route for a Westerly passage of the Atlantic], with Guyot environment – Team Europe the only 60-footer to gybe towards the African continent, opting to take a path through the Islands.
The Canaries are always a tactical challenge to pass through, as there are strong winds between the islands, but also the tracker shows wind shadows off the back of the land masses up to 100 nautical miles long (as seen on the image below in blue and green, compared to the stronger winds shown in red, channelling south west). In addition, what is seen on the weather models is often not what is happening on the water as the conditions can be very localised.
Our team stuck to the game plan of heading west, but, as Amory explains below, it didn't work out quite as hoped and they didn't get the new wind they anticipated. But the fight is still on with Holcim – PRB and one thing is for sure … they won't let up until they are firmly tied up in Mindelo, Cape Verde.
Update from Media Crew Member, Amory Ross:
The ride continues. What a start to this race and relentless from the start. I think we all have little things we've been hoping to get to when conditions abate but there has been no reprieve. The sample of water to pull from the OceanPak for lab testing? Ugh. The fun interviews for quiet days? Cleaning up the galley? A Buddhist podcast about working well under pressure from Antoine on Malizia? I'm afraid at this rate, and with the remaining forecast, it will have to wait until Leg 2 or Cabo Verde. There has been no opportunity for anything other than working, eating or sleeping. Merely moving around in anything more than 20 knots of wind on these boats requires all of your attention and focus; there's little room for anything else.
As to the race, our westerly play didn't quite pan out the way we'd hoped. The whole system we were sailing around slid east which meant we sailed past the layline and never got the big lift we'd anticipated. It happens! Oh well. Look ahead to the next opportunity to claw Holcim back. Optimistically, the new weather brings the Canaries into play and brings us a lot closer to Africa, so there may be some risk to the leader. They will always be first to new winds but if the winds are light, we gain. And if – with the now hourly schedule – we see Holcim super light, we could avoid the area altogether. There's also ample track to just grind them down the old fashioned way in this wind: boatspeed. But we know they're fast!
A big one for us today is just managing the islands and their wind shadows. A little more watch to watch than day to day onboard, which is always exciting… Back to it!
---
📅  WEDNESDAY, JANUARY 18, 2023
🕒 1100 UTC
🌍 DISTANCE TO FINISH: 1,085 NAUTICAL MILES
💨 SPEED: 25.5 KNOTS
It was exactly 24 hours ago that Mālama made her final tack to set up her long approach to the Cape Verde islands. They executed the pre-race plan exactly as proposed, sailing all the way up to Cadiz, tacking, and now sailing in the most offshore position relative to the fleet for what they believe will yield the best conditions.
At midday UTC yesterday, they were 11 miles behind Holcim-PRB, tucking in behind the French team around 1700 UTC as they drag-raced towards the finish of Leg 1. The gap between first and second closed to 1.9nm, but sticking again to the pre-race strategy, they started to move offshore, and this morning are 36 nautical miles [41 miles or 66km] north west of Kevin Escoffier's crew, with a deficit of 11.6nm [13miles or 21km].
With less wind inshore, and then with the potential of more pressure offshore, Justin Shaffer, our onshore navigator, believes this is the best place to be. With some ridging of the Azores High further to the east being the next obstacle for all the crews as they approach the Canaries, will being on the outside pay off? Only time will tell …
Update from Media Crew Member, Amory Ross:
Call it a grudge, but after the Ocean Race Europe – a predominantly light air upwind race through the Med – many began to … unfairly … compare the IMOCA class to the VO65s. It's hard to compete with narrower hulls and longer waterlines, taller rigs, and daggerboards you can pull all the way up in those conditions. They are apples to oranges, designed to do things differently, and the last 36 hrs has displayed just how different these boats are. Last night was radical. The up-range reaching, downwind conditions highlight the effectiveness of the foils and we were quick to leg out.
We were also pretty motivated not to let Holcim-PRB got too bow forward. I can't speak for them, but I know we are pushing. But we are pushing smartly. Example. It's 2am and we're rightfully anxious to get off our storm jib and back into trusty-J2 conditions. I think we subconsciously feel handicapped with the S4 (storm jib) against the bigger J3 that the rest of the fleet would likely have up. As the wind speeds trended down, the call was made to go back to the J2 … even after a midnight sched that showed us as the fastest of the fleet. We peel to the J2 and things are fine for a bit but soon we are borderline out of control. It's still kind of manageable but alarms are going off and we're redlining. Maybe later in the leg, or later in the race, we hold. Not now. It was an easy call to go back to the baby S4, where we can push comfortably. We're fast enough to be in the game, so protect the asset and take the battle another day.
Sunrise today brings slightly lower windspeeds, 23 know, and slightly deeper angles. Now we're running southeast and set up exactly where we want to be, offshore of the inshore boat and bow even. If it heads, Holcim sails closer to land where winds may be lighter, and if it lifts, we gain. I'm proud of the group. Alicante was super busy but we made a plan and so far we are executing conservatively, and quickly.
And a happy birthday to Jack! We'll use his extra year of wisdom wisely 🙂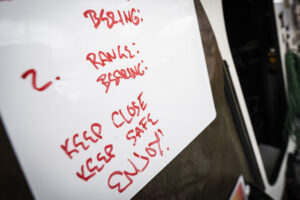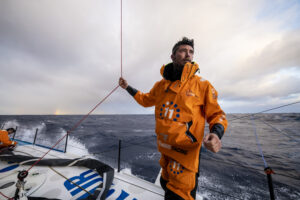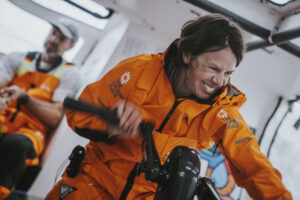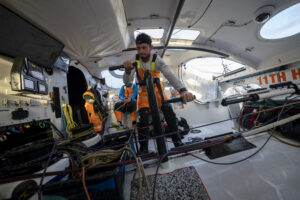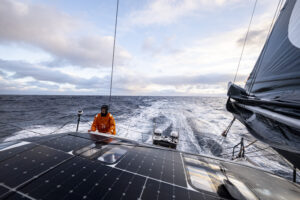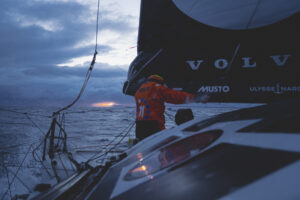 ---
TUESDAY, JANUARY 17, 2023
0800 UTC
POSITION: 2nd
DISTANCE TO FINISH: 1,534.5
The last 12 hours have been brutal for the sailors onboard Mālama, as they approached the Gibraltar Strait. With winds consistently above 30 knots, gusting up to 50, there has been very little sleep and very little food as they sailed upwind in a terrible sea state. To quote Amory, 'everything hurts'.
After a day of trading tacks, the two boats headed in to the Strait around 0300 UTC and so began the night of tight zig-zagging as they picked their way through the Gibraltar Strait. Holcim managed to stretch their lead on us as our sailors battled with a torn J3 [a jib] in the night (see more below). The reduced sail plan of a storm jib in place of the J3 wasn't enough competition for the French crew, who emerged first from the Strait an hour before sunrise, at 0730 UTC.
For those keen to understand more about how the tides and currents work in the Strait, here's a quick lesson from shore navigator, Justin Shaffer: "The tide in the strait of Gibraltar comes in waves, but the current flow at the surface is predominantly west to east, and increases in speed on the surface, based on the phase of the tide. This is compounded by the wind driven swell also. It's slower progress to the west for the teams as they all will have to battle this."
The next update on the tracker will show Mālama on a reaching course [when the wind comes across the side of the boat] up to Cadiz, before they will turn south west, picking up the Azores High, and next stop Cabo Verde.
From Amory Ross onboard:
There was some sarcastic discussion of career changes in the morning darkness while zig zagging our way across Gibraltar, fighting 4 knots of adverse current, 35 knot winds, steep waves and an armada of outbound traffic. You can't say we weren't warned though! All of the forecasts were right, if not a shade shy.
Once into the meat of the Med it has been 10-20 percent windier, on average, than expected, and after 24 hours onboard of relentless upwind slamming everyone's feeling a bit battered. This, after a tricky first night of multiple light-air transitions, has made this a really challenging start to this race. Nobody has really slept, nobody has really eaten and nobody has really settled in.
Nonetheless we have escaped the Mediterranean Sea and are now into the Atlantic Ocean where we are still going upwind and where it is still blowing 30! But the waves have spread out and there's a general feeling of freedom, without the coastal confinement of Spain and Morocco it feels like we can finally stretch our legs. Our goal was to leave the Med in first because it could well be a case of rich-get-richer and we had worked hard to build a 4 mile lead over Holcim, despite their reluctance to "fall in." It was fun racing. Trading tacks all day, someone would always gain and someone would always lose, a real battle of inshore vs offshore.
Offshore you had breeze but also current, inshore was free of current, but winds got light under the lee of land. Who could find the right balance… Then, during a particularly windy tack, 45 knots or so, our J3 dragged across the radar dome tearing it in half from leech to luff. Besides the delay in getting it down and the storm jib up, we have been sailing upwind without our primary up-range jib. A slow bleed as they say and we finally relinquished our lead. Fortunately, when we soon turn downwind, the J3s place as a staysail, inside much larger sails, will be less damaging.
There is a ton of sailing left, and much of it at high speed. And while we are still currently northing, away from Cabo Verde, it's akin to pulling back the rubber band. We're putting in the work now to make the long downwind trip more efficient. We don't want to get stuck too close to the coast where winds will be lighter and less stable. So we're getting offshore now, in steady 20-30, then turning towards the Canaries. Should be a fast trip!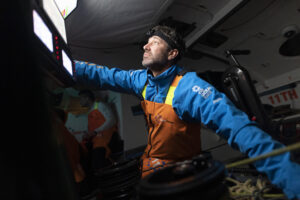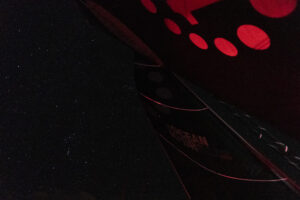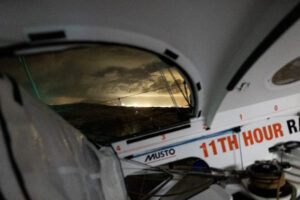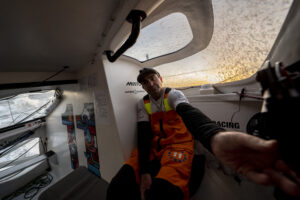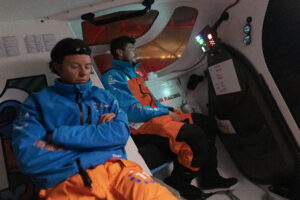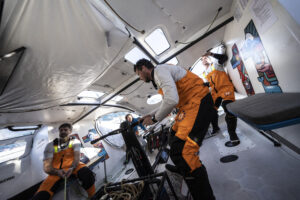 ---
Monday, January 16, 2023
0520 UTC
Distance to finish: 1,733 nautical miles
Speed: 11 knots
After years of preparation, practice and training it always feels good to finally be in the midst of a race. We may be sailing upwind in 32 knots and a miserable sea state at the moment, but it doesn't sting as much as we're used to, because we are racing… the complexion of life onboard alters ever so slightly. Tolerances go up, as does the pressure. And there has been plenty of that in the last 24 hrs, in more ways than one!
A race start is always difficult. All the noise, all the people, all the commitments, it can be difficult to focus. There's a lot of pressure on the momentous moment, on doing it justice, long before the starting gun ever goes. Then there's the pressure of the inshore course. These boats aren't made to do what we did and the goal was to escape unscathed! There is a lot of risk involved with short course sailing at 28 knots dodging and weaving spectators and other foil-bearing IMOCAs! It was tough to find the first mark and that put us on the back foot in the puffy reach, but we rebounded just fine and did exactly what we needed to do, to round Tabarca in first. There is also a lot of pressure at the moment. 30-35 knots from the west, just as the forecast models predicted – quite unanimously. Uncomfortable as it may be, it's a known entity and it's keeping us going towards the waypoint that is Gibraltar. There may be some current relief and more northerly winds ashore, but it's not a risk we are willing to take right now.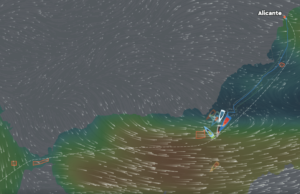 Onboard things are copacetic. Nobody got much sleep last night, nobody has eaten a whole lot, but this short, intense battle to the Strait will be over soon (ETA of course sometime middle of tonight!) and then we'll be out into the Atlantic where the rhythms and routines can take hold.
A huge thank you to Alicante for an amazing few weeks and a spectacular send off, and the same to 11th Hour Racing, all of whom made the trip to Spain to wave us on our merry way!