As the crew from 11th Hour Racing Team races from Cape Town, South Africa to Itajaí, Brazil, we're onboard with Amory Ross, our Media Crew Member, with live updates from the boat!
Don't forget you can track the fleet here.
---
📅 WEDNESDAY APRIL 5, 2023
🕒 FINISHING TIME: 08:20:23 UTC
🌎 LOCATION: ITAJAÍ, BRAZIL
🥇 POSITION: 3RD
📏 DISTANCE SAILED: 14,840 nM
As leg 3 draws to a close, you couldn't have painted a more beautiful backdrop to what was a very emotional reunion.
"It was everything you would imagine. A real accomplishment. And I'd like to take this time to say that every team is only as good as its team.
"We faced some real challenges out there and we have an enormously talented, committed, devoted group on the boat but then off the boat as well – there's over 30 people that helped us get through that leg. Not only in the preparation but through the communication that allowed us to solve some of these problems and the general support from each department.
"So, you know, I talk about those of us on the boat, but when you think about the broader family here, that's a much larger number and every one of them should feel proud." – Charlie Enright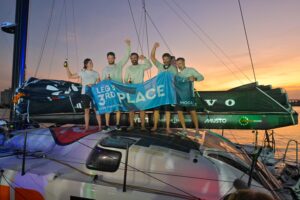 ---
📅 SUNDAY APRIL 2, 2023
🕒 1000 UTC
💨 SPEED: 9.5 KNOTS
🥇 POSITION: 3RD
📏 DISTANCE TO FINISH: 539.3 NM
✍️ Onboard update from Charlie: 
Here we are, with three-ish days to go, having already sailed 12,000 miles, past the three Great Capes, and through what seems like every time zone, re-meeting our sun time on the other side of the globe.
We have had highs and lows, seen joy, frustration, courage, and heartache. We've been fast. We've been broken. Above all, thus far, we've been safe. The magnitude of what we've done hasn't yet set in, nor should it have, it's never over 'til it's over! We have 500 miles or so to go, and 2 or 3 potential points on the table. 
Everyone and every boat has been pushed to the limit and beyond. We need to get there to Itajaí as fast as possible, for the points, for the physical and mental rest, and, most importantly, to be preparing Mālama for the next leg, into our hometown of Newport, Rhode Island.
Incentives are aligned. We've shown resilience, and we've continued to find new depths each and every time, and we'll continue to until the end, lesser teams might have thrown in the towel.  I'm proud of our squad, whether we end up with the grittiest points in the history of The Ocean Race, or not, Brazil offers a reset.
With more than half the race to go, close scores, and Mālama back in waters she's comfortable with, at this point, late in the race, it is when the best teams thrive. The strength of our team, both onboard and shoreside, is the team. We always said we want to be the team sailing the best at the end of the race, not the beginning: now it's our chance to execute on that. There are chinks in everyone's armor, there are many miles to go. Let's light this candle!
🗺️ Weather update from Si Fi:
It seems like here onboard we have finally seen the back of the windy weather. The conditions up the South American coast have been pretty challenging, but now, with just a few days to go as the remainder of the fleet seemingly limp towards the finish line in Itajaí, the conditions are taking a very different complexion. Onboard temperatures are up having crossed into the warm water currents just over 24 hours ago as we moved off the continental shelf and with the latitude now in the thirties, the sun is beginning to feel stronger.  
Despite our best efforts to hang on, the final low pressure is now moving away from us and a decent bubble of high pressure is approaching from behind. Hopefully there will be an opportunity to gybe north on a favorable shift before the light winds of the high-pressure roll over us which will no doubt mean several hours of calm. This, however, will be the opportunity to take on a few last jobs which could help speed our progress to Itajaí.  
The high looks reasonably progressive and should roll over us quite quickly and hopefully before too long we will be going upwind towards the South America coast. We have done relatively little upwind sailing so far in this race so it will be something of a novelty at least!  
This will then give way to new southerly winds as a trough rolls off the coast and means yet another transition. However with any luck it is these southerlies that will carry us up the coast and across the line. With wind speeds all under 20 knots, it will be quite a change from the last week where we have seen some big winds and powerful squalls. Rest assured though we will be using every puff to get ourselves to Itajaí as quickly as possible however long it takes!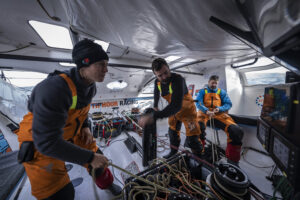 ---
📅 ThursdaY MARCH 30, 2023
🕒 1600 UTC
🌍 DISTANCE TO FINISH: 1,269 NM
💨 SPEED: 12.8 KNOTS
🥇 POSITION: 3RD
📏 DISTANCE TO LEADER: 357.3 NM
Race leaders Team Malizia and close followers Team Holcim PRB, are a few hundred nautical miles ahead of 11th Hour Racing Team and Biotherm, which means the battle (for now) is for third place. The expected time of arrival (ETA) has the third and fourth boats arriving in Itajaí within 5 minutes of each other!
Putting the racing aside, passing the iconic Cape Horn has brought a moment of reflection for the sailors, as they start to feel the relief of leaving the Southern Ocean. There's still over 1000 nautical miles to go but it does feel like the end of this mammoth leg might finally be in sight…
✍️ Onboard update from Amory Ross:
It happens every time. You turn the corner at Cape Horn and the compass shows north. Overcome with relief, satisfaction, exhaustion… you turn the page. It takes so much energy to push that hard for that long and with the first real change in leg landscape it feels like you've gotten to the finish, or at least feels like you're on the home stretch. The reality of course is that there's more than 1500 miles to go and a wildly variable race course covering it all, courtesy of the giant mountain ranges lining the narrow South American continent 100 miles to our west, and the rapidly changing water temperatures between here and Itajai. For as consistently windy as the Southern Ocean can be, this stretch of the South Atlantic can be as consistently complex.
Compounding things of course, is the fact that we don't have Reef 1 available to us, we have that reef repair to look after at full hoist, and an issue from the start but more relevant now in the lighter winds – the keel cant motor is fried. Any keel movements are done manually by hydraulic hand pump. Unfortunately, Malizia and Holcim are out of reach a few weather systems away, but we still have a fight for the podium and third place right in front of us! While we and Biotherm are in different stretches of ocean, routing has us arriving at the finish together in four days time. That is all the motivation we need to gather ourselves after the significant Cape Horn exhale.
Speaking of Cape Horn… it has been a few days of reflection now and I've been trying to put in its place, personally, since exiting the Straits of Le Maire. I remember my first race being so focused on the work, on "ticking every box" for the sponsor and the race and the team that I never appreciated the moment for myself. The next race I took more time to look at the Horn, to experience the sight and being in that place for myself. This time though, for me, was neither of those. I had already seen the Horn. I had already patted myself on the back for the accolade. The most meaningful thing about this time was the togetherness of the team. Looking around at the group, "reading the room" so to speak, my takeaway was not the spectacularness of the snowy rock out the window, nor was it the remoteness or the symbolism of Cape Horn. It was appreciating what it took from each of us to get there. It was the smiles, the genuine sense of achieving something that often felt in jeopardy… It was the feeling inside, not the sight outside, that will make this Cape Horn experience the most special and the most memorable for me. We were never stronger than over the last few weeks and we did take a moment to acknowledge it, to laugh and commiserate and congratulate, before falling asleep that night, resetting, and waking up to the rest of the race now in front of us.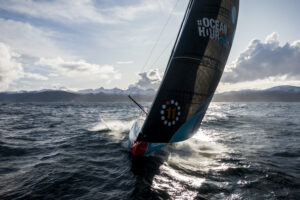 ---
📅 TUESDAY MARCH 28, 2023
🕒 1000 UTC
🌍 DISTANCE TO FINISH: 2,000.6 NAUTICAL MILES
💨 SPEED: 17.7 KNOTS
🥇 POSITION: 3RD
📏 DISTANCE TO LEADER: 358.3 NAUTICAL MILES
11th Hour Racing Team has just 50 miles to go before they reach Cape Horn and for Justine Mettraux, this will be her first rounding of the southernmost point of the Tierra del Fuego archipelago of southern Chile. Rounding Cape Horn is a significant moment for sailors, an achievement to be celebrated by everyone onboard. As Malizia and Holcim-PRB get richer with a new low-pressure system with 28 knots of breeze, there are calmer conditions for the chasing pair of us with Biotherm. But with 2,000 miles to go to the finish in Itajaí, we know for sure, there's still a lot of runway left.
Ju Ju sent this update last night, "We will see who will be first there [at Cape Horn]. It is nice to still be fighting against Biotherm. There are still 2,000 miles not go after the Cape to Itajaí so still a lot to play for. It is nice to have a bit softer winds, despite it meaning the leaders are moving away from us. We are back to full main, big sails, and trying to get the most of the wind we have at the moment, but they are pretty unstable conditions with a lot of clouds.
"It is cold, though! Hard to dry anything but nice, beautiful lights, birds again because we are getting close to shore. We are seeing more Albatrosses and Petrels which is nice. We will probably see a bit of shore before we get to the Horn, we will see what time we will be there, but I think we will enjoy the moment."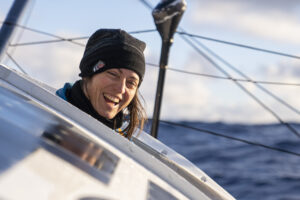 ---
📅 SUNDAY MARCH 26, 2023
🕒 0900 UTC
🌍 DISTANCE TO FINISH: 2,552.6 NAUTICAL MILES
💨 SPEED: 17.2 KNOTS
🥇 POSITION: FOURTH
📏 DISTANCE TO LEADER: 170.8 NAUTICAL MILES
The sting in the tail … the crew onboard Mālama are having their final taste of Southern Ocean conditions this weekend as they approach Cape Horn at the southern tip of South America, and have to contend with 35 knots of wind, gusting to over 45.
More challenges with the mainsail saw the crew have to drop, fix, sail under jib-only for a few hours, then re-hoist with three reefs, losing miles to the three boats in front and are now lying 173 miles behind leaders Malizia. Si Fi's adage '#NothingSillyUntilWeGetPastChile' is their mantra – just a few hundred miles to go.
✍️ Update from Amory Ross onboard:
It has been nearly four weeks out here and our Southern Ocean experience is on its last days. We are eastbound and down, Cape Horn and a return to the Atlantic Ocean just 800 miles away. It feels good to have the bulk of the ice exclusion zone behind us and with one more gybe, a relatively straight shot across the Magellan Strait to the corner and tip of South America.
For the last 48 hours we have been surrounded by towering waves and wind-blown seas far more typical of the Furious Fifties, and visually at least it finally looks like the place we all came here to see. As grueling as constant 35-45 knots of wind and the minefield of giant holes in the ocean around us can be, it's part of what makes the Horn meaningful: you have to have earned it. 27 days is a long time in the cold south and we have had our fair share of issues to overcome, but I don't think we have seen true 'Southern Ocean' conditions, until now.
Our issues aren't over of course, and they won't be until Itajaí. Late yesterday a huge surf followed by a massive nosedive stopped the boat. 38 knots to 3. On rebound we abruptly turned up and the autopilot, overcompensating, spun us down, halfway through an accidental gybe before it again caught itsekf. Already at two reefs, the main – for a moment – crossed the middle of the boat and slammed back, breaking one of the top battens. Oof! The spare was cut down to size and with a plan in place, Charlie turned head to wind to lower the main between the lazy jacks and swap battens. In 35 knots it flapped like tissue paper and tore a hole just below the broken batten. With the main finally down, the batten was replaced and the hole covered up. But outside in the cold the glue needs time to set, so we sailed jib-only for a very, very long few hours. When we eventually re-hoisted the main, we went to three reefs, swapped the J3 for the storm jib, and have declared a truce with the conditions. We cannot afford any more breakages with supplies to repair things already running low. "Chill." Get the boat around the Horn, take opportunities from there where they come. Out here today, it's about staying in the game, staying on the track. To finish first, first you must finish, as the saying goes. It seems our competition is doing much the same.
800 miles is a long time to reflect, but I know it will go by quickly. The windier it is the busier it is and the busier it is the faster time moves. Some might say you don't reflect on the Horn until you're around it. That there's no time for reflecting until Brazil. I've made that mistake before and will be spending most of the next few days in the Southern Ocean appreciating how hard it is to get here, how hard it is to be here, and what it means to leave here. As punishing as it can be, there is beauty in its power. And unfortunately, I also know that no picture or video can ever replace the actual sensation. For as annoying as the work on deck to replace the batten and repair the main was yesterday, it was a blessing in disguise because, for me at least, it meant time outside. Time looking at the splendor of the ocean, at the waves, feeling the cold and the wind on the face and in my hands, and the awesomeness of this place in all its glory. I was a bit disappointed to resume faster sailing because it meant we were again prisoners to the sheltered cockpit inside. Soon enough we'll be heading north and these waves will be for me, just a memory, a photograph, a story… for now though they're real, and right there, and I'll be watching them and enjoying them until they're not!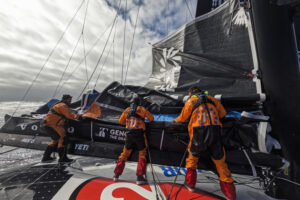 ---
📅 THURSDAY MARCH 23, 2023
🕦 1630 UTC
🌎 DISTANCE TO FINISH: 3,464.7 NM
💨 SPEED: 21.1 KNOTS
🏅 POSITION: 4TH
As the fleet enters day 25 of racing, there is no skirting around the obvious red and orange weather conditions on The Ocean Race tracker indicating strong winds and no doubt rough sea states. The epitome of classic Southern Ocean conditions.
"There's some pretty strong weather in between us and Cape Horn right now," explains Navigator Simon Fisher (Si Fi) onboard. "This is often the case and always makes it feel like such an achievement when you get there. That left turn to go north after Cape Horn (which indicates the end of the Southern Ocean) will be very welcome by everyone, but we're not there yet. It's always the case with this leg that you enjoy it so much more in hindsight!"
✍️ Update from Amory Ross onboard:
With Point Nemo now behind us the page turns to the next checkpoint on the map, and it's the big one. Cape Horn. Certainly the biggest milestone of this race, and likely in all of offshore sailing.
There is no debating what it represents and what it stands for, but that's a reputation it has earned the hard way. The weather in the Southern Ocean and the weather at the Horn can be terrible and it has tested many a sailor for centuries. It seems fitting then that this, our own long journey through all of the south, will end with our toughest test yet. The biggest low of this leg and potentially the worst weather of this race are just around the corner. And with Chile to the east and the Horn to the south, there is no escaping it. We are on a collision course with 35 knots of wind, at a minimum, and waves from the continental shelf, and it will be exactly the kind of weather we came down here expecting to see. Unfortunately for us, Neptune is saving his best work for last.
We remind ourselves often of the mantra. Chill. Keep the boat and the people safe first and foremost. Let things unfold in front of us and take advantage of opportunities as they present themselves, but don't push and don't try to force them into happening. At daybreak we went to two reefs, skipping the damaged first reef, and are likely to be hedging more north than south when it comes to the next gybe. The farther north you sail the more distance you sail, but you can also minimize the time spent in the strong winds and also minimize the strength of the winds. North is long but safe. South is short but risky.
That's the next gamble for the fleet and it will be interesting to see who goes south first. In the interest of responsible and rational decision making, I don't think it will be us. Holcim have the most to lose after leading this leg from the start, but also the biggest points cushion to fall back on. Malizia seem content with their pace but is there an issue with their masthead inventory after the Horn? Do they want a head start? And Biotherm. Always a wild card and not afraid to go on their own. Who knows!
What we do know is that today is about thorough preparation and maybe a last good sleep or two before the final push to the south's exit begins. It's not going to be easy but in a lot of ways, that's exactly why we all want to be here. Cape Horn must be earned.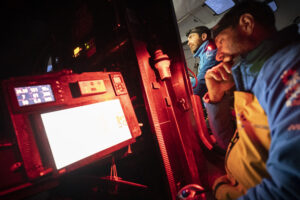 ---
📅 WEDNESDAY MARCH 22, 2023
🕒 1000 UTC
🌍 DISTANCE TO FINISH: 3,881.1 NM
💨 SPEED: 18.5 KNOTS
🥇 POSITION: 4TH
The elastic band of distance to leader (DTL) during racing this leg has been insane, with Team Holcim PRB holding a solid lead of 600 nautical miles at one point. However, it's day 23 in the south and the fleet is closer than ever with just six nautical miles separating first to last. It was a speculation that without the one-design VO65s, fans might not see this level of intense racing and proximity, but as the teams pass iconic Point Nemo, it's clear that won't be the case…
✍️Update from Amory Ross onboard:
Day 23… if it were most legs in the history of this race we'd be finished by now! Instead, we find ourselves at Point Nemo – farther from land than anywhere you can be on Earth. Crazy. Quite a leg we are having, too, as I look out the window and see all three competitors, their black sails standing out clearly against the dull grey sky. It's hard to imagine after all this time that we'd be here together, but that's a function of the ice exclusion zone keeping us at the same latitude, and weather that has favored the boats behind and to the west. After two long days of successful repairs in the high pressure ridge we certainly benefited from those circumstances, but since the fleet has re-gathered it has been more about consistent boatspeed than wind, and with a full main back up the mast we're doing just fine!
Onboard the mood is great. It seems from the get-go we've been stuck in a breakdown loop… the batten wingtips at the start. The board-down line. The J2 tear, then the J3 tear. Those repairs. The rudder swap. The mainsail tear. And more. It has led our narrative since Cape Town. But honestly, after getting across the scoring line and assessing everything and deciding to push on, a lot has changed. The sailing philosophy is less intense and more: have fun, take the opportunities as they come, but above all get to the finish and in good shape. The boat seems to be in a really good place, all things considered, and at various times in the last 48 hours we've had our bow out front in the pole position. With five or six days until Cape Horn we are in as strong a position as anyone to get around first and we've arrived here conservatively, sticking to Si Fi's mantra of '#ChillUntilBrazil, #NothingSillyUntilWeGetPastChile,' and with smiles on our faces.
Everyone's finally back to getting rest and into a more typical straight-line sailing rhythm, which is great because very shortly now, two days away or so, the wind will build sharply and we'll turn south along the ice zone towards the Horn. These are the days to sleep. Even the small gains and losses right now are going to be minuscule compared to what happens to the fleet when we have 35+ knots and big seas for three days of downwind gybing. We'll soon be back into the red zone where boats break and people fatigue, and the stakes will be very high. Everyone wants to be first at the Horn. Everyone wants to lead into the Atlantic. For now though, we are happy to be here, in the remotest of the remote, in the best of company both onboard and on the horizon.
Point Nemo. A special pin on the map of adventure!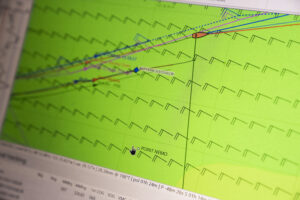 ---
📅 TUESDAY MARCH 21, 2023
🕒 1300 UTC
🌍 DISTANCE TO FINISH: 4,142.3 NM
💨 SPEED: 19.3 KNOTS
🥇 POSITION: 3RD
11th Hour Racing Team is approaching Point Nemo – a spot deep in the south Pacific Ocean, 3,093 miles from the nearest land mass and the closest people to them outside of the race are on the International Space Station, orbiting just over 250 miles overhead. It's still so tight at the top of the leaderboard, with all four boats within 7.2nm, as of the 1300 sched update. We are currently the most northerly boat, just tucked in behind Malizia, and trucking along at 18.3 knots. With the advancing low from the west due to be on the fleet within 24h, it's anybody's race for now. The breeze is expected to build to 35 knots in the next 24-hours, with waves of over 6 meters. It's not going to be comfortable for those onboard as they stick to the ice exclusion zone, headed for Cape Horn.
✍️ Onboard update from Jack Bouttell
We're out of the light winds and back into some straight line sailing again.
We have had what I would describe as a mega session working on Mālama over these last few days.
I'll admit, it felt pretty daunting the amount we had to get done within the timeframe and at the time I was quietly concerned as we had to also keep the boat sailing in roughly the right direction – no small feat!
Everyone got stuck in and did an awesome job, it was fantastic teamwork and we all felt a real sense of achievement afterwards. Don't get me wrong, there's a long way to go and we have to cross our fingers that everything can hold together until the end of this leg, but generally speaking we're happy. Definitely in much better shape than a few days ago.
I had just finished sanding the rudder repair when the first wave crashed over the deck which indicated faster sailing ahead. It was good timing. I thought we might get some peace for a while but it was straight into a good few hours of unpredictable wind and plenty of sail changes.
I finally got an off watch and treated my self to a change of clothes. I was fully covered in carbon dust, glue, resin you name it. My eyes have been sore as well from the dust, I was wearing eye protection but it still managed to come in. I can honestly say I didn't realize how tired I was until I had down time.
Some more straight line sailing now so the objective for everyone is to get some good recovery in and prepare for the strong winds in a few days. It's a relief to be back in the game, there's been some points when we've been leading the fleet over the last 24 hour and that certainly feels good.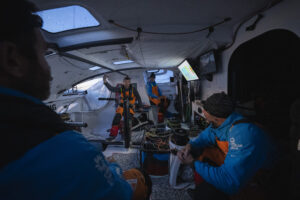 ---
📅 Monday MARCH 20, 2023
🕒 0700 UTC
🌍 DISTANCE TO FINISH: 4,681.3 NM
💨 SPEED: 14.7 KNOTS
🥇 POSITION: 1st
It's been action stations for 11th Hour Racing Team these past 48-hours with [excuse the pun] all hands on-deck for the repairs. The mainsail has been stitched back together and they've been sailing full main since Saturday afternoon and the rudder repairs have been going well.
It's been a great come back and the team is now in first place, just head of overall leaders, Holcim-PRB, after an astute tactical move to stay more south than the rest of the fleet. There's only 8nm front to back – incredible after over 8,000nm of racing – and the fleet is huddled together just north of the ice exclusion zone. There is a ridge of high pressure that is slowing their path to the east and the hope will be that the impending breeze due to fill in from the west today will hit all four boats at the same time, and we can maintain our lead at the front of the fleet.
✍️ Update from Jack Bouttell onboard:
What a hectic couple of days! It is rare to have such light winds in the south, it was nice to have some easier living conditions for a while. It's so hard living on these boats when they are going fast so it's quite a novelty to just be able to walk around.
We don't have much down time though as this has been the time to affect a load of repairs. This was our primary goal, so there has been time for rest.
The main items were a big rip in the mainsail and a delaminated rudder. There was also a heap of smaller niggles to sort out and some time up the mast needed which is always challenging.
I was quietly worried about how much there was to do and how little time we had. However, we just got stuck in as a team and things started to move forward really well.
Just as the wind picked up a few hours ago I was doing the final sanding on the rudder and re-connecting the steering system.
It was good timing so we're grateful for that, however, I'm now covered in carbon dust, resin, glue and everyone onboard is pretty tired but that's the nature of the game. Generally speaking we're pleased after a massive effort. We have a couple of days which should be fairly easy sailing so everyone can get some recovery in.
I was happy we were able to succeed with the repairs, when I first saw a couple of them I thought it was impossible with the tools and material we have onboard. So it's nice feeling, fingers crossed they all last till the finish!
Onwards to Cape Horn !!!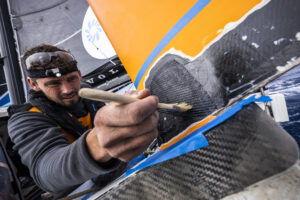 ---
📅 FRIDAY MARCH 17, 2023
🕒 1100 UTC
🌍 DISTANCE TO FINISH: 5,675.4 NAUTICAL MILES
💨 SPEED: 20.3 KNOTS
🥇 POSITION: FOURTH
📏 DISTANCE TO LEADER: 28.4 NAUTICAL MILES
Having held a lead of over 600nm, Holcim-PRB's grip on the race has been slashed, with Team Malizia just 7.2nm behind the Swiss team. So close, they must be able to feel the breath of the Germany entry down the back of their necks! 11th Hour Racing Team is not far behind, just 28.4nm off the pace, as the whole fleet enters the anticipated high pressure zone. There will be no relaxing for the crew onboard Mālama, it is action stations all-round as they set-to on the repairs to the mainsail and rudders. Our shore based sailmaker, JM, has been doing some handy craftwork, recreating the tear in materials he has back at base, to then share a step-by-step guide on how to approach the repair for those onboard. They may be thousands of miles away, deep in the South Pacific Ocean, but they are supported by a shore crew spread around the world, as they pick their way across the high pressure, before reaching along the ice exclusion zone towards the infamous Cape Horn.
Speaking on a live call to international media yesterday afternoon, Justine Mettraux said, "We have had the time to assess the damage we have had over the past days. We will make the most of (the light period) to fix the mainsail and one of the rudders and do a big check over the rest of the boat to be in good shape for the rest of the leg. We've had the time to make a priority list and a good plan for what we want to do."
Update from Amory Ross onboard:
The winds have begun to ease off and are now into the teens and not the twenties. Scheds are correspondingly slow and it already begs the question of which you prefer! Fast and furious or cruisy and calm. We get so accustomed to hammering along and being "on" at all times down here, and the obvious upshot to that is that we make good and consistent progress across a vast stretch of remote ocean. On the other hand, benign conditions and slow sailing gives everyone a chance to catch their breath and, maybe most importantly, shift the focus to the boat and not the course. The next few days will we progressively lighter and not to be blunt, but we have a lot of work to do on Malama…
The onset of light winds brings another consequence, and that's an underpowered sail plan. Until we regain the full-hoist capability of our mainsail we will be lacking power relative to the fleet in anything less than 25 knots. There's also the question of rig loading. Can we use a masthead jib with a mainsail at Reef 2? It is an issue of stability… while the masthead would be pulling at the tip of the rig the main is pulling at the middle of the rig, and it is best to have the front sail and the back sail pulling in unison. We've had to do some consulting with our rig engineers just to be safe but all seems in order, which is a relief.
Otherwise things are are pretty good! The sun is coming out and it feels like the first time we have seen it in ages. There's no denying the power in its warmth and it always brings a bit of cheer to life onboard. The competition is spread out north-south which makes the high pressure ridge and the coming days interesting as it feels more and more like strategy is again becoming a priority instead of the boatspeed-dominated leg we've seen to date. As we converge with the ice exclusion zone boatspeed will again take hold but for the moment it's nice seeing some leverage and the many gains and losses that come each and every hour.
I'd say I have to run for dinner time but honestly it could be lunch. Definitely not breakfast but nobody really knows anymore!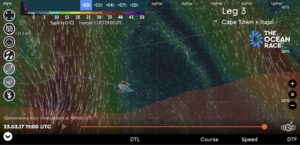 ---
📅 THURSDAY MARCH 16, 2023
🕒 0900 UTC
🌍 DISTANCE TO FINISH: 6,271.6 NAUTICAL MILES
💨 SPEED: 20.9 KNOTS
🥇 POSITION: FOURTH
📏 DISTANCE TO LEADER: 121.6 NAUTICAL MILES
11th Hour Racing Team is holding its fourth place this morning at around 53 degrees south, just behind Biotherm, 11nm north west of the team. "We are definitely in the Southern Ocean, that's for sure!" said Charlie Enright last night UTC time. "We have plenty of grey skies, big waves, big breeze, and a feeling of remoteness. We had 25-35 knots overnight and will do for the next 24-36hours. Then we are heading into a little transition and into the high pressure where we plan to do some of these repairs. We have to make sure we don't add to the list in the next 24 hours, then we should be in a pretty good shape to get going on the repairs."
From Amory Ross onboard: 
Same ocean, different vibe. I was trying hard not to anger the gods at the time, but the stretch of Southern Ocean from Cape Town to Australia was … dare I say it … flat. It's why there were multiple 24 hour records set and it's why, after nearly two days of drifting, we still made great time to the scoring line. Since then we've gone south and, visually at least, it feels more and more like I remember it. Rolling swells massive in scale, buffeted on the surface by wind, dark grey in their belly but bright white and a brilliant glacial blue in their breaking crests. There are fewer birds than before and even as it is an obvious matter of fact, you can feel us pushing deeper into the abyss. It's tangible, just outside the window at least.
We have another 12 hours of wind until the gale gradually tapers into a ridge of high pressure that we plan on putting to good use! In approximately two days time – conditions allowing – we'll attempt proper repairs to both the port rudder and the mainsail, and if there's time and material, attempt something more significant on the damaged starboard rudder we already took out, as that is now our emergency rudder. There has been much discussion with the tech team and engineers about best strategies for the rudders, as any kind of carbon and epoxy work is more science than art. In mainsail world, reef 1 is off the table but the goal is to give the middle of the sail enough structure so that we can fully hoist it to the top of the rig.
Honestly I'm not really sure what the other boats are up to or where they are going. As conditions have deteriorated the focus has been on looking after ourselves and taking care of Mâlama. Low and slow – a mode we don't consider while "pushing" – has gotten plenty of play as the squalls come and go and we're keeping this in check until the winds begin to recede. Ironically, it doesn't seem like we're losing much distance on the fleet so I can only assume everyone else is doing the same sensible thing! It is comforting to know that we are out here with company, rather than had we waited for repairs somewhere near Australia and come this way more or less alone.
Further proof, thoughts like those, that we're going somewhere distant, isolated and special!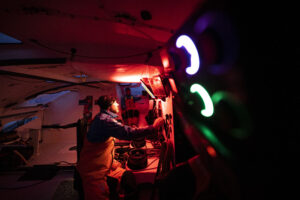 ---
📅 WEDNESDAY MARCH 15, 2023
🕒 1700 UTC
🌍 DISTANCE TO FINISH: 6,540.9 NM
💨 SPEED: 21.5 KNOTS
🥇 POSITION: 4TH
📏 DISTANCE TO LEADER: 106.8 NM
Onboard update from Amory Ross: 
Todays report emphasizes a return to relative normality, Southern Ocean normality at least. We still have 25 to 30 knots of wind and we are still sailing … safely … with two reefs and the FRO. Downwind in these conditions we'd likely be in this setup anyway so it all feels very ho hum. The challenge of course is keeping things in check. Easing sails sooner than we normally would, throttling back instead of hammering forward, sailing lower than our polars want us to. With a short term forecast showing 30-40 and the potential for more, we will need to be good about sticking to that plan. These boats have a tendency to run away from you and staying one step ahead of the weather is going to be essential in keeping things under control and taking good care of Malama.
Today is day 17 and it does feel like we are nearing the halfway point of this Southern Ocean adventure. The Australian checkpoint slowly receding in our wake, we now pick up the more familiar race route from Auckland to the Horn, almost on schedule! We've also left the Roaring Forties and entered the Furious Fifties, where everything just feels a little more extreme. In saying that there are a bunch of islands on the bow I never knew anything about, the Auckland Islands, and it's always fun filling in some blank spots at the edges of the world map.
The Auckland Islands sound significant to New Zealand both culturally and ecologically, but we must be careful to steer clear of the southernmost of the chain – named Disappointment Island! Otherwise, the region is a marine mammal sanctuary (est. in 1993) and a marine reserve (est. 2003), as they are a popular breeding ground for the Southern Right Whale and an important refuge for all kinds of Southern Ocean seabirds surrounded by a lot of sea and not a lot of land. The entire region was designated a World Heritage Site in 1998 and its underwater topography and diverse ecological habitats host a variety of marine species found nowhere else in the world. Pretty cool! I have a notes document in my phone where I write things down to learn about after the leg when I get back to internet, just for places like this.
After the wind comes the calm, and we'll be putting that to good use. Between the mainsail repair and the rudder repair there's plenty to do. One step at a time though and the next 36 hours will be asking a lot… It's soon time to batten down the hatches!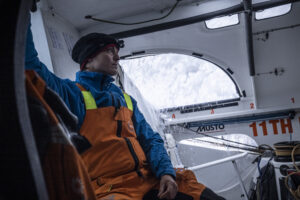 ---
📅 TUESDAY MARCH 14, 2023
🕒 1700 UTC
🌍 DISTANCE TO FINISH: 7,001.9 NM
💨 SPEED: 19.6 KNOTS
🥇 POSITION: 4TH
📏 DISTANCE TO LEADER: 144.5 NM
11th Hour Racing Team is at 51 degrees south, just 25nm north of the ice exclusion zone – the 'no go zone' put in place by Race Control of The Ocean Race to keep the boats out of the way of any bergs which may be in the path of the boats. We are now lying in fourth place, 450nm south west of New Zealand and just 144nm behind the leader Holcim-PRB. The expectation (and hope) is that by the end of the week, the Swiss team will hit a high pressure ridge with lighter winds and there will be compression once again in the fleet allowing both an opportunity to catch up, but also for the crew onboard Mālama to effect repairs to both the mainsail and the rudder.
Speaking from onboard, our navigator Simon Fisher (Si Fi), gave a little more details about how the ice exclusion zone is managed by Race Control. "In the south we have a big ice exclusion zone, which is the limit of how far south we are allowed to go and we aren't allowed to cross the line. That line is formed by them doing scans in the south for potential icebergs, and looking at sea temperature and potential drift, and based on the advice from a company called CLS, they define our ice limits which we have to respect. Sometimes it can limit how south we can go and you get days like today where really for the weather we would go more south if we could, but we are forced to gybe down the exclusion zone, down the hard limit.
"Generally the icebergs drift to the east or north east, and when they hit the warmer water they tend to break up or fragment, and that's where you get lots of bergy bits and that presents the biggest risk to us in the fleet. In the speeds that we do in our carbon boats, the last thing we want to see, or hit, is an iceberg and the technology exists to scan the ice accurately. Back in the day when the guys were spotting icebergs, there wasn't the technology and it was harder to mitigate the risk. The consequences of sailing through an iceberg at 10-12 knots is significantly less than us flying along with foils out the side of the boat doing 25-30. It means a few more gybes at times, maybe we stay a little bit further north than the traditional clipper route, but it is all for our safety which is probably a good thing."
✍️ Onboard update from Amory Ross: 
It feels good to be heading south and not north! Since we discovered the rudder issues the plan has been to push ahead to the scoring gate, cognizant of the value of those points, and the proximity to Australia, Tasmania and New Zealand in the event the rudders had gotten worse. After crossing the line we bore away and gave the boat a very thorough inspection from bow to stern and keel to mast. The new starboard rudder is perfect, and the crack in the port rudder had not gotten worryingly worse. Everything else onboard passed the … stringent … safety check and the decision was made to press on to Brazil without stopping.
That's not to say we are going to be pushing like we have. We will be without reef 1 for the rest of the leg and the plan, weather and materials providing, is to attempt a patch on both the rudder and the main when the winds have begun to abate in a few days time. We will fill the crack on the rudder with epoxy in an attempt to prevent further peeling of the outer skin, and we will patch the main to the extent to which we can hopefully salvage full hoist. Fortunately, most of the forecast from here to the Horn looks reef-2 friendly, so a well done repair should have plenty of time to settle in the stack.
Morale is really good after the tough stretch. Managing the issues and managing the drive to the scoring line took a lot from everyone, and then to have the mainsail tear after losing ground to Malizia, there was visible and understandable disappointment; it's a competitive group and we hold ourselves to high standards. But the boat walkthrough and the decision to carry on galvanized the group. It was unified and unwavering – we and the boat are ready for the trip.
The complexion of the leg may be slightly different as conservation and safety are – without question – the number one priority, but the chance to continue with the rest of the fleet is exciting. You never know what issues other boats may have to deal with and what results-oriented opportunities exist over the horizon, but also for us – we get to cross another stretch of Southern Ocean and all it's unique beauty, and hopefully experience the thrill of Cape Horn, about 5000 miles away, as teammates and as friends. In this race at least, no points are worth these experiences and deciding to go was a good reminder that we are all out here for a lot of reasons, but the passion for the sea and our planet, and the thrill of adventure, remain common denominators to us all.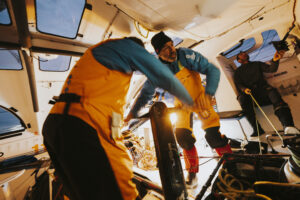 ---
📅 MONDAY MARCH 13, 2023
🕒 1800 UTC
🌍 DISTANCE TO FINISH: 7,390.4 NM
💨 SPEED: 20.7 KNOTS
🥇 POSITION: 3RD
📏 DISTANCE TO LEADER: 157.8 NM
TEAM UPDATE, POST SCORING GATE:
Following on from last week's theme, resilience is the name of the game.
Just before passing through the scoring gate in third place, netting a really valuable three points, Charlie and the team onboard Mālama were putting in a reef and the main sail ripped, resulting in a one meter long tear.
To those who are wondering what this means, it means our performance will be compromised until the team are in the ridge of high pressure when they can effect a repair. This is likely still a few days away so in the meantime our shore team are working on a repair plan.
For the avid tracker-observers out there. You will have noticed the slow-down already.
After crossing the line of the scoring gate, the team bore away to check Mālama thoroughly. Rudders, rig, structure, engine, keel, foils, rigging. No surprises anywhere, which is always great news.
However, with the issues that have been reported in this leg to date, a workshop in the Southern Ocean is needed. In the same way you might execute car repairs in a garage perhaps… well this is same, same but different. This is, after all, life at the extreme.
Certain repairs will be possible in a ridge of high pressure (lighter conditions), certain won't – due to the ongoing extremity of the sea state and/or weather. We will only know in a few days, until then it's chin up, alert mode on and taking it one day at a time.
To quote Charlie, "We have a number of different things hampering our performance at the moment. We did actually talk about stopping, whether it be in New Zealand, Tasmania. But ultimately decided that it is safe to proceed. Given the weather that we have ahead of us, there will still be some opportunities to execute repairs and then we will see what the future brings.
"We have got to remember as a group that we are here engaging in one of life's last great adventures, and we are doing it together as a squad. We need to enjoy it and certainly enjoy each other's company. It has been a lot of hard work just to get to this point. We have put a lot of hard hours into this boat, too. from a competitive standpoint, we'll have more than one hand tied behind our backs…but we understand that. Will chip away with what we can along the way… it's not over yet, not by a long way."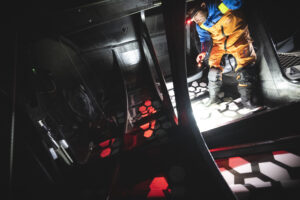 ---
📅 SUNDAY MARCH 12, 2023
🕒 1000 UTC
🌍 DISTANCE TO FINISH: 7,929.7 NM
💨 SPEED: 23.9 KNOTS
🥇 POSITION: 3RD
📏 DISTANCE TO LEADER: 163.9 NM
Thirteen days and twenty-one hours into Leg 3 of The Ocean Race and 11th Hour Racing Team is in third position as the four IMOCAs power their way to the scoring gate at 143-degrees east longitude. This 'race within a race', with the line just 350nm to the east of our boat, has five points up for grabs for the first to cross the line, four for the second, etc etc.
Navigator Simon Fisher, speaking last night said, "We are diving south underneath Australia, still going fast, 24 knots, but more importantly now it is all about getting to the scoring gate in good shape. We are in a similar situation to before, we have a front behind us and a high pressure in front of us, and it is all about managing our latitude to get under the high and stay in the good pressure, and in front of the front. It is super close. We are trying to manage our angles and speeds and will try to pip the others to the scoring gate, which is coming up fast."
Update from Amory Ross onboard:
Race points are now just 350 miles due east. It has been a manic few days of straight line sailing and while we've been on the same gybe since our rudder swap, the intensity has stayed high. It has remained windy throughout – I don't think we've had less than 25 knots for a few days – and there have been a slew of boat-to-boat exchanges, the latest being this afternoon.
After working our way through Biotherm last night it was Malizia's turn to do the same to us this afternoon. They seem to be able to carry more sail and keep their bow up, presumably with the shape of their hull, and while we struggled in the waves to keep from nosediving they were able to sail at the same speed but lower. We watched as they sailed down to us, around our bow, and then continued on in a more southerly direction.
Part of the game is letting them go. Si Fi has set a waypoint on the line and that's where we are racing to. As much as we'd love to try and match race Malizia to the line, this angle suits them well and we have to have some faith in the bigger picture. A lot can happen in 350 miles, including changes in the weather. Everybody knows what is at stake and while it's too soon for a 'sprint mentality', meaning everybody is up and out of the watch system, I have a feeling that it is in our not-too-distant future.
There's also the lingering questions about the health of our two rudders currently underwater steering us east. The plan all along has been to focus on the points around the corner and then reassess before making the big leap to South America. Everything seems fine so far but they deserve a close and thorough inspection, regardless.
Between the scoring gate and the rudders there will be plenty going on over the next 24 hours!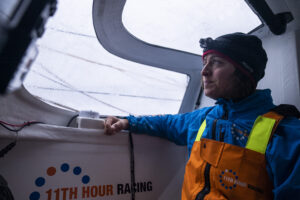 ---
📅 SATURDAY MARCH 11, 2023
🕒 1000 UTC
🌍 DISTANCE TO FINISH: 8,487.1 NM
💨 SPEED: 25.2 KNOTS
🥇 POSITION: 3RD
📏 DISTANCE TO LEADER: 140.9 NM
It's the ultimate high-speed chase out there with a new top 24 hour speed distance covered. A few hours ago, the boat received an email from The Ocean Race's Race Control: "Mālama – your new 24-hour record is 586NM."
This speed is a significant increase on the record reached by 11th Hour racing Team earlier this week, and although it's likely to be broken in the next few hours (by any of the IMOCAs flying out there right now!), we'll hold onto this moment because, if nothing else, this is some epic sailing.
It's all smiles and a momentary high onboard as Amory says: "Not sure we are ever going to be forced to reach in a straight line at 90 degrees true for 600 miles in 23 knots and flattish seas ever again!"
Team Holcim PRB has led this leg since day one, at one point extending their lead up to 600 nautical miles [690.5 miles/1111 kilometers], however the bungee cord of the fast-moving weather systems through the Southern Ocean has tightened once again in favor of the chasing pack of three; 11th Hour Racing Team, Team Malizia and Biotherm. Approaching the scoring gate of Leg 3 (Longitude 143° East), Kevin Escoffier and his team will be more than aware they are hunted, with the hunters less than 135 nautical miles behind.
For days on end, Team Holcim PRB's lead looked locked in, but as the fleet head into lighter winds, compression is on the horizon. And with points up for grabs at the scoring gate up ahead, this will make for a very interesting next few days. "After everything that's happened, if we can get a good result at the scoring gate, we will be stoked," adds Si Fi.
Let's not forget the chaotic start to this leg, particularly for our team and Biotherm in the first 24 hours, then the challenges Team Malizia faced with their mast. These teams will be hungry for some success as that scoring gate edges that little bit closer…
✍️ Update from onboard:
Hopefully the ink from our 60-feet-and-under monohull 24-hour record of 544.6nm set last Sunday (March 5th) isn't too dry, because we've just increased that number to 586nm. Conditions for record setting were pretty ideal… it's not often during a race setting that an exclusion zone forces you to sail a perfect reach in a straight line for 650 miles, with a perfectly positioned front pushing east across flat water towards a high. The stars aligned, so to speak! Our run came to an end at the eastern corner of the exclusion zone when we bore away to turn back south and begin the 1,000 mile sprint to the Australian scoring line.
This is unfolding like a race within a race. It's a "two point" leg but that is a little misleading. The leg is not worth two points, it is essentially two legs: one to the scoring line and another to Itajai. Holcim is ahead by 133nm and we're flanked by Malizia and Biotherm, each 12nm away. There is certainly the possibility that someone can catch Holcim, and second through fourth is anyone's guess. If we are going to start chipping away at Holcim's overall lead, now would be a good time to start! That's the way we are looking at this onboard. We have to be optimistic and we have to put the pressure on them to push too hard or to make a mistake.
After Cape Town's finish we spent a lot of time talking about these 1000-miles-or-less finishing scenarios and it will be interesting to see how we shift modes between playing the weather and playing the fleet. There will be a time for both, for sure, but it will be fluid. Making it even more complicated of course is that you can cross the scoring line anywhere from Australia to the ice exclusion zone. That will give everyone the freedom to explore their own routes and any leverage is good leverage. It will be impossible for Holcim to cover everyone, but that's good for all of us! Time to keep it going 🙂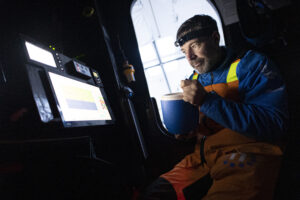 ---
📅 FRIDAY MARCH 10, 2023
🕒 1100 UTC
🌍 DISTANCE TO FINISH: 9,048 NM
💨 SPEED: 25.7 KNOTS
🥇 POSITION: 4TH
📏 DISTANCE TO LEADER: 135.8 NM
It's a race within a race – the battle to chase down Holcim-PRB, who have dominated this Leg, is well and truly on and the Swiss team is now finding the pack of three breathing down their neck. At the 1100 tracker update this morning 11th Hour Racing Team has just 135nm to the lead, less than 1nm behind Team Malizia and 15nm behind Biotherm.
After the challenges with the rudders, the crew onboard have settled into a new rhythm, hit the 'reset button' (half a red tennis ball glued to the wall of the cockpit!) and fighting hard. Justine Mettraux shared what it's like onboard, "We have been sailing in really good wind and waves, and that was a really good moment. It makes up for the hard times like having to make the sail repairs. That was probably the toughest moment so far because it's cold and wet, and trying to fix anything in this part of the world is a bit of a challenge!"
She thanked everyone for the good vibes flowing into Mālama from around the world. "It's always nice to get messages from family, friends, and fans, and it's great to know so many people are following us. We're trying to give our best, and all the support makes us feel good about the energy that we're putting into sailing the boat down here in the remoteness of the Southern Ocean."
Update from Amory Ross onboard:
I was going to write about how life onboard is finally feeling like it's getting back to normal and the straight line sailing has been refreshing and free of abnormalities, but since gathering my thoughts we've been through two sail changes and a reef and now we're two-sail reaching into a small but choppy sea state at 25 knots! Bumpy and busy. Back to the usual…
The usual isn't bad I guess considering we are averaging 22 knots with a straight course along the ice exclusion zone ten miles to our south, uninterrupted for 600 miles. The forecast is calling for a slight build with the winds reaching the high-twenties, and a slight lift, ending just aft of beam. These are fast conditions and if the seas continue to cooperate we will be looking at another two days of high mileage.
Of course these same conditions will exist for Biotherm and Malizia, but we'll all benefit from more wind than Holcim who gets nearer all the time. Once 950nm to our northeast they are now just 188 miles away to the east. With around 1,900 miles to the scoring gate, the stakes are suddenly very high!
One interesting element of life we are all quickly adjusting to is the rapidly changing daylight hours. Since we operate off UTC time onboard, our west to east progression has completely inverted the watches! 1200 has become dark and 0000 has become light. We must be getting close to the other side of the world… I'd say it would normally take a recalibration, like extreme jet lag, but since we are all operating on a segmented 24 hour schedule anyway, the only real difference is whether you are eating your breakfast or one of your two meals. Ahh the simple life 🙂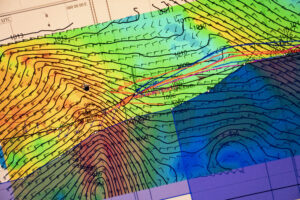 ---
📅 Thursday MARCH 9, 2023
🕒 1800 UTC
🌍 DISTANCE TO FINISH: 9,404.5 NM
💨 SPEED: 15.2 KNOTS
🥇 POSITION: 4TH
📏 DISTANCE TO LEADER: 193.1 NM
Update from Amory Ross onboard: 
It has been a fast 24 hours on the new rudder as the front pushes us east with a steady 25-30 knots of breeze. The sea state comes and goes but generally it has allowed us to keep the gas pedal down. As the front catches up to us it has gotten squally, so with one reef in the main we have been alternating between the J2 and J3. It's a balanced setup and it is nice to have both options in the quiver! Their repairs are holding up nicely.
I think we chalked up another 500-plus mile day and, looking at the forecast ahead, there should be plenty more of that to come. The wind will slowly soften but we could have three or four more days of fast reaching (on port and still on the new rudder) and potentially chew up 2,000 miles or more before the Australia scoring gate, currently 2200nm away. We'll also use that as an opportunity to assess where we are with our two rudders, too.
Si Fi delivered an encouraging outlook this morning after running some routing for the competition: compression to come. Us, Malizia and Biotherm will take this front all the way east but we have to get under a high that's blocking the way first. That high, and a slower front to its east, are holding Holcim up. They're currently doing 8 knots so we're all gaining back some miles quickly. Whether we stand a chance at the scoring gate or not remains to be seen but at the very least it bodes well for bringing the fleet back together again before passing New Zealand and venturing into the deep south.
In the meantime we'll just keep chipping away at our compadres to the north! Spirits are high.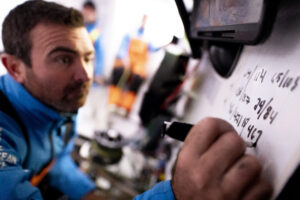 ---
📅 WEDNESDAY MARCH 8, 2023
🕒 0700 UTC
🌍 DISTANCE TO FINISH: 10,131 NM
💨 SPEED: 21.1 KNOTS
🥇 POSITION: 4TH
📏 DISTANCE TO LEADER: 494.4 NM
Cue the Billy Ocean [pun intended] song …
When the going gets tough … the tough gets going.
These past 24 hours onboard have been about teamwork. Teamwork between those on the boat, and those ashore. For those of you studying the tracker closely, you will have noticed some reduced speeds onboard Mālama yesterday morning, because early morning UTC, after undergoing some routine inspections after the heavier winds, a long crack in the starboard rudder was spotted. As the crew inspected further, they also found a crack in the port rudder. After some close collaboration with the technical shore team, it was all hands on deck [pun intended mark 2] to swing into action, get the starboard rudder out, and replace it with the spare rudder the team carry onboard, exactly for situations like these. 
By early evening UTC, the team is back up to speed, clocking 18 knots, 250nm north east of the Kerguelen Islands, and closing in on Malizia and Biotherm, 120nm due east. A repair plan has already been put in place and the team are waiting for the next light wind patch to conduct the repair. They are keeping a close eye on the port rudder in case it will need repairing in the future; the rudders are interchangeable and the repaired starboard rudder can be put in its place. But for now … all energy and attention are back on the racing and what lies ahead on the racetrack.
Amory picks up the story onboard:
It was a good night of high speed sailing on Mālama. In 23 to 25 knots of wind and alternating between our freshly repaired J2 and J3, it felt like we were finally back to being able to sail the boat the way we wanted. Our unenviable position to the south aside, we were going well against the competition and it felt great!
As the winds gradually eased into the morning it was time to run through the boat for routine after-rough-weather checks. Charlie fixed a broken hatch latch, I worked on the galley spicket and at some point Jack looked at the windward rudder – the one that's out of the water – and found a crack. It was decent, from front to back, midway down on the outboard side. Then another nearer the top, much smaller, but also closer to the "root," where the rudder meets the boat; a point of importance because losing the tip of a rudder is one thing but the whole rudder is another. Juju was quick to suggest checking the port rudder so down went the starboard rudder and up came the port. No long crack midway down, but a bigger one at the top in the same place as the starboard rudder.
It's been a bit of a whirlwind since then, but here's the summary. After taking our own onboard observations and conferring with our shore team plus the rudders' designers in France, it was determined that the starboard rudder was the worse off of the two because of its second, longer crack. We chose to put our spare rudder in it's place. So the starboard rudder came out, and the spare went in, all quite seamlessly.
Soon we gybe onto port tack and our new spare rudder will become the active rudder, which is good. The wind will build into the mid-20s and we will stay on port tack and the new spare for many, many days. Also good. But the question we are asking ourselves is what if it too starts showing signs of cracking? And, how will the already compromised port rudder fare if it's also in the down position, standard operating procedure for heavy-air sailing, or when we inevitably end up back on starboard tack?
Nobody really knows the answer to these questions and we won't for a while. Sailing relatively fast is still a priority for a few reasons: 1) we are still racing, and 2) going fast keeps us away from the next low and the next bout of bad weather behind us. Nursing the rudders could put us in the path of more strong winds and "slowing this boat down" has always been a challenge… We'll have to find the balance between making progress east on both the course and our competition (who will eventually slow up) and making sure to take good care of our remaining rudders. Where that balance falls we will have to figure out, but it will take some time to play out. Days and weeks, not minutes or hours. The complexion of this leg has changed for sure but we're back into watches and everyone's up to the new challenge… I promise you that!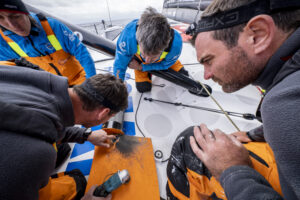 ---
📅 MONDAY MARCH 6, 2023
🕒 1000 UTC
🌍 DISTANCE TO FINISH: 10,883 NM
💨 SPEED: 15 KNOTS
🥇 POSITION: 3RD
📏 DISTANCE TO LEADER: 540 NM
After the record-breaking success of the last 48-hours, today it's down to patience, as the crew balance sailing at a less optimal angle and sail set-up, while allowing the repairs to two jibs – the J3 and J2 – to set. On the 1000 sched this morning they still lie in third place, but have lost miles to Biotherm due to the decision to head further south east to allow them to sail at a more upwind angle with the sails they do have in use. The small solace is that they are still moving east, and patiently allowing time for the repairs to take effect, so the optimal sails can be used further down the racetrack.
Update from Amory Ross onboard:
We are in a strange situation right now while we sit in a wind range between a few different sails, two of which are still in the "bullpen" where they are waiting out their curing stage after a healthy dose of glue-covered sail patches. Last nights' repair on the J3 should come good sometime this afternoon, and the 2AM bearaway and quick J2 fix should be ready for use overnight.
It means we're a little stuck between the J4, our storm jib, and the A7, our heavy air runner. If we sail the easterly course we'd like to, it's too reachy for the A7, but not windy or upwind enough for the J4. To compensate, we've altered our course and are sailing more upwind to the SE on the J4. It's not ideal and it's not very comfortable, but it's what we need to do to ensure we keep moving east and give the jib repairs time to settle.
We have to be careful because they need to work. We have a ton of time in the routing on the J2 especially, and we can't risk losing that sail. As they say it's not the first mistake that gets you, it's the second and the third. A small hole is fine until it becomes a big tear, and that's what we need to prevent. We have to be careful about how we trim them, we have to be careful about how we manage their use, and we have to be careful about when we bring them back in to the rotation.
Another good reason to exercise patience is that this low that's just passed over us will eventually slide underneath another a big high in our path, and we'll meet that high head on. It should bring another fleet compression, so risking a sail we need for the next 30 days to hold pace with a boat 50 miles away to the north, when we're both probably going to park up in a few days, doesn't seem very rational.
It's not easy being patient but there's total buy-in onboard and we'll just do what we can with the sails that are currently available to us. Without any doubt the number one priority is making sure we have a J2 and a J3 that we can trust. Hopefully, that's just a matter of time!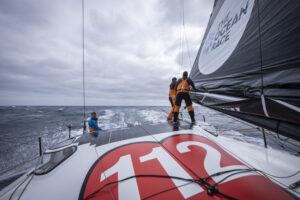 ---
📅 SUNDAY MARCH 5, 2023
🕒 1000 UTC
🌍 DISTANCE TO FINISH: 11,301 NM
💨 SPEED: 22.1 KNOTS
🥇 POSITION: 3RD
📏 DISTANCE TO LEADER: 512 NM
What a 24-hours it has been for 11th Hour Racing Team. We've clocked a 24-hour record-breaking IMOCA run of 544.63 nautical miles at an average speed of 22.7 knots, which, subject to official ratification by the World Sailing Speed Record Council, would break Alex Thomson's long-standing record of 539.71nm, in 2018. It also betters the distance covered by the team in Leg 2, which won us the Ulysse Nardin 24-hour prize, covering 542.68 nautical miles.
These boats, though, have the potential to go even further … Close followers of the team will remember that last August, on the return from Newport, USA to Concarneau, France, we bettered this distance to 560.54 with an average speed of 23.36 knots, but as that wasn't an official record attempt, and we weren't racing, the distance wasn't ratified by the WSSRC, but what it does go to show, is that Mālama is fast! There is the potential that this official distance of 544.63 will be bettered either on this Leg or during the race, but for now, it's a small something to enjoy for the whole team.
Onboard update from Amory Ross: 
Sometime around midnight our long fetch along the limits of the exclusion zone came to an end and we reached its corner, gybing south, to follow it down. Not long after and very much on forecast, the front rolled over the top of us and we were soon reaching downwind in a 30-plus knots and a sea state that worsened by the hour. After a really fast and enjoyable 24 hours in flat water it was an abrupt reminder how quickly life on these boats can change, and how little is required to go from a mode of pushing to a mode of depositing!
Speaking of those 24 hours, it seems the final tally from midnight to midnight UTC, right up to the point we gybed, was 544 nautical miles and an average boatspeed of 22.7 knots, which (unofficially) would be good enough to beat the current standing 60-and-under monohull record for distance sailed in 24 hours, held by Alex Thompson on his IMOCA Hugo Boss. Though we rattled off 560nm in 24 hours last summer during our transatlantic training run, protocol prevented any more formal recognition; but this one should stick 🙂 It's a small nod to a fun day and the potential of these boats. A great team effort to get us down here in a fast boat that's clearly capable of more and we were lucky to have the conditions to let'er rip! Who knows what's in store for the rest of the southern ocean but it does seem the key ingredient is a flat sea state… something not frequently associated with the stretch of ocean we're heading towards. Typically, these records are set in the south Atlantic and the North Atlantic, but we're excited to have been able to take advantage of a little fine fortune and mother natures' red carpet, an a glorious day of sunny, fast sailing!
Otherwise, everyone is good and enjoying being back in the mix with Biotherm and Malizia. Their close proximity seems to raise the intensity a level or two and that's always interesting to observe. This morning a stantion poked a hole through the J2, and then the J3 that replaced it, so up went the storm jib – which is fine because the forecast for the next 48 hours is basically calling for it. Charlie and Jack have already patched up the J3 down below but the J2, which is always up on an IMOCA, will be a bit more challenging. It will need to be unfurled and… here's the kicker… dry, to stick something to. That will require a full bear away and some time downwind and down speed. The bigger issue is why the stantion suddenly decided to show some teeth! It has a polished top but the rollers usually around it have slid away on the lifelines, so that will need solving before considering deploying either repaired sail again.
Nobody is too stressed. It's all part of ocean racing and everyone will have a degree of randomness to their reliability! Mālama is in good form these days and all onboard are happy to be in the hunt.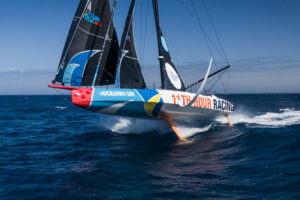 ---
📅 SATURDAY MARCH 4, 2023
🕒 1000 UTC
🌍 DISTANCE TO FINISH: 11,817 NM
💨 SPEED: 26.5 KNOTS
🥇 POSITION: 3RD
📏 DISTANCE TO LEADER: 591 NM
This morning at 1000 UTC, 11th Hour Racing Team lies in third place, in the middle of the pack of three who are tracking along the mandatory ice gate at 45degrees south. Biotherm is 33nm in front, with Malizia 25 miles astern. The good news is that we have been the fastest boat in the pack of 3 over the past 4 hours – it's fast sailing, and for now, relatively comfortable for the five crew onboard.
Update from Amory Ross onboard: 
The bow is finally pointed east and boat speeds are finally in excess of 20. Our five minute average is… double checking… 26 knots, and I might say a very pleasant 26! The sea is relatively flat for the Southern Ocean and the temps are relatively warm for the Southern Ocean, but I say this knowing our date with the corner of the ice exclusion zone, about 10 miles to our south and 440 miles east of here will bring a right hand turn and a dive into the extremes we know are not always so comfortable.
More than anything everyone is enjoying the sailing again! It has been a while since we felt like we were in control, so to speak. With the hectic inshore lap in Table Bat, then the restart and that night's drifting off Cape Town, to the strong winds at the edge of the low and then to the light winds at the edge of high. This is the first "normal" sailing we've had this leg and it's good fun. The boat seems to be going well; we've turned in some good numbers on the scoreboard and we're slowly gaining on the competition (at least the ones in our universe!).
As the wind starts to lift we'll eventually gybe. Then it should build at which point we'll reach along the ice exclusion zone in 25-35 knots. I think by then we'll have shifted back into a "preserve the boat" mentality, because for now, in 24 knots of wind and this glamour sea state, we're able to push pretty hard with one reef and the fractional zero.
That's about it for today! The story onboard is the return of the wind and spirits are subsequently high. Malama is again on the march.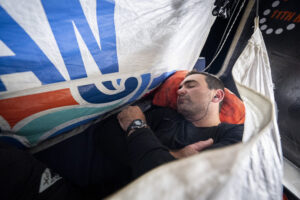 ---
📅 FRIDAY MARCH 3, 2023
🕒 1100 UTC
🌍 DISTANCE TO FINISH: 12,210 NM
💨 SPEED: 19.6 KNOTS
🥇 POSITION: 3RD
📏 DISTANCE TO LEADER: 576 NM
This morning at 1100 UTC and 11th Hour Racing Team has at last escaped the high pressure system and although has slipped to third place, they are back up to a race pace and are tracking this morning at over 19 knots. Their next mission is to skirt around the high pressure system to the east, and make their way to the new breeze which should carry them east.
Update from Amory Ross onboard:
With one final gybe to the south this morning it feels like we've finally escaped the clutches of the high. We have 10 knots on the water and 15 at the top of the rig and while we may be heading southwest, at least we're making progress towards the new wind. In the end the high did roll us and we did drift around for the better part of 12 hours; all somewhat foreseeable after we fell off the back of the low. What's also foreseeable, and you can already see happening, is the new wind filling from the west will first aid Biotherm and then Malizia before it finally reaches us. C'est la vie as they say back in the land of IMOCA!
What's on my mind is that the mind is an incredible thing. Today is the beginning of Day 5. The past four days are, with absolute certainty, the fastest four days offshore have gone by since I began sailing offshore. When you leave the dock ready for 40 days, 4 feels like nothing. I've hardly noticed. But when you leave the dock for a 650 mile race, suddenly 38 hours feels like forever. To consider that we potentially have another 35 days – it changes your perspective on gains and losses in a way that I don't think any other leg I've been a part of has. Not that we don't care, but it's just not worth the effort and energy stressing about good scheds and bad scheds when we are hundreds of miles apart surrounded by thousands of miles of ocean in every direction with 12,000 miles to go.
None of us have done a Vendee but we were talking about, from watching many, how it must feel. You race to the Southern Ocean, you try to survive the Southern Ocean unscathed, then you race back north to France. It's not dissimilar in many ways to what we we have been doing. We raced hard, neck and neck, side by side to Cape Town. Now, after one single low, we are all scattered and everyone's kind of on their own path in their own weather, all eyes cautiously looking west. When we get to the Horn it will be another all out sprint north along the coast to Itajai.
I say all this because in trying to relay the mood onboard, it's that everyone's trying to feel out a very different landscape. We just have so far to go. Staying positive, keeping things light, maintaining the health of the boat and the crew – they're all so much more important right now than whatever may be going on next door with Biotherm and Malizia. And Holcim. How can they ever cover boats this far to the west and to the south? They can't. It's impossible. I promise they're focused on their own race and their own boat.
So! Tracker watchers. Be patient 🙂 we certainly are. This will all take a lot of time to play out and try to enjoy the randomness of it all. It's not a short sprint from Auckland to the Horn in VO70s and certainly not in indestructible one design VO65s. This is something altogether different and it's hard to fathom how many opportunities exist down the course.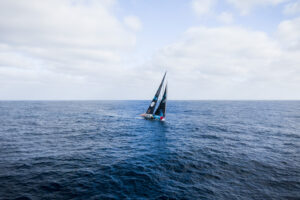 ---
📅 THURSDAY MARCH 2, 2023
🕒 0900 UTC
🌍 DISTANCE TO FINISH: 12,272 NM
💨 SPEED: 5.5 KNOTS
🥇 POSITION: 2ND
📏 DISTANCE TO LEADER: 244 NM
There's been some sad news in the fleet over the last 24hours with Guyot returning to Cape Town with delamination issues, and Malizia focused on repairing a crack in their mast. Everyone at 11th Hour Racing Team looks forward to seeing both boats back out racing as quickly as possible.
At the front of the fleet, Holcim-PRB are riding the low that could take them all the way to Australia. As they advance at an 18 knot average speed over the past 24hours, our team onboard Mālama are clocking just over 9 knots average, and are caught in the high pressure that is moving with them eastwards. In 24 hours, the distance to leader has sprung up by nearly 150 nautical miles. Keeping spirits up onboard is going to be important, as Amory Ross explains below. But remember, it's a long way to Brazil, and we are only four days in to a 35+ day leg. There's a lot of racecourse ahead to negotiate.
Latest update from Amory Ross onboard:
I don't ever remember sleeping in the bow, on top of the sleeping bag instead of in it, anywhere in the Southern Ocean. A lot of what we are experiencing at the moment is new. The warm high pressure system that has everyone still in shirts and not jackets, shoes and not boots, the three knots of wind, or being behind by 200+ miles – a number that will surely grow – with Kevin, Holcim and that big low we used to be attached to continuing to roll east without us.
As Charlie was quick to point out, we aren't heading back to Cape Town and we don't have a giant gash in the top of our rig, so everyone is still in good spirits. This is ocean racing. Eventually, new wind will fill from the west and Biotherm will come into us and we will come into Holcim. That's what we have to believe and that's the way we have to look at it. There are still 30 to 40 days of sailing left this leg and while, sure, there are points south of Australia up for grabs 8000 miles away, we can't really worry about it at the moment because Kevin is going to be sailing in wildly different weather for the foreseeable future.
We (as always) have to make the most of where we and what we have. It's a hard thing to do when you look at the tracker and then at the weather, but it's not wise to dwell on where we could be instead of where we are. We need to look west because that's where the weather will be coming from and we need to look ahead to our next opportunities to get back on the fast track. The most pressing issue is somehow trying to avoid being swallowed up by this high altogether. The goal for today is to make as much progress as we can to the south, staying away from the center of the high which seems to be pulling us in like a tractor beam.
I have a hunch that (based on my limited nav station experience and very careful clicking) this Southern Ocean exercise may be dominated by high pressure. It will take longer than expected, it will be frustrating because going slow and living comfortably here seems wrong, and it will test our ability to motivate each other and work together in close proximity for more than a month. I know this is already day four but it feels like we're just getting started! Like I said… with 12,000 miles to go… this leg is all about new experiences and new challenges; I know we're up to the task.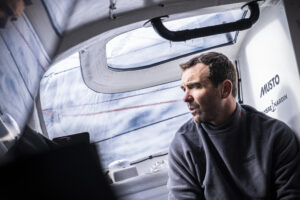 ---
📅 WEDNESDAY MARCH 1, 2023
🕒 0700 UTC
🌍 DISTANCE TO FINISH: 12,501 NM
💨 SPEED: 19.3 KNOTS
🥇 POSITION: 3RD
📏 DISTANCE TO LEADER: 101 NM
The first day of the new month and Mālama is currently lying in third on the leaderboard, 101 miles behind leaders Holcim-PRB. The low pressure system which brought fast speeds has passed through the fleet and the focus for the crew onboard 11th Hour Racing Team will be keeping on its tail, and one step ahead of the advancing high pressure which is chasing them from behind. Sailing into the deep low pressure, seen in red on the chart, will bring strong winds and big waves, and has the potential to carry the fleet the whole way to Australia. What's going to be key for our crew on Mālama is ensuring they can keep hold of it and aren't left behind watching the front runners extend their lead.
Latest update from Amory Ross:
For the time being at least our southing has come to an end. We exercised an abundance of caution with the low that has now passed to our east and have spent the better part of the last 36 hours gybing back and forth between a corridor of "safe latitudes," where conditions felt manageable. We'd go south towards the depression's center until the winds or the sea state (or both) became a bit too much, and we'd gybe back north. Whenever it felt like conditions were getting too light, we'd gybe and go back south and the process would restart.
Now that the low has passed, the challenge shifts not to managing boat-breaking conditions but to setting up for the next encounter – with the same low! It rolls east until it bumps into its next counterpart and stalls. The GFS weather model wants us to go over the top and around it, the EC model wants us to go right through the middle of it. I have to assume we'll be somewhere in between. Sailing into the middle of a low is never a good idea, especially in boats that respond more to sea state than breeze. We'd be much faster in 20 knots and more organized seas than 35 and messy waves. Additionally, we're not so worried about where the fleet goes. The slow and constant war of attrition on material is a more threatening enemy at this early stage, and we had our first skirmish yesterday afternoon when the port board-down line cover split in two. It was brand new in Cape Town.
For those paying attention you'll recall this same thing happened on Leg 1 while sailing to Cabo Verde. The line that holds the foils down sees a LOT of load, but the rope is spec'd to be strong enough, as is the jammer it sits in. During the pre-race refit in Valencia we replaced the original board-down lines and they probably had 10,000-plus miles on them. So yesterday Jack replaced the new-but-broken line with one of our four spares, but the problem isn't the rope or digging into the spares in day two, it's that we haven't quite answered the question of why we're suddenly burning through board-down lines when we haven't changed the way we are sailing the boat. Simple math tells you if we don't figure it out soon, we won't make it to Itajai with functional up-down use of our foils. I'm sure all the boats will have issues of their own, and fixing things this leg is part of the game, but we'd sure love to know why it's suddenly an issue. Either way, we are monitoring the new lines' health closely now and have left the line on a winch instead of the jammer until we know more.
Otherwise, all is well! The early discomfort from the busy week before leaving and that first low have given way to a more settled pace onboard and it seems like everyone is finally catching up on some sleep. All good 🙂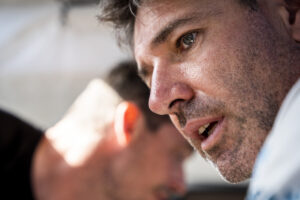 ---
📅 TUESDAY FEBRUARY 28, 2023
🕒 0900 UTC
🌍 DISTANCE TO FINISH: 12,805 NM
💨 SPEED: 21.7 KNOTS
🥇 POSITION: 3RD
📏 DISTANCE TO LEADER: 96.5 NM
Currently lying third at the 0900 UTC sched this morning, the crew are picking their way south, keeping between the high pressure to the north, and the low pressure to the south. Go too far south, and they'll be in 40 knots of wind, too far north and the rest of the fleet will sail away from them. We'll hear a lot over the coming days and weeks about the 'risk versus the reward', keeping with the pack, but also keeping safe …
Latest update from Amory Ross onboard:

Up until the moment I planned on writing this, which is about two hours ago, the biggest feature of the leg so far would have been the meandering Agulhas current. It's warm water makes life onboard hot, especially when you're in thermals and dressed for the cold, and uncomfortable as it tends to run opposite the wind and makes for a messy and confused sea state. We have spent more time in it then we planned and that's largely because it's underwater and very hard to forecast.
What hasn't been hard to forecast is the low we've recently engaged, around two hours ago. Heading south we knew we'd eventually intersect it's easterly course, and the plan was always go as far as we dare into its nucleus before gybing and riding its perimeters east. Sure enough it got windy quickly, 25-35 knots from the west, and we collectively agreed that was more than enough wind in these big South Atlantic waves. We've since gybed and put in two reefs. It's a "relatively" conservative setup but we believe the averages will be good and that's what we're after.
We spent a lot of time after the last leg discussing when to race the weather and when to race the fleet, and it's pretty clear we are racing the weather at the moment. I'm sure all the other boats feel the same way. Get through this low and then figure out who is where and go from there! The biggest priority for the next few days is making sure this boat and the five of us onboard stay in good shape, and that we maintain the ability to sail fast in whichever direction we choose. I'm sure, when the winds abate and the blinds open, scheds will matter more and positioning will again be a priority, but for now it's acclimating to these new conditions and keeping everything under control!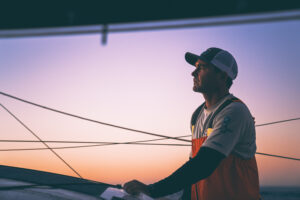 ---
📅 MONDAY FEBRUARY 27, 2023
🕒 1130 UTC
🌍 DISTANCE TO FINISH: 13,026 NAUTICAL MILES
💨 SPEED: 5.3 KNOTS
🥇 POSITION: 5TH
What a start to Leg 3 … for those that missed it, a quick recap. Within 45-minutes of the start of the longest leg in the history of The Ocean Race, Charlie Enright made the decision to suspend racing due to an issue with the mainsail battens. Charlie made the call to make the repair right away, which would allow them to use equipment from the shore team, rather than using up the valuable spares they keep onboard. A quick fix with support from the shore team, and after the minimum two hour wait, at 1707 local they crossed through the same point they suspended racing at, and were off – destination Itajaí, Brazil.
Before they departed, the tactical decision was whether to stay close to shore and hug the coastline down past Cape of Good Hope, or head south, to pick up the stronger downward winds about 300 miles offshore. Navigator Simon Fisher had talked about the importance of sticking with the pack and overnight, 11th Hour Racing Team has managed to catch up with the leading three boats, as they all now negotiate how they will cross the high pressure ridge that is blocking their path to the highway south.
Live from Amory Ross onboard:
We spent a good deal of time yesterday morning reminiscing about crazy Cape Town In-Port Races and leg starts, fully aware that it was likely to be another memorable one. It certainly was! Three short laps on a reaching course in building breeze, 25 knots on the first, 35 on the second, and 40-45 on the third, made for a fast circuit of Table Bay, but not without a last-gybe hang up and a full shut off of the wind. I'm sure much has been said by now, but it was a rational decision to hit pause and make sure we leave for the South as prepared as we can be, and spares are a big part of that.
Once finally out from under the wind shadow of Cape Town, we again had almost 40 knots of wind on the nose and another early test for the crew and the boat. Those winds gradually eased off overnight and now we sit, becalmed, as we have for most of the morning. We are however being pushed around by the Agulhas current, which would explain for the funkiness in the tracks. The goal is to get south but if our boat speed isn't greater than the current, which is impossible to model accurately, then we instead slide east, west or north, and that's a little of what's happening.
Nobody is super stressed about it because we'll have a massive low and 40-plus knots to soon contend with, and more opportunities to catch up with the fleet down the road. We are where we are and we don't have the same conditions as the rest of the fleet, so we have to make the most of what we currently have and really work on settling in. It's going to be a long month onboard!