Leg 3 The Ocean Race Europe: Daily Download
Leg 3 of The Ocean Race Europe is underway from Alicante, Spain to Genova, Italy.
Follow us on social @11thhourteam on Instagram, Twitter, and Facebook for updates from the team and check in here for the 'Daily Download' from onboard our boat and our latest position on the live tracker.
LEG 3, day 4 – June 17, 2021 – 15:26 CET
And that's a wrap! Our team just finished the final Leg of The Ocean Race Europe in 3rd place, after Team Offshore Germany on 1st (11.40h) and Linked Out (15.13h) on the 2nd position. Well done, team!
This result puts us in the 3rd place in the overall standings. Pressure is on for the coastal race happening on Saturday, as the final part of the race. The forecast? Unsurprisingly, light winds…
For those who missed the live action, you can watch the final 20 minutes upon arrival in Genoa below.
LEG 3, day 3 – June 16, 2021
As a part of our onboard science program, we carry an Ocean Pack water sampler to gather important metrics, like CO2, salinity, and sea surface temperature, to help scientists determine the status of ocean health.
For The Ocean Race Europe we took our stat tracking up a notch and are currently live-streaming data from the boat to the world's leading science research organizations, so they can check in on what we're gathering real-time.
Pretty cool to be the eyes and ears for scientists while we're out racing on our blue planet!
LEG 3, day 2 – June 15, 2021
Charlie Enright gives us an update from the windless Mediterranean of The Ocean Race Europe as we try to catch up to Offshore Team Germany.
LEG 3, DAY 1 – JUNE 14, 2021
No dominant weather system besides A LOT of hot air. The Med has been in raving summer mode over the past days as we sail, very slowly, around the South of Mallorca. About 5 knots of wind, not much to play with. This leg is really testing our patience and resistance to heat. 
The good news is, for our competitors things are no different, and we have Corum L'Épargne, Bureau Vallée, and LinkedOut within close range. Team Offshore Germany has set off on a solo mission up North. 
Picking your route is always a gamble, even more, when the forecast is not announcing anything in particular. We are mildly confident though to catch more gradient wind in the south and hope for a nice breeze to manifest that will push our sails – and cool us down.
LEG 3, Day START – June 13, 2021:
Leaving Alicante with bright blue skies and a crisp little breeze, we had some major strategic decisions to make when choosing our route around the Balearic Islands.
While fellow competitors Corum L'Épargne and Offshore Team Germany have chosen to head north, we picked the southern route to catch a low developing on the north of Africa, alongside Bureau Vallée and LinkedOut.
Things are heating up on the course and on deck, with summer in full swing in The Med, having us deal with the hot conditions onboard our black boat.
Light upwind conditions and fickle breezes kept us busy through the Med's Golden Hour and gentle summer night. These moments just have their very own magic.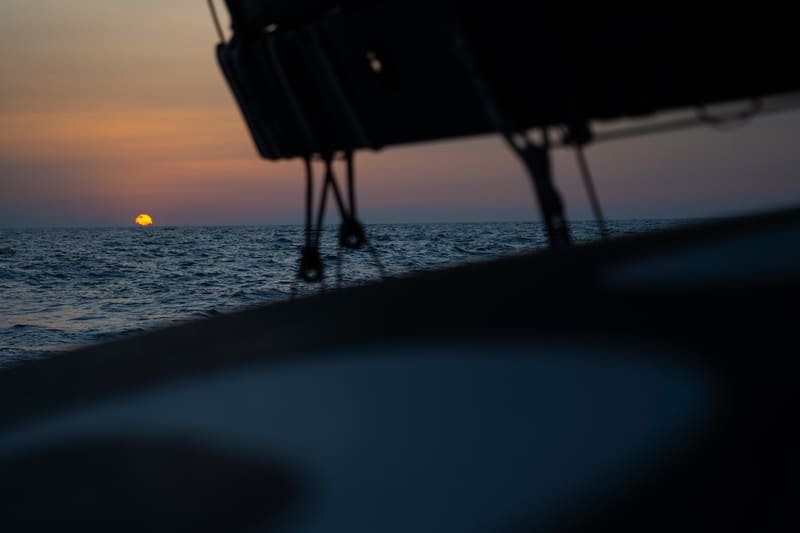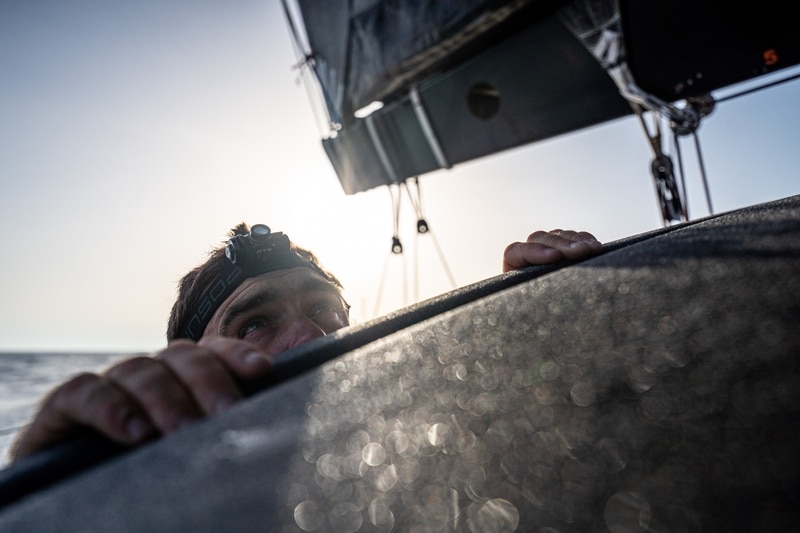 JUNE 13: LEG 3 Race Start
It was a fast start from picturesque Alicante, Spain for the final and third Leg of The Ocean Race Europe, destination – Genoa, Italy. The breeze filled for a steady, but solid start by our crew, who rounded the second mark of the course in first place, before pointing south-east towards the middle of The Med and a future of little wind, but lots of opportunity. Rewatch the Leg 3 start: