As the crew races from our home port of Newport, Rhode Island USA to Aarhus, Denmark – we're onboard with Amory Ross, our Media Crew Member, with live updates from the boat!
Don't forget you can track the fleet here.
---
INCIDENT ONBOARD 11th hour racing team
At 1541 UTC on Thursday, May 25, while racing in Leg 5 of The Ocean Race, 11th Hour Racing Team activated its Hazard Button to alert Race Control and the wider fleet they had hit something, suspected to be a marine mammal or megafauna.
The Team was in the mid-North Atlantic Ocean at 52°N, 35°W – approximately 750 nautical miles [863 miles/1,389 km] off the coast of Newfoundland, sailing at 29 knots [33mph/54 kmph], in 28+ knots [32 mph/52 kmph] of wind speed – some of the fastest conditions yet seen in the race.
The impact was sudden, and the crew onboard were thrown forward, causing two injuries onboard. Trimmer Charlie Dalin (FRA) has a suspected mild concussion, and Media Crew Member Amory Ross (USA) has injured his shoulder. The Race's on-call Doctor – Dr. Spike Briggs – has spoken to the sailors onboard the boat by satellite phone. Dr. Briggs has prescribed painkillers, bunk rest, and plenty of water to hydrate, and is monitoring the situation closely. The two sailors are reported to be comfortable, and their next of kin have been informed.
The crew are all very shaken by the incident and will follow best practices, reporting the suspected strike to the International Whaling Commission.
After the incident, the crew slowed the boat down to conduct checks: the boat, as far as they can visually assess, has no damage.
The three other sailors onboard are all uninjured. Skipper Charlie Enright (USA), Navigator Simon Fisher (GBR), and Trimmer Justine Mettraux (SUI) – will continue to race the boat towards their final destination – Aarhus, Denmark.
– ENDS –
For information on marine mammal mitigation best practices, read more here
---
📅 WEDNESDAY MAY 24, 2023
🕒 1400 UTC
🌍 DISTANCE TO FINISH: 2,292.6 NM
💨 SPEED: 23.1 KNOTS
🥇 POSITION: 2nd
📏 DISTANCE TO LEADER: 2nm
It's been a very fast ride so far with winds up to 30 knots [35mph/55kph]. Once again the tricky balance of going fast vs taking care of the boat comes into play as Simon Fisher (Si Fi) says he's ready for some 'less stressful, more enjoyable sailing'. As it stands, the low pressure system they're approaching will have them racing north at 500 nautical miles a day.
The ETA in Aarhus remains 30 May, but there is still a degree of uncertainty around this, which should work out over the next couple of days.
✍️ Here's today's from Amory Ross:
Day three in the North Atlantic brings respite from the strong winds but also the start of the deep cold. Last nights 30 knots is now 13, and having reached the shallow Grand Banks, water temperature has plummeted to 5 degrees Celsius. That's the equivalent to 41 degrees Fahrenheit… cold!! While on one hand it seems that after Brazil, the Equator and a beautiful spring week in Newport, we've suddenly regressed to winter, it has also made life onboard a lot less chaotic. Ever since the first night off of Nantucket we have been throttle down, reaching out into the ocean at a fast and sometimes furious pace. Nobody is advocating for a slow, calm crossing, but a break from the action to reset and recalibrate is always welcome – especially if it is fleet-wide.
The winds will return, as will the warmer water, and soon enough we'll be swinging around the cockpit at 32 knots again! But generally speaking we have been pushing hard. Buoyed by the Leg 4 win and an amazing week in Newport, I feel onboard a collective degree of urgency and confidence to seize this double points opportunity. We've always known we had the right people and the right platform to achieve our goals and we left Newport with a big bone in our teeth. It's somewhere shy of a third of the way through this leg and there is a lot of sailing left to Aarhus but you can look at the way we got to where we are now as a sign of how hard the group is willing to push and how far we can go at our best. Someone told me in Newport that with the all star cast on Holcim they didn't see how it would be possible for anyone else to win this leg… we are again showing we can, at the very least, be just as good.
It's a convenient time to slow down though as we transit the notorious Grand Banks, made famous in Sebastian Junger's ocean classic "The Perfect Storm". These waters are some of the worlds most populated fishing grounds, full of swordfish, cod, haddock and a whole host of large marine mammals and seabirds. The Gulf Stream nutrients shore up on these underwater cliffs and meet the cold Labrador Current, producing a shallow mixing of ecosystems and an accessible buffet to all kinds of North Atlantic inhabitants. Not surprisingly, this region has been heavily fished for centuries, but following a decline in fish stock their has been lots of international regulation and the health of the Banks has been more or less restored. In our… four? training transatlantics I've noticed a considerable decline in fishing here. While that means less AIS traffic, it also means more large mammals! We must be equally as vigilant and hope that with the warm water / cold water delta the foggy conditions usually associated with this area remain reasonable and allow for good visibility all around. Either way we are out of New England waters and firmly into a North Atlantic mentality. From here we launch out into the middle of the Ocean – our final such crossing of this race!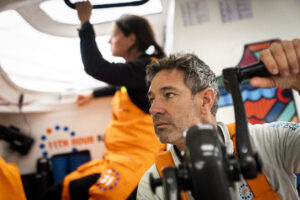 ---
📅 MONDAY MAY 22, 2023
🕒 1700 UTC
🌍 DISTANCE TO FINISH: 3,182.2 NM
💨 SPEED: 21.7 KNOTS
🥇 POSITION: 1ST
📏 DISTANCE TO LEADER: N/A
So far, after the first night at sea 11th Hour Racing Team have managed to secure a small lead of 8 nautical miles on the rest of the fleet. However, with the complexities of this double points leg are only just beginning, the crew will have to deal with everything from exclusion zones, to fog, to very chilly temperatures – not to mention tricky weather. 
✍️ Here's the first update of the leg from Amory Ross:

It was an incredible Sunday departure from Newport after an equally incredible week of staying there. The contrast of one heavy air pro am day and one light air pro am day highlight the variability in weather this time of year, and Saturdays torrential rain juxtaposed to Sunday's abundant blueness hammer that home, but one thing remained consistent the entire stopover: the passion from the community. There's a good reason it is home to so many sailors and ocean lovers… Nowhere else have we heard from so many fans and followers of the race, so engaged with our six month adventure.
These were not just village visitors. These were genuine fans and followers, consuming our every move all the way around the world around the dinner table, on their commutes, and in their classrooms, starting and ending their days with onboard videos and obsessing around the clock with rapid tracker refreshes. It was so much fun to be around! Thank you Newport and thank you to everyone there who made it happen and made it special for all of us. Alicante may be the physical home of this race but it more than ever feels like Newport is its spiritual home. As veterans of the race, we hope it never leaves 😉
But we did have to leave, and what a send off we had. Some light and transitional winds made the Narragansett Bay lap tricky, and even with the significant inshore points at stake it was important to remember the priority: first into the Atlantic and first through the exclusion zones. But it was impossible not to appreciate the blasting horns and hooting and hollering as we slowly made our way up and back through the iconic Newport Bridge, friends and family cheering us on. Too many to count.
The roundness of Malizia on full display they ghosted by us with a few Jamestown puffs and that was all it took to lose the lead, but we stayed in touch and as soon as we were out into the steady 15 knot sea breeze we reeled them back and sailed through to leeward. The boat was happy to take flight as we passed Nomans Land and out into the shoals of Nantucket. From there, a night of steering clear of exclusion zones in softening breeze, and a morning peel to the smaller jib in the again building winds.
It is great to be back out here and also feels just like we left it in Leg 4. Malizia is visible just on the horizon in our wake – we'd be happy to keep them there but know better than to get comfortable! They are confident and have a boat that gets better and better… we need to push now and do everything we can to ensure we have a chance to get through the trough of light air before it grows too big to transit. If we worry too much about Malizia or the Gulf Stream we could be stuck to its west and miss out on the transatlantic train altogether. Or, maybe it's impossible to get across anyway in which case we follow the new low north. Either way, the time to worry about what's going on behind us is not now! We will focus on the first features in the Atlantic that will bring us to the second, which brings us to the third and the fourth and so on.
Nice to be back in the North Atlantic. For everyone onboard it feels like the backyard, but it is getting a bit chilly! Time for another layer…