Making an impact: Celebrating the achievements of 11th Hour Racing's grantees in 2020
We asked 11th Hour Racing's Grantee Program Director, Michelle Carnevale to share with us what their Grantees have been up to in 2020. Here's what she had to share:
"2020 has been a challenging year for everyone, but 11th Hour Racing's 40+ grantees from all over the world have continued making a positive impact. From restoring 2,700 acres of mangrove, seagrass and marshes, to helping yacht clubs improve their sustainability practices, and preventing lost and discarded fishing gear from ending up in our oceans, it's been a busy twelve months!"
Here are just a few highlights of what's been going on…
Borderlands Restoration Network, Seacology, and The Ocean Foundation
Over 2,700 acres of coastal habitat are currently being restored in three countries (Kenya, USA, Mexico) by 11th Hour Racing grantees, Borderlands Restoration Network, Seacology, and The Ocean Foundation, all with extensive community engagement in the restoration process, helping to build local stewardship for these coastal ecosystems.
Coastal habitats such as seagrass, mangrove, and marshes are among the best natural solutions for carbon sequestration (capable of sequestering 3-10 times more carbon than forests). These projects are all being led by local stakeholders and each aims for broad collaboration with diverse groups such as fishers, indigenous communities, researchers and regulators.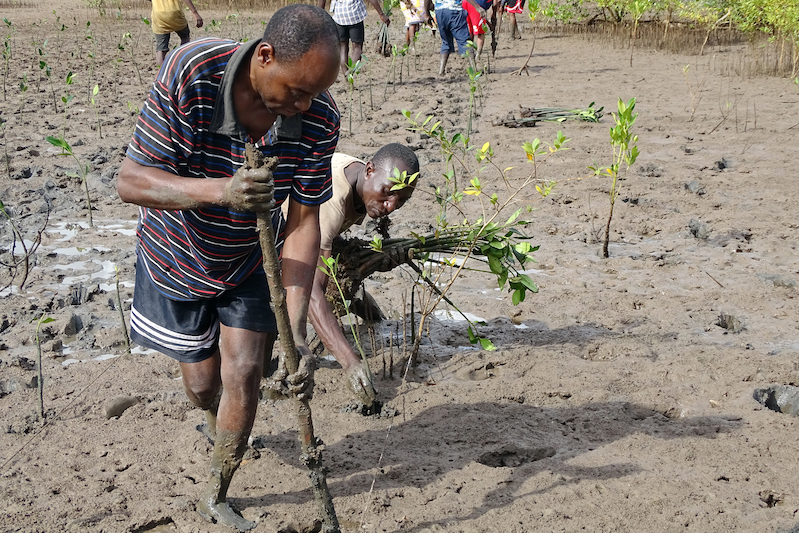 Imagine H2O – 2020 Urban Water Challenge
The third edition of the Urban Water Challenge, with 11th Hour Racing's grantee Imagine H2O, had a new focus on coastal resilience. The grand prize winner, Field Factors, from the Netherlands has developed a new system to collect runoff within cities, before treating and storing the water to be reused as a reliable source of freshwater in community parks, gardens and even local stadiums. This technology helps to reduce flooding, as well as pollution caused by stormwater runoff, allowing the water to be treated and reused to support greenspaces without putting additional demands on drinking water supplies.

World Sailing Trust
The World Sailing Trust launched a global yacht club and sailing center sustainability assessment tool to help clubs around the world improve their sustainability practices. The toolkit looks at everything from energy use, to event management, to water quality and protecting biodiversity.
Ocean Conservancy
11th Hour Racing's grantee Ocean Conservancy and its Global Ghost Gear Initiative works to prevent and remove discarded, lost or abandoned fishing gear around the globe. This year marked an exciting achievement, with the United States government officially joining the GGGI – the world's only global platform for tackling ghost gear. In doing so, the U.S. joins more than 100 member organizations, including 15 other national governments and 13 U.S. fishing and seafood companies, signaling their commitment to addressing the ghost gear issue domestically.
Youth Education
COVID-19 was particularly disruptive to 11th Hour Racing's 15 grantees focused on youth education, forcing them to adjust programming in accordance with the needs in their community. Many were able to quickly pivot to virtual programming and continue to provide academic and social support to their students. Our youth education grantees have gone above and beyond, partnering with local food banks and restaurants, to provide nearly 69,000 meals to students and their families that often rely on school lunch programs.
Despite the challenges of 2020, we are really proud of the work all our Grantees have undertaken this year and are looking forward to seeing and sharing their achievements in 2021.
If you want to learn more about 11th Hour Racing's grantee program, visit our website here. If you work with an organization focused on innovative solutions for ocean health, we encourage  you to apply for a grant – the next application deadline is January 31, 2021.
Wishing everyone a happy and healthy holiday season.
Michelle Carnevale, Grantee Program Director, 11th Hour Racing