NEWPORT TO CONCARNEAU TRANSATLANTIC UPDATES BY AMORY ROSS
11th Hour Racing Team have set off for their transatlantic journey to Europe after spending two months in their homeport of Newport, Rhode Island.
Leaving Newport Shipyard at 3:00pm on Sunday July 31 EDT, the team set off in light and breezing conditions for their 10-day transatlantic crossing. All updates are from Amory Ross onboard. Enjoy!
Day 7:
Just 200 miles left until Port La Forêt Bay for the five of us onboard Mālama, and once tied to the dock in Concarneau tomorrow morning this boat will officially have crossed the Atlantic Ocean four times in less than a year…
It has been quite a push since Mālama first sailed last fall but the conclusion of this passage brings the offshore portion of our training to a close. From here on out, everything is coastal in scale as we gradually work the boat and the team towards the Mediterranean and Alicante, Spain, for the start of The Ocean Race 2022-23, making sure we arrive at the start as best prepared as we can be. Our people rested and the boat ready to go.
All that being said, it's not the time for reflection. Rather, it is the time for progress. Using all that we have learned and observed, all that we have broken and fixed, the rest of this year is about putting all of that into the final pre-race package. Refinement. V2s, V3s and V4s. That process begins tomorrow when we return to our French base full of tools, offices, and the only fleet of IMOCAs in the world.
The value of the last seven days cannot be diminished by the bigger picture, though. While boat handling and maneuvers were largely irrelevant – we tacked just once since leaving Newport, last night, and only reefed once too – the amount of data collected at different settings, and general 'experimentation', will go a long way towards filling in the blanks. There's a mountain of data to comb through over the coming weeks while the boat is in the shed. We've got new foils to come, new sails to come, and many, many modifications and upgrades to systems and onboard livability, sorting containers, supplies and food, for their own trip around the world. But we're going to start seeing the real benefits of the many thousands of miles we've sailed as a team in three years very shortly when the ramp-up begins this fall.
Exciting times!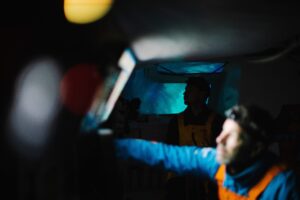 Day 6:

We seem to have summited our exaggerated "great-circle" route to Europe at 55-degrees north. That's pretty darn high… we're pointed east towards the top of Ireland, or the middle of Denmark. But five days Into this transatlantic to France and with just 900 miles to go, it seems that however far north we needed to go to get over the high pressure system blocking a more direct path, it had been worth the extra miles! This has been a fun, fast trip so far and we've gone on some big 24-hour runs, even while continuing our occasional stop/start testing.
What is the testing we keep talking about you may ask? Well, imagine a game of checkers. How many permutations of first and second moves exist on a board? There are a finite number but in an effort to make sure you don't miss anything you didn't know, you play a hundred games and try every single move and combination of moves that you can think of. You already know some may lose, you already know some may win, but it's the ones you haven't tried that may surprise you. You discover them by going through the exercise, by trying every combination and by packing out all the corners of the data. We call these bins…
That's exactly what we are doing out here, while we are in mid-oceanic conditions. Doing these off Newport or Concarneau gives shore-biased results… the waves are too small and the boat is not full of food and offshore gear. Instead of checker pieces and colored tiles, we have sail selection and sail trim, foil rake and foil extension, keel cant, water ballast and onboard stack position. And to make matters more complicated, they need to be done in every wind strength and at every wind angle. 
So we run through our own combination of these variables that we have already tried, and we try the ones we haven't, even if we think they're going to be slow, we try, just to explore the holes in our data. You never know what surprises might exist, but you have to spend the time exploring, even if it feels wasted. As you can imagine, there are a lot of permutations… a lot of bins to fill. Which is one of the reasons our time sailing is so valuable! The more time sailing in a variety of conditions, the more bins of data we fill, the more answers we get to what is working well and what isn't. And, of course, the better our chances at discovering something we didn't yet know.
Day 5:
Whatever debt the North Atlantic may have owed us has clearly been paid because she's back to her old ways! The seas grew angry last night and yesterdays optimum downwind sailing has abruptly given way to the kind of conditions we've grown accustomed to onboard Malama: lots of high speed slamming and scary-fast accelerations and decelerations.
There was a lot of subdued chatter about the monohull 24-Hour records, the "outright" currently held by 'Comanche' and the "60-and-under" which is owned by our old boat, the ex-Hugo Boss. I would say … if the waves had played nice, both were in our grasp. For a while we were averaging 25-27 knots, until the breeze kicked up to 28s and the waves grew crowded and steep. It's not why we're out here, "record chasing," and it would have just been sheer luck that we spent so much time in 20 knots and flat water, but we're constantly reminded of the potential these boats have given the right formula of conditions. And with the big foils sticking out our flank, you don't need much wind to rack up the miles.
It did, excitedly, add a dose of competitiveness to the routine, which was good fun. While we were racing ghosts of transatlantic-ers past, there was a subtle shift in focus and urgency to everything we were doing onboard that training by ourselves could never inspire. Fitting then, that going back to Europe is really the beginning of our final push towards the Race start in January. Urgency and focus are going to be paramount because, as the saying always goes, the one thing you never have enough of is time. 
On the other hand there's rest, and we will need some of that too, especially because pushing our IMOCA is more physically punishing than anything we've done before. While it doesn't appear we'll have more rest on the way to France, we do have more time, and with the 29 knots of wind, confused sea state and reefed main, it's a perfect chance to keep pushing the boat hard before it's time in the shed upon arrival. This is, after all, our last ocean crossing before racing around the world; there's much left to learn!
Day 4:
Day three began with a left turn at Labrador, exactly the same distance as last time – 14 miles away – before pointing north. Farther north than we would have expected with France being our final destination and all! Our routing is asking us to go up to the same latitude as Northern Ireland… whether we will or not is still a few days away from certainty, but here's to hoping we can shave some corners along the way.
Seas remain calm… which we've decided must be a generous apology from the Atlantic for the chaotic maelstrom it put us through in June… Apology has been unanimously accepted. Temps are starting to drop. Days are still warm but last night was "cold." And the air is super damp… dew and condensation keep everything a bit wet and it's only a matter of time before we encounter some of that dense, notorious, North Atlantic fog.
The objectives for this transatlantic are maybe a little more performance-oriented than the first. With a late-summer refit waiting on the horizon, there are some lingering design questions to answer and we have the freedom to push the boat hard if the opportunity presents itself. To date, they have not. Nonetheless, we are doing some flat water sailing that we really haven't done much of and it has been valuable exploring the bottom and top end of sail ranges when we are free of those bumpy ocean obstacles called waves! It's been all starboard tack since leaving Newport, and that will continue almost to France, so the only maneuvers are sail changes. Even those are limited: bigger front sails or smaller front sails. Everything has been downwind and no reefing required!
It has been a fast, easy 1000 miles under Malama and nobody here is complaining 🙂
Day 3:
Day 2:
About 48 hours have elapsed since we left Newport and they've arguably been some of the easiest we've ever spent on this boat. It's hard to believe this is the same Malama we destroyed ourselves on crossing the same ocean two months ago, or slammed upwind all the way to Bermuda.
It's the conditions to thank, with steady 10-15 knots of wind and ridiculously flat seas – almost unfathomably flat – making for quick miles and painless living. We are essentially 1/4 of the way to France and we've hardly had one wave over the deck…
Nothing lasts forever though, and the winds will gradually increase through the night. We probably have another 12 hours in pleasantville before the influences of a low to our south bring more normal mid-Atlantic seas our way.
Otherwise, the view outside the windows is looking amusingly familiar. We're following our breadcrumbs from the first transatlantic, passing within sight of Sable Island this morning, headed towards a waypoint on the same tip of Labrador we tacked around in June. Thankfully the icebergs and cold weather have retreated north because I left the merino thermals and winter hat in the drawer, where they belong this time of year… But to get east we have to sail over the stationary high pressure system off Europe, and that's forcing us … high. So up we go!
Day 1:
A nice quiet start to this transatlantic! Flat seas and 10-15 knot winds are making for some comfortable early miles east under Nantucket Shoals and into the Atlantic. The pleasant reaching in flat water will continue as we begin a gradual turn north towards a traditional "great circle" course to France. We've been enjoying a more docile first day onboard Malama… usually it feels like we've been shot from a cannon and takes some time to acclimate, but yesterday's mid-day departure was perfect. And as hard as it is to leave Newport summer in the rear view after an incredible two months there, all eyes now refocus on the return to Europe and a gradual buildup to the race start in Spain, less than six months away.