OUTSIDERS: a story about how a small coastline in France became the beating heart of offshore sailing
OUTSIDERS
How a small coastline in France became the beating heart of offshore sailing
Unless you are French, or you holiday in Brittany, there's a very real chance you won't have heard of Port La Fôret, Concarneau, or even Lorient. Spanning 100 kilometers these towns lie deep in the heart of Brittany's coastline and are home to an overwhelming proportion of the world's best offshore sailors.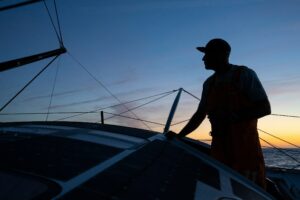 One name in particular stands out: Éric Tabarly. Although no longer alive, the modest French Naval Officer has often been described as the spark that ignited the fire of offshore sailing for the French. After unexpectedly winning one of the first ever OSTAR races (a Transatlantic crossing from Plymouth, UK to Newport, Rhode Island US) back in 1964 he became something of a national treasure to the French. And from the nation's pride in Tabarly, their love affair with the tumultuous sport of offshore sailing was born. 
Today, through strategic investment of public money in the region (for example renovating the old Nazi submarine base in Lorient into a marine hub literally named 'The Base'), this north-western coastline offers a certain domesticity for the wild souls of offshore sailors. A natural gravitational point – if you will.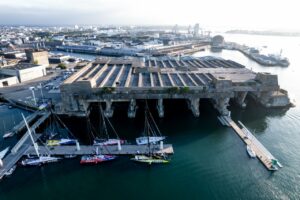 ©Arcosoon / Défi Azimut – Lorient Agglomération
Whilst in some countries, sponsoring a sailing team would be considered an unlikely and even risky investment, the French have pushed the sport to develop a robust and resilient commercial pyramid allowing brands to propel young sailors to become household names and vice-versa. The sponsorship spectrum currently ranges from a local tomato growing association to a national French bank. This infrastructure has ensured sailing is a sport for everyone. 
Disregarding the occasional stratospheric ego, these sailors tend to reflect the characteristics of the region of Brittany itself. Most are grounded, modest and remain unphased by fame and fandom. There is no glitz or glamor here … just a palpable obsession for adventure and innovation. 
This is felt by the locals as much as those in the industry. Anytime Mālama is rolled out of the MerConcept shed in Concarneau, there is always a small crowd who have gathered for the occasion, undeterred by a lot of standing around and often in the driving rain.
The coastline offers numerous logistical advantages such as limited tide restrictions and easily accessible specialist boat parts – never underestimate what a technical and exhaustive logistical sport sailing is! A regular Gulf Stream also makes for endless offshore training conditions without actually having to go hundreds of miles offshore.
Enter 'Les Américains'
The 60-foot yacht 'Mālama', in which 11th Hour Racing Team will race around the world, is called an IMOCA (International Monohull Open Class Association). The IMOCA's slick, innovative and performance-led design originated here in Brittany and the region has led the charge on its continuous innovation ever since – particularly from a renewable energy perspective (hydro-generators, wind turbines, solar, fuel-cells …)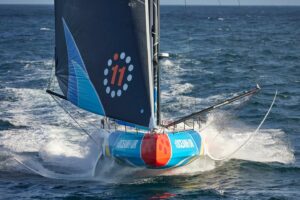 ©Amory Ross / 11th Hour Racing
Despite Mālama being designed and built here, the team staying here during lockdown, and our performance partners MerConcept being French, technically-speaking we remain outsiders. 
A (crewed!) Anglo-Saxon team is rare in the IMOCA/French offshore sailing scene. It's almost comical observing the differences, particularly in terms of ways of working and communication methods. Bearing the American flag with an English-speaking team, our hometown is Newport, Rhode Island, home to 11th Hour Racing, our title sponsor, our core fan base, commercial connections and most importantly many of our families. 
For the most part we have been warmly welcomed here but it is clear we are 'Les Américains' hanging on the periphery of a tight-knit, well-connected, protected community where everybody looks after each other. 
The want (and some might argue the need) to prove ourselves is very real. Sizing up the competition will happen in real time over the coming weeks and months and there is apprehension in the air as the Défi Azimut approaches.
Newport is our home, Concarneau is our second home. Some might say it's the best of both worlds, however, there are plenty of sideways glances and the pressure is on.