SHOWCASING ELITE SPORT AND SUSTAINABILITY IN CAPE TOWN WITH FORMULA E
11TH HOUR RACING TEAM AND FORMULA E'S ENVISION RACING TEAM COME TOGETHER TO SHOWCASE ELITE SPORT AND SUSTAINABILITY IN CAPE TOWN
11th Hour Racing Team, which sails in the world's longest and toughest sporting event, The Ocean Race, and Formula E team, Envision Racing, part of the world's first-ever net zero carbon sport, came together over two days to showcase how elite international sport and sustainability can powerfully co-exist ahead of the start of The Ocean Race's Leg 3 this Sunday, February 26.
On Thursday, 11th Hour Racing Team Skipper, Charlie Enright (USA), and Trimmer, Justine Mettraux (SUI), invited Envision Racing drivers, Nick Cassidy (NZL) and Sébastien Buemi (SUI), together with Managing Director and CTO, Sylvain Filippi, to get to grips with sailing the team's 60-foot, state-of-the-art foiling IMOCA race boat in a Pro-Am session. While onboard, they discussed the pioneering sustainability initiatives each team are engaged with in their respective sports.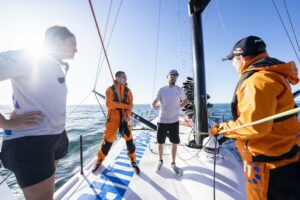 And today, Friday, Enright and Mettraux, joined the drivers and the rest of the Envision Racing team in their garage as they were put through their paces in Free Practice 1, ahead of the Formula E race tomorrow.
Similar to Formula E's latest GEN3 car – the fastest, lightest, most powerful and efficient electric race car ever made – the 11th Hour Racing Team boat operates with cutting edge sustainable technology and innovations onboard, while the team champions broader initiatives around the importance of ocean health for the future of our planet.
The GEN3 race car's tyres are made from 26% of sustainably sourced materials, has linen interwoven into the carbon fiber body work to reduce weight, increase strength and be more circular, is net zero by design, and can be fully recycled at its end of life. 11th Hour Racing Team has integrated more than 100kg of alternative materials into the construction of its 60-foot race boat, including flax, bamboo, and bio-materials, and drives change within the sailing industry by developing recommendations for regulations to reduce the sport's impact on the planet.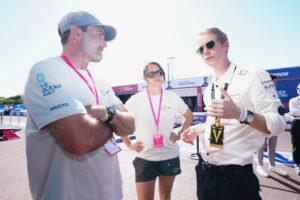 Commenting on time spent with 11th Hour Racing Team, Sylvain Filippi, Managing Director and CTO of Envision Racing, said, "Sport has a powerful role to play in influencing and inspiring fans to tackle the climate crisis. Both on and off the track and through our unique platform Race Against Climate Change™, Envision Racing is passionate about making the transition to e-mobility and renewable energy a global reality.
"It's been fantastic to hear from the members of 11th Hour Racing Team today on their sustainability actions, and for us it underlines how vital it is that more sporting bodies work together to raise awareness and help influence behavior change."
Charlie Enright from 11th Hour Racing Team also commented, "Despite us racing on water and Sébastian and Nick racing on land, it is always fascinating to see so many similarities. Both sports are endurance, high-tech, performance-driven, and with sustainable innovation at the heart of all that we do. At 11th Hour Racing Team we are focused on reducing our impact on the planet, driving innovation within the marine industry, and supporting organizations that directly address local solutions to the global problems of climate change. We can all learn from each other, and meeting with the Envision Racing Team today has been inspiring, as well as lot of fun!"
The 2023 Cape Town E-Prix this Saturday (25 February) is the first ABB FIA Formula E World Championship race to be held in Sub-Saharan Africa, and the Cape Town circuit is expected to be one of the season's fastest tracks. The flowing lines of this new street circuit are expected to be a true test for the GEN3 which is capable of reaching 322kph from 600kW of total power and where more than 40% of the energy used in the race is actually created during the race via regenerative braking.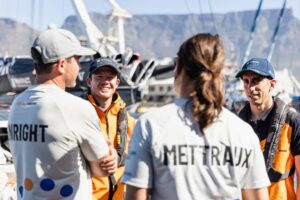 11th Hour Racing Team will set off on Leg 3 of The Ocean Race 2022-23 on Sunday, February 26, on the longest leg in the 50-year history of the race. The team will race its IMOCA race boat (top speed 40 miles per hour!) for more than 35 days and over 12,750-nautical miles (14,672-miles/23,613-kilometers) through the Southern Ocean – destination, Itajaí, Brazil.
Fans across Europe can enjoy live and on-demand coverage of the ABB FIA Formula E World Championship and The Ocean Race on Eurosport, the Eurosport App and discovery+.