THE GATEWAY TO HEAVEN OR HELL?
Read what the 11th Hour Racing Team sailors have to say as they embark on the longest Leg in The Ocean Race's history. A 12,750 nautical mile, 35-day leg in the most isolated, treacherous, and wild conditions Mother Nature has to offer: 
The Southern Ocean.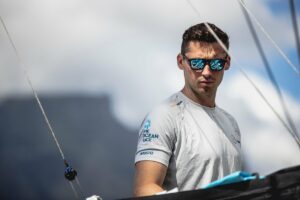 Jack Bouttell (AUS/GBR) "Not something to be taken lightly" 
For Every offshore sailor in history, it has always been about getting into the south and how great it is to sail there. It's where all the big stories and images come from and what inspired me personally to pursue this career. This will be my fourth time in the southern ocean, and I don't take it lightly going there again. 
It is one of the most remote, savage places in the world. From this came some of the most incredible experiences of my life but also some of the scariest that pushed my mental toughness to its limits. It is the only place I've ever stopped competing, when it's been time  to keep everyone and the boat safe, I think that speaks volumes. 
I have a huge amount of respect for the south, and I know what it can throw at you. It's going to be a seriously tough month, and I'm sure we will create some amazing memories.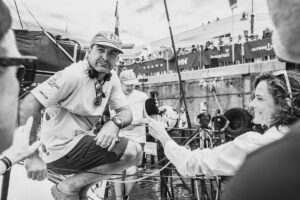 Charlie Enright (USA) "Every offshore sailor's dream" 
The Southern Ocean can give you a lot but it can also take everything away in a flash. You have to brace yourself for this part of the world. We do this race for the competition, obviously, but also for the adventure and never is the adventure more omnipresent than it is in this leg. Out there your competitors are your lifeline and at one stage, the closest people to you are in the International Space Station. 40 foot waves and 60 mph winds are a regular occurrence in the depths of the Southern Ocean. It's time to leave the nice weather behind here in Cape Town! 
Getting to Cape Horn is everything. Every team will be pushing their boat but everyone also knows where the danger line is, the line of risk vs reward. There is plenty of race course left after this leg and in my opinion monitoring the health of your boat, relative to the pace of your boat, relative to the pace of the other boats is going to be key. 
I think we can expect highs and lows from this leg, the south can be unbelievable, it can be some of the best sailing we will do in our lives and ultimately it's every offshore sailor's dream but there is always an air of caution.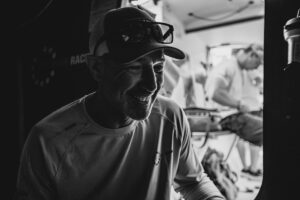 SIMON FISHER (GBR) "ONE HELL OF A CHALLENGE"
The sailing we are privileged enough to experience in the Southern Ocean is unlike any other part of the world. That's what draws people in but the flip side of the coin is that it can feel relentless, exhausting and never-ending. There is no time out in the south. It's always a huge relief to reach Cape Horn. 
I see the Southern Ocean as the ultimate challenge. The decisions you make are different down there when it comes to racing because there's so many factors that come into play. It's imperative to know when to stop pushing, the risks are always running in the back of your mind and they don't stop until you're safely on the dock. 
When you're out there, although it's the most isolated place on earth, it can be easy to get busy with the tasks in hand initially, but inevitably the constant reminder of how unfavorable an unfavorable situation could be is there anytime you look at the horizon.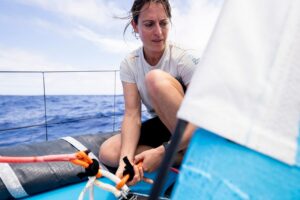 Justine Mettraux (SUI) "MY FIRST TIME AROUND CAPE HORN" 
This will be the longest time I have ever raced offshore in one go, and there's no ignoring the daunting conditions. However, what I will say is that I have absolute confidence in the team I'm with. Not only onboard but the technical shore team behind the scenes, I know we're leaving the dock here in Cape Town in the best possible shape because of their expertise and hard work. 
When it comes to the Southern Ocean, breakages are always at the back of everyone's mind. And they're inevitable in conditions like that but it's about how you deal with them together as a team. We know what we're facing out there in terms of strong winds and high waves but these aren't actually conditions we have faced together as a team yet, so it will be interesting to see how we fare. 
I haven't rounded Cape Horn yet, the iconic symbol that signifies the 'end' of the Southern Ocean, so that is something I'm really looking forward to.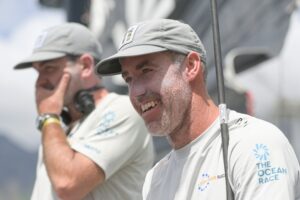 Amory Ross (USA) "one of Earth's last remaining frontiers"
We often talk about the southern ocean as a place of waves, of wind, and of weather. We are asked to describe it as if it were like the harbor next door or the bay it spills into. But to that question I find myself drifting not to the physical, tangible traits it so often represents but to what it draws from people who have the privilege and the challenge of visiting.
The southern ocean to me represents the fossil in the rock. Where else can we go where the world is so untouched? It is free of human intervention in a way few places can claim. How often does the wandering albatross encounter a human? Even the poles and their snowy landing strips see traffic these days, abound with tourists and scientists. That remoteness is impossible to ignore. But it also represents the highest stakes. We are alone and you feel it; the cost of unpreparedness and inexperience is exponentially high. I can feel the weight of its potential – 40 days is a very long time – but I relish the opportunity to prove to myself, and to those watching, that we are ready to not only survive, but to excel, in one of Earth's last remaining frontiers.