THE POWER OF IMAGINATION: MEET FRANCESCA CLAPCICH
"Mum, I'm going to sail my Mini in the Southern Ocean, it's going to be amazing!"
From terrifying her mother to becoming an Olympian – Francesca Clapcich's story comes with one message: if you can imagine it, you can do it.
Francesca Clapcich, more affectionately known as Frankie to her teammates, is a 34-year-old Italian Olympian and a member of 11th Hour Racing Team. 
Just under 6 foot tall and with a slim build, she stands out in any crowd due to two things: a series of bright tattoos down her left arm and a contagious smile that never seems to waiver. 
Her Modus Operandi is hard work, laser-focus, and constant learning. She hasn't changed careers as such, but she has switched from Olympic sailing to major round the world races, and that is no small feat in this highly competitive world of offshore sailing.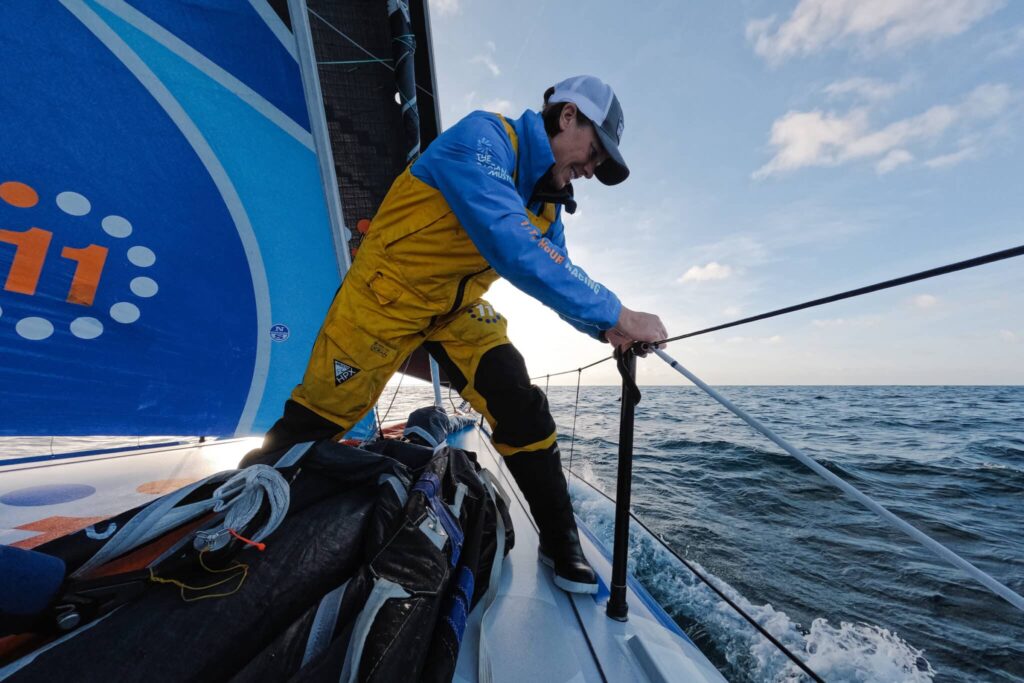 Life is simple, just add water
Growing up in a small coastal town in Italy – Trieste – Frankie explains how the water was a part of life for everyone in this town. "Trieste is built around the water, everyone was sailing, rowing, swimming, playing or just doing something with the water. It was such a key part of our community." 
Frankie's family had a small sailing boat which her father would often take her and her mother out on. "I distinctly remember my mother throwing up over the side up for long periods and my Dad laughing, those happy early memories really stayed with me.
"As my friends and family will tell you, I can be quite full-on when it comes to sport. When I was younger, sailing was 'just another sport' – although I do think it was my Mum's favorite as she was delighted it kept me occupied and out of the house for hours on end."
Like many offshore sailors, Frankie was influenced by The Whitbread Round the World Race, the precursor to The Ocean Race, the walls of her childhood bedroom harbored iconic images of her sailing heroes in the Southern Ocean. 
"Mum, I'm going to take my Mini and sail it in the Southern Ocean, and it's going to be amazing," her mother Adriana recalls her daughter saying, aged five. "I was worried at that point and remember saying, 'ayeeee nooo Francesca! Stick to the shoreline where you can come home every night." 
As Frankie grew older, her passion for various sports was whittled down to two main contenders: skiing and sailing. 
Eventually, it was sailing that took precedence after watching the Olympics on TV for the first time. Again, turning to her mother and saying, "Mum, I think actually I'm going to be an Olympian and win a medal… what do you think?" 
With that, and without a shred of self-doubt, a young Frankie set about her mission to become an Olympian. 
She had a plan. 
After graduation, she joined the Italian Air Force as one of its elite athletes. "In Italy, by joining the armed forces as an athlete it creates a government-funded pathway to international competitions such as the Olympics," she explains.
The cycle
Life ran in Olympic cycles for Frankie and her family at this point. In the four-year build-up to London 2012 (finishing 19th), and the subsequent four-year build-up to Rio 2016, she garnered a name for herself with consistently strong competition performances.

During her second Olympic appearance at the Rio 2016 Olympic Games in the 49erFX with Giulia Conti, they came 5th, having dominated the previous year when they were Italian, European, and World Champions, as well as coming 2nd in the European Champions in 2016.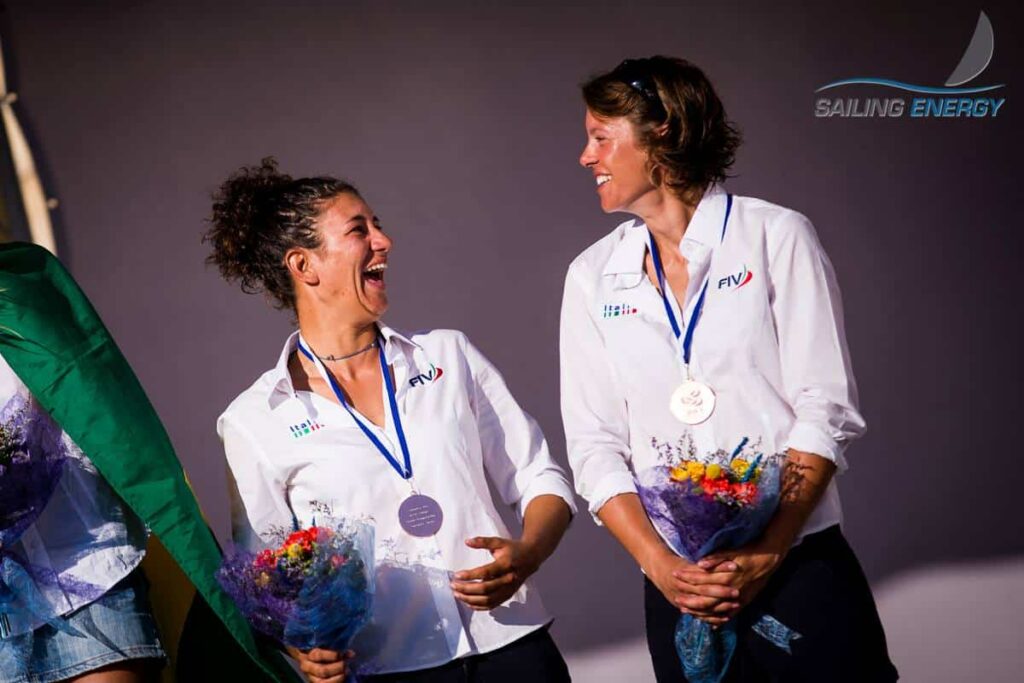 To your average person, coming 5th in the Olympics might seem like the achievement of a lifetime, but for Frankie and Guilia, it was a bitter disappointment. 
"We had such a strong track record ahead of Rio, never finishing outside of the top 10 in competitions. Our rivals knew we were consistent and relentless. With Guilia, we had a great partnership – a little intense with two feisty competitive Italians – but rows on the water would be forgotten by the time we reached the shore. 
"We thought we would get a medal and we under-performed. The four boats ahead of us deserved to be there way more than we did. It's a long story, but in short, we were too conservative." 
For the months that followed the crushing defeat, Frankie committed most of her time to her friends and family she felt she had lost touch with during the intense training for her Olympic campaigns. 
Changing Tack 
After the disappointment of Rio and finishing 5th, Frankie felt burnt out and knew change was necessary. With offshore sailing and those childhood posters still at the back of her mind, she started asking around for opportunities.  
"I heard Dee Caffari was looking for crew for her Ocean Race campaign 'Turn the Tide on Plastic' so I sent her my CV. It was one of those excruciating moments where I waited, and waited, and waited; I constantly refreshed my emails. It wasn't until I found myself obsessing over my inbox that I realized how badly I wanted this." 
Dee Caffari and the Turn the Tide on Plastic management team saw something in Frankie. Something that wasn't connected to ocean racing experience as she had so few offshore miles. 
"I can't say for sure, but I think maybe it was the work ethic and the hyper-focused mentality that comes with Olympic training. Also, international experience counts, it's not just the languages but the cultures across different nationalities, how people talk to each other, how they deal with pressure, how they problem solve for example." 
The Turn the Tide on Plastic crew were relatively young and inexperienced, but this didn't stop them finishing occasionally within only a few minutes of the rest of the fleet. 
"I'll always admire Dee, it's so easy to be the skipper and pick your best mates and people you've sailed with before, but she didn't do that. Her campaign was about diversity, and it allowed people like me to have the chance to kick-start a career in offshore sailing." 
Coincidently this is where Frankie met her now wife and mother of her daughter, Sally Barkow. A professional sailor herself, Sally and Frankie met back in 2017, and a natural friendship formed, which eventually blossomed into a relationship the more time they spent together. Frankie recalls a defining moment when they went on holiday together in New Zealand ahead of the Southern Ocean leg, which was one of the happiest times in her life, and the subsequent Southern Ocean leg, which was one of the most difficult. 
"Sally and I had been spending a lot of time together, and we decided to go on holiday in New Zealand before I sailed the Southern Ocean leg. I realized that the more time I spent with her, the better it was, and I was really happy."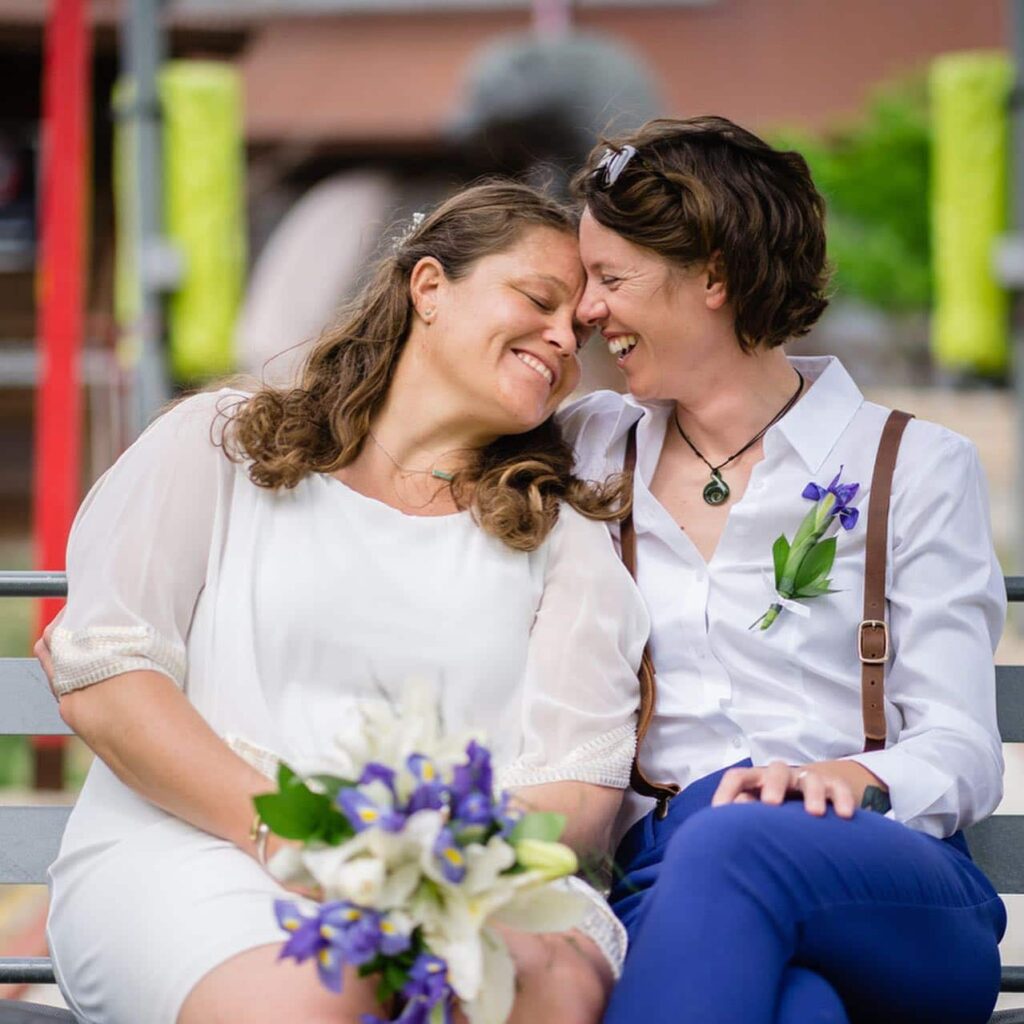 The Southern Ocean leg of the 2017-18 edition of the race took the fleet from Auckland, New Zealand to Itajai, Brazil. For inexperienced offshore sailors like Frankie, it would be the adventure of a lifetime. 
Many can imagine the ferocity of the Southern Ocean, and that's usually as close as they want to get to it, but for the mad few who take it on, the experience is unequivocally full of highs and lows.
"Having left Sally in Auckland, I had mixed emotions going into the Southern Ocean. It was incredible, but it was so hard. I was literally freezing; it was hard to sleep, I was trying to do everything one-handed so I didn't fall over. Sometimes it's difficult not to go into yourself. I found myself having some dark moments but I was helped a lot by one of the crew who recognized what was happening when I was very overwhelmed.
"They tell you it's this hard leg and to be prepared but honestly, nothing can prepare you for how hard it really is. Rounding Cape Horn was epic but then we heard that John Fisher, a very well-liked and respected member of another team, had been swept overboard and he couldn't be recovered.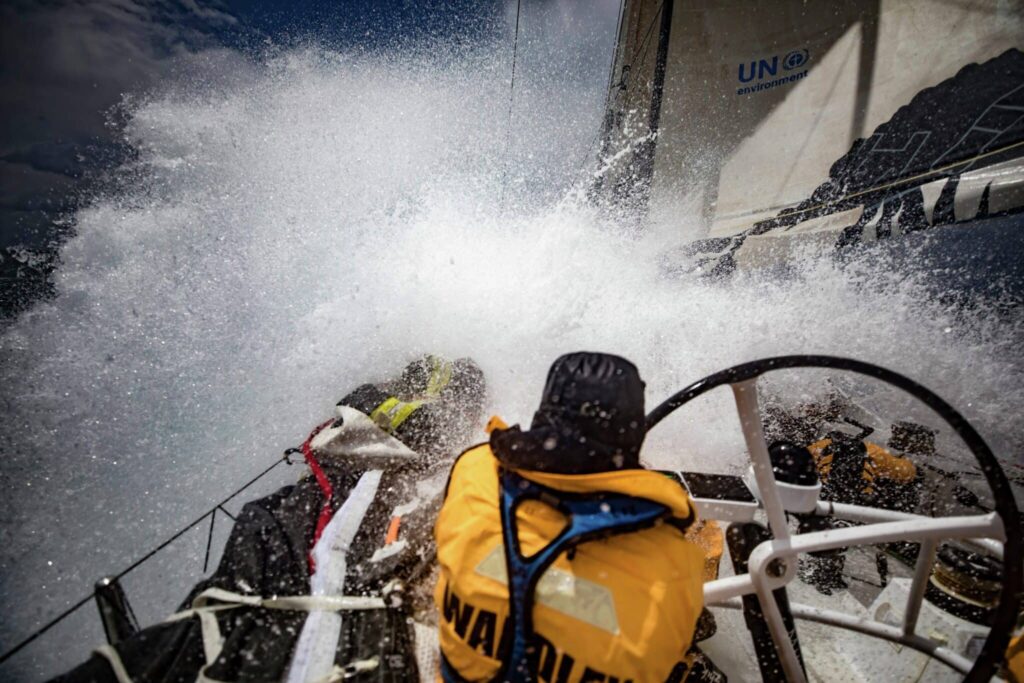 "I think for all sailors in that race, it was the saddest and darkest moment. I had been so focused on winning and my focus suddenly switched to those on shore who were just waiting for us to come home safely."
A female sailor

A decade ago (and you can ask any offshore sailor this), it was almost inconceivable that female sailors would be an intrinsic part of each team in The Ocean Race. Now, thanks to a rule change for the 2017-18 edition of the race, it has become the norm. And as Frankie will tell you, "too right, why not?"
However, Frankie will also tell you it's never just about being a woman. Yes the rule change has created more opportunities and a significant improvement in gender equity within the sport, but ultimately it's about character, compatibility, teamwork, dedication, and skill.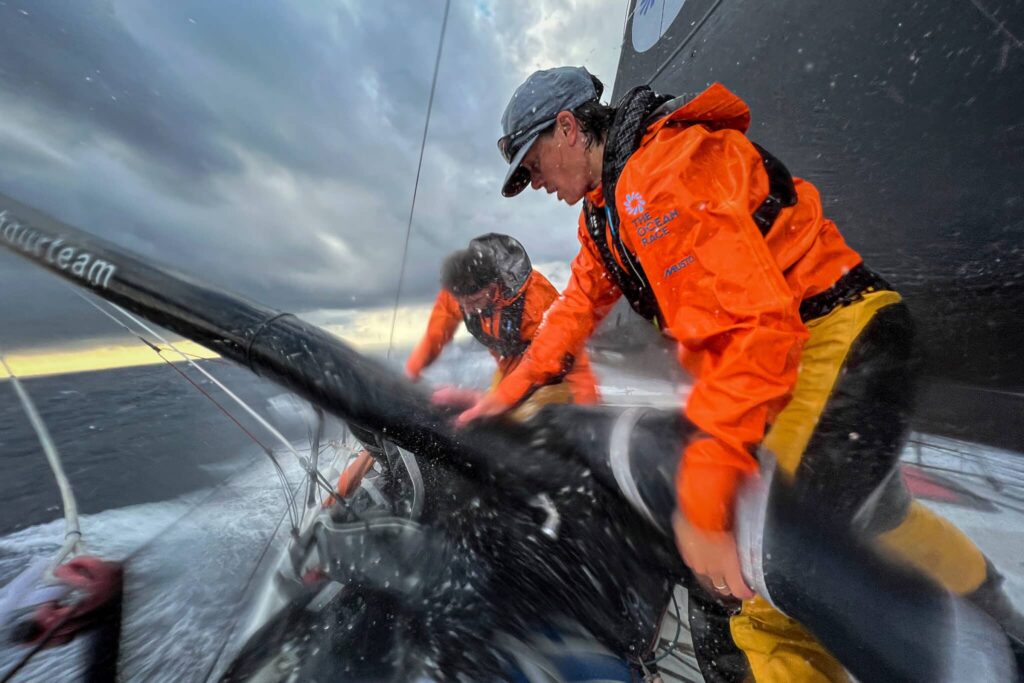 "I don't ever want to be seen as a 'female' sailor, just a sailor will do. None of us want to be seen as a token. Because parity in the Olympics is so visible, when I was younger I thought if I work hard, if I push hard I can get to the Olympics. But offshore sailing lacked opportunities for women.  
"Following the 2014-15 edition of the race with the all-female Team SCA, and seeing people from similar backgrounds, it helped me imagine what my path could be. When they won the leg into Lorient, France, it was a game changer for any woman in sailing." 
No humans, yet evidence of humans everywhere 
While Skipper Charlie Enright saw Frankie as the perfect fit for 11th Hour Racing Team, we asked her why she chose to join a team with strong sustainability values. 
"I am so sad to see what we have let happen to the environment we love so much, I actually find it painful. We are all to blame and we are all responsible, but I think it's really important people understand we all have the power to fix it. 
"I am far from being perfect and I do not pretend to be, but I can say with confidence that the team, Sally, myself, and our young daughter Harriet, we all do our best. 
"The things I have seen offshore are incredible. The coastline is bad for ocean pollution, but offshore is worse. There are no humans to be seen, yet there is evidence of humans everywhere.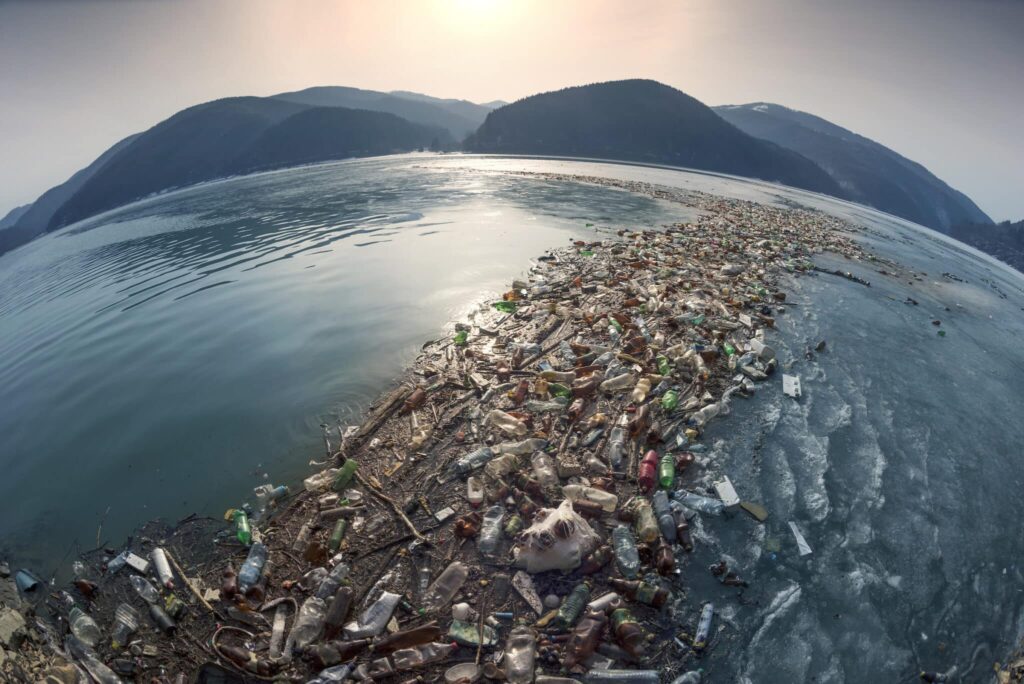 "People don't realize because only a handful of people see this first hand but the trash in the ocean often gets transported and stuck in currents, forming these massive 'trash islands' and it is honestly one of the most shocking things I have ever seen. I firmly believe the key to the solution is education, and I say that as someone who has had to learn myself. Being with 11th Hour Racing Team and having a full-time sustainability team, has taught me so much. And I'm ready to pass that knowledge on to anyone who will listen. 
"Can I visualize a better future for us all, for my daughter? For sure. It will just take the ultimate team effort."
Because after all… if you can imagine it, you can do it.