"THIS LEG ISN'T OVER UNTIL IT'S OVER"
Further exclusion zones, risk of compression and a whole lot of pressure – in both senses of the word. Leg 5 is coming to a close and racing is too tight to call as the top three boats battle it out, hungry for the win.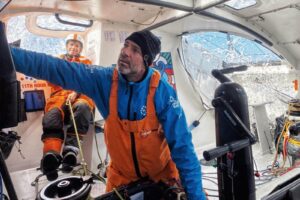 We're now into the final few hours of Leg 5, the double-points, transatlantic leg that has brought record-breaking, people-breaking and boat-breaking conditions to the fleet… It is also a leg that may finally trigger a change at the top of The Ocean Race overall leaderboard. Maybe. 
"This leg isn't over until it's over," said 11th Hour Racing Team Strategist Marcel van Triest 8 days ago on departure day in Newport. "First of all, the winner takes all at the end," he explained. "There is no scoring gate like in Leg 3, this is double points on the finish line and every team will be using everything within their power to get there first." 
Marcel explains the final few obstacles as the teams approach the finish in Aarhus. "On the way down from Northern Denmark, they have to leave a few marks to starboard, so will be sailing down the middle of the Kattegat, possibly dealing with a shift that is snapping at their heels. I'm hopeful they can get close to Aarhus with the last of the westerly breeze, but there is a northerly wind filling in from behind.
"The transition is quite light, so that has a bit of danger – a 20 mile advantage is nothing – less than an hour. If you are caught in this transition zone and going the same speed, the boats behind are in the new wind and will come right next to you – a dangerous situation. If the lead team is ahead of schedule, there is less of a risk, if they're behind schedule there's more of a risk. This leg won't be over until it is over!"
Everyone back at base is busy working the numbers. There are 20 points overall left to win – ten on this leg, and five apiece for the last two. The Swiss team Holcim-PRB currently sit on 19 points, one point ahead of both 11th Hour Racing Team and Team Malizia – tied on points on second, but 11th Hour Racing Team taking the second spot  on the podium as they lead the In-Port Race rankings.
As of 1800 UTC there are exactly 43.4 nautical miles [50 miles/79.6 kilometers] separating first-placed 11th Hour Racing Team from third-placed Team Malizia. In an unfortunate incident last night, Paul Meilhat's Biotherm broke their port shroud, leaving them more than 700 nautical miles [800 miles/1,300 kilometers] behind and off-pace with the rest of the fleet.

"There are still obstacles ahead," said Marcel. "The time to speculate and celebrate is not yet," he says, with his deep voice and ever-level mindset. "That time will come only when the first boat crosses the finish line." 
With an 0500 local [0300 UTC] ETA, all eyes are going to be on the tracker through the night.
"At the beginning of this race we collectively had the feeling that it was "our"  race to lose'," continues Marcel. "We were the most prepared team at the beginning but clearly we've had to iron out a few creases. More recently, in Itajai , I told him 'Charlie, this has now become your race to win'. And I know he feels that, the whole team feels that. Everyone has stepped up to the mark as the levels of intensity have risen and now, with less than a day to go, we find ourselves leading the fleet into Aarhus with a 30 nautical mile lead, even after an unfortunate collision."
If you're wondering how to follow the arrivals, the Eurosport team is producing a RAW (without commentary) arrival show for the winning team on the free-to-access eurosport.com page covering The Ocean Race.
Let the countdown begin…