Pascal Bidégorry

Sailor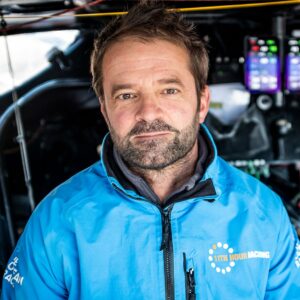 The reality is to have two minutes a day to look at the sky, the sea, to appreciate the days.
THE OCEAN RACE EXPERIENCE:
2001-02 SEB
2014-15 Dongfeng Race Team
2017-18 Dongfeng Race Team (Winner)
WHAT IS YOUR FAVORITE WAY TO CONNECT WITH THE OCEAN?
Go in my favorite place in the world – the Pays Basque because it is a nice place to connect – it is mountains and sea, my two favorite things.
IF YOU WERE A MARINE ANIMAL WHAT WOULD YOU BE?
Dolphin because they are nice and happy all the time and want to play. When you see them, everything is alright in the sea, so it is good to see them.
WHAT DOES SUSTAINABILITY MEAN TO YOU?
Sustainability means to have a different way of life – every day, every minute, every second. And to share all that with the next generation. It is to realize that we have to change now and be focused to have a revolution about our way of life. To start in our personal way of life is a good place.
SHARE A FUN FACT ABOUT YOU AND SAILING:
I started sailing at 17, before I was totally focused and passionate by skiing, going to the Pyrenees every weekend. So I started sailing late. I went with my father – we started together. My family was really sporty and so we used to try plenty of different sports, so I tried plenty of different types of sports. We started using very small boats to do water skiing, a bit of fishing, playing, to have good free time on the water. Because of the job of my father (my father was the big boss of the police in the Pays Basque, managing security for big companies), one day someone asked him to try a small sailing boat. And off we went! A really big discovery. The sea state is really bad there, so you have to be motivated to go sailing. We tried one day and we never stopped. I was really passionate about technical things, compared to skiing, and I also liked that it was a big mix of different people, rich people, poor, old, young – this mix was something that I really liked a lot. It was a good moment at 17, you don't know where you are, what you want to do. But I remember it was something I wanted to share with different people onboard. It is the only sport where you can mix different people like that, soccer, rugby –  same age – but sailing you can have really different people – even French, English, American!
YOUR FIRST EXPERIENCE AS A PROFESSIONAL SAILOR:
A Transat AG2R from France to St Barthélemy in 1994 when I was 26-years old, in a Figaro.
WHAT ARE YOUR SAILING AMBITIONS?
This year to win the TJV because I have won it two times, once in an ORMA 60, one time in an Ultime. I have finished 2nd, 3rd, and 4th in an IMOCA, so a good idea to do a first! After that to do a race around the world, crewed, and one alone – the Vendée Globe or a record in Ultime. The VG – why not! I would like to do in my life a race around the world alone. I have done many things in my life, but not that.
HOW DO YOU LEAD A MORE SUSTAINABLE LIFESTYLE?
I like being focused on the details – how I use water, electricity, my car. Since 2-3 years we have really changed our mind – not enough for sure. I live in a small island in front of La Rochelle, when I am at home, I never use my car, I buy only product from the farmers who grow it – you can really change your way of life. If you do that, you appreciate plenty of things, running all the time, running fast, taking flights all the time, your life is totally out of control, it is a dream, but not a reality. The reality is to have two minutes a day to look at the sky, the sea, to appreciate the days.