Wade Morgan

Boat Build Manager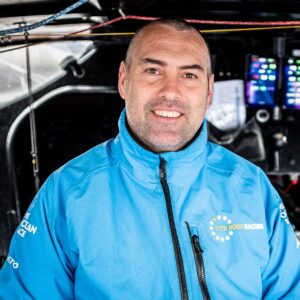 It's important to take measures to have as little impact on the environment as possible and try to recover what you can from the impact you do make.
THE OCEAN RACE EXPERIENCE:
2011-12 Abu Dhabi Ocean Racing
WHAT IS YOUR FAVORITE WAY TO CONNECT WITH THE OCEAN?
Sail on it.
IF YOU WERE A MARINE ANIMAL WHAT WOULD YOU BE?
One of those fish with their own headlamp [anglerfish] – I bet its pretty cool down that deep and I'm always losing mine, so it would be handy to have it permanently attached.
SHARE A FUN FACT ABOUT YOU AND SAILING:
I started sailing and holidaying on small yachts with my family when I was very young. My father was a competitive sailor so he's responsible for my career path. My nickname " Bubs" came from being the youngest sailor to do the Louis Vuitton Cup, at the time when I was 18.
HOW DO YOU LIVE A MORE SUSTainable lifestyle:
Try to limit my waste first of all and avoid supermarkets and their ridiculous packaging.