Skipper's Update: Charlie Enright blog August, 18 2022
Last time I wrote something like this was back in May, prior to our European departure, two months and many miles ago. It's been a busy and exciting summer for our team, and for me personally. 
It all started with a 3,000 mile training trip from Concarneau, France to Newport, RI, the wrong direction for that time of year… and it showed … Two big low pressures dominated the trip. We got out over the top of the first one for some big running conditions early on, but ended up south of the other, beating our way towards Newfoundland and our northern ice limit.
We regularly saw winds over 40 knots with heads-in-the-sleeping-bag temperatures onboard. The last two days provided some reprieve, which gave us time to dry out, lick our wounds and prepare for our arrival. We learned a tremendous amount about Mālama's performance and continued to work on her reliability. These boats are built light, so figuring out where they were built too light is part of our pre-race job. If the boats were built too heavy to begin with, that's performance you'll never get back …
After a wonderful Newport arrival, a performance debrief and a worklist handover, it was off to the tri-state area for some 11th Hour Racing Grantee visits. It was great to see, firsthand, a number of organizations that we've worked with in the past, either virtually, or on our turf and to meet some new ones as well. 
Gather New Haven, Sound Waters, Billion Oyster Project and Rocking the Boat, thanks for hosting us! It was great to spend some time with the team on the road, and there is nothing like a four-hour minivan ride and dinner in NYC to bring out some interesting conversation.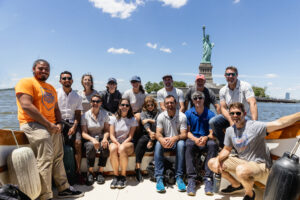 It was a quick turnaround for Justine, Amo and I as we shifted our focus toward #OceanHourWeek, the Newport-Bermuda Race and the arrival of our fantastic new crewmates: big wave surfer Ian Walsh, and big mountain snowboarder and 2x time Olympian Elena Hight. New to offshore sailing, but super-keen, they were great additions to our Newport-Bermuda squad.
After some onboard orientation, an overnight in Rhode Island sound, and an epic NewportFILM viewing of our team documentary Under the Hull at Fort Adams (so many people there I thought the peninsula might capsize) race day was finally upon us.The Castle Hill start line was met by 20 knot southerly winds, which never abated, and we made quick time to Bermuda. The 40-hour trip was good enough for monohull line honors, an open division win, and a delta of 19 hours between us and the next finisher. Most important, were the smiles on the faces of our new crewmates. Although the conditions were quite trying, upwind into a seaway across the Gulf Stream in a spaceship-like cockpit, we grew the sport by two over the course of our training and our thrash to the patch … The Dark N Stormies at the end helped, I'm sure. 
Little down time for the Fourth of July, but not before a team building half marathon. Maggie turns 5. Meris' Bullseye campaign heats up. 
Back to work! 
We reconvened in Oyster Bay at the Oakcliff Sailing Center for some team Safety at Sea Training. Always good to refresh and always good to do it as a team, with the people you'll be in these situations with, if God forbid they ever materialize.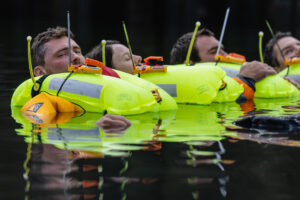 Then it was more minivan fun and after a ferry ride we're back in Newport for an #OceanHourFilm content capturing session – a top secret project organized by 11th Hour Racing. On one of the days we were met by plenty of breeze, let's just say the RIB had a tough time keeping up at 30 knots in a steep swell en route to Nomans Land! No rest for the wicked.
The end of the week saw hospitality and media sailing with the announcement of our new timekeeping partner, Ulyesse Nardin, and visits from some of our favorite journalists: the Red Bulletin, Sailing World, Forbes,  as well as local favorites such as Channel 10 news, Newport Life and East Bay newspapers. The week concluded with a 20 knot reach across the bay in a 15 knot SW'ly, sunny skies, steamy temps and the Folk Fest absolutely going off in the background. 
After a weekend of Newport's best attempt at a floating Woodstock, the 11th Hour Racing supported Newport Folk Festival, it was back to Mālama, this time for a tour around the bay, a Bay Rally if you will; will you?
We started in Newport and rendezvoused with kids from the Sail Newport and Ida Lewis junior programs. From there, it was up the bay in light northerly breeze to a place I know like the back of my hand, Bristol Harbor.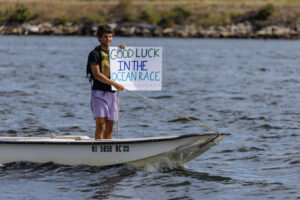 After docking at the Herreshoff Marine Museum and doing some guest coaching at East Bay Sailing Foundation, the very program I started sailing in, it was on to a local Jazz Night under the tent as the beer can boats sailed by in the background. It was a very emotional day for me; surreal really, my job on that afternoon was to throw it back to my youth, to be myself, and to help inspire the next generation of ocean racers and ocean stewards. 
The next morning we sailed past our newly-inspired Bristol youth toward a rendezvous with Barrington's Sail Training Program, in decent wind I might add, it's not everyday you see a 60 footer doing 20 knots at Ohio Ledge. From there it was up the Providence river for a date with the Governor of Rhode Island and the kids from Providence Community Boating. What an enthusiastic group of Eco Adventures! We did a Q and A, played Eco Trivia and even had a paddle board race. The Governor came to community boating that evening to recognize the team for our work in the RI community, and for a cheeky boat tour… Nothing like having the Governor's armed guard sign a waiver to get on your round-the-world race boat in the PVD river, what?
After an overnight rescue mission that saw members of our shore team help pull distressed kayakers out of the water after their failed late-night concert commute home, it was out of the big city and back to Newport, via the west passage and a meet-up with the East Greenwich and Saunderstown yacht clubs and some windy sailing with the folks from 11th Hour Racing. It was great to get our partners onboard the boat and give them a taste of what it is like to foil around on the bucking bronco that is the IMOCA, even if it was just off of Beavertail and not at point Nemo! Friday evening festivities capped off a great tour for our team and our partner, two groups now feeling like one, ready to take on the Ocean Race and to circumnavigate this blue marble together. 
I'm very proud of where I'm from, I brag about RI and Narragansett Bay all the time; but there's nothing like showing and sharing … talk is cheap. It's been absolutely amazing having the team here in our home waters, I think it gives an appreciation for the roots of the program and the mission at hand: protecting an asset, in the ocean or a bay, that brings us life and love. For us, this starts in a local way but our team vehicle has an undoubtedly global reach. I hope that after this tour every member of our team has a bit more context, a soft spot for RI summer, and a bit of pre-departure-reluctance-to-leave. 
But leave we must, and leave we did, with the focus firmly back on performance and The Ocean Race as its only 6 months down the track. We set out for Concarneau with what looked to be an average forecast and the makings of a nine day passage. A couple days in, we noticed a cooperative sea state and an ETA that kept creeping forward, very much unlike our trip in the other direction two months earlier.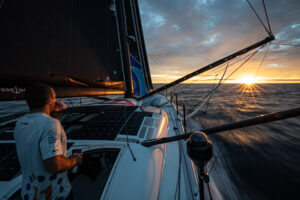 About half way across we found ourselves in the midst of a good run, a run so good we would have ended up breaking the 60 foot monohull record for miles traveled in 24 hours if we had pre-declared a record attempt to the WSSRC. It's a feat we weren't focused on but an accolade we'll gladly accept, even if it only stands until this Ocean Race finally gets off the ground. I have a feeling we're just scratching the surface with these boats. A fitting and humbling close to a 2 month mission.
But for now, some much needed time in the shed. Mālama has been in the water since early May so she's ready to come out of the water for a tickle up. There are just four weeks until the Défi Azimut, the first time to sail against other crewed IMOCAs since The Ocean Race Europe last June, and there's plenty to do between now and then.
The rest of the year will entail three training blocks, including the Azimut and two Pôle Finisterre sessions, plus two shed periods and a training trip down to the Mediterranean before the holidays, a month before The Ocean Race starts on January 15. 
The immediate future holds a trip back to see the family. Thomas turns seven next week and just completed his first regatta: I need to get home and hear all the details. Meris has her big Bullseye Intergalactic Championship and then it's back to school in RI for the whole gang. Summer's coming to a close, but we jammed a lot in! 
'Til next time.