As The Ocean Race fleet takes on the challenge of Sargassum seaweed during Leg 4 from Itajaí, Brazil to Newport R.I., we delve into what makes this seaweed so special, how it can now be seen from space and most importantly, how climate change is causing a negative over-bloom.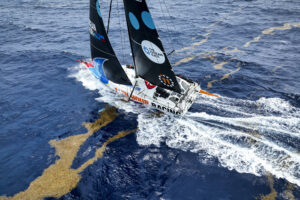 One of the beautiful things about The Ocean Race is that by sailing the most interesting, remote, and exciting parts of the planet, the teams get to see and talk about things the rest of us wouldn't necessarily know existed.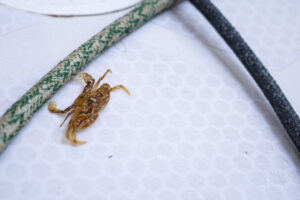 Take 'Point Nemo' for example. Not only did The Ocean Race fleet sail past the most remote location on earth (deep in the Southern Ocean), where the nearest humans are in the International Space Station, 11th Hour Racing Team actually connected with the NASA astronauts to talk about shared common interests.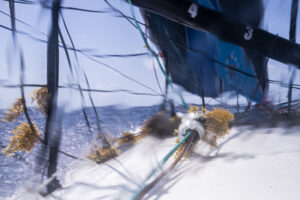 Another great example is The Great Atlantic Sargassum Belt, a 5,000-mile-long flotilla of seaweed stretching from Africa to the Gulf of Mexico – exactly what The Ocean Race fleet find themselves sailing through today. Sargassum seaweed, also known as Gulfweed, is a unique species of brown seaweed that inhabits the Sargasso Sea in the North Atlantic Ocean. 
Now, while the Doldrums have been fairly kind to 11th Hour Racing Team's progress, the dreaded Sargassum weed has been as prevalent as feared for the fleet. Big clumps have been blocking their way north, and the weed can significantly sap speed when it gets caught around the foils, rudders or the keel, something AP recently reported on.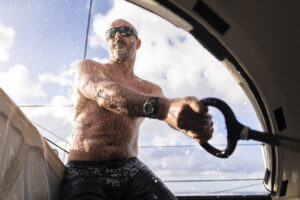 Yesterday, it caused such an issue onboard Mālama, that Irish sailor Damian Foxall (apparently quite eagerly) jumped overboard to remove a clump from the keel after the team performed a 'back down' where they reluctantly slowed down to remove the unwanted hanger-ons. Luckily, they were able to remove the seaweed, but sadly they lost the lead to firm rivals Team Malizia.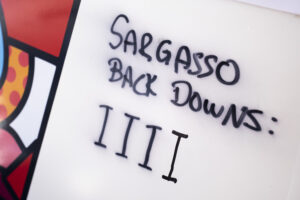 Unlike most other seaweeds, Sargassum does not attach to the ocean floor and instead floats freely on the surface of the water. This remarkable plant has been the subject of scientific study for centuries and has been found to possess a range of interesting and valuable properties.

Here are five facts about Sargassum seaweed you maybe didn't know:
Sargassum provides an important habitat for a diverse range of marine life, including fish, crabs, and turtles.

See Sebastian the crab. 

Sargassum is an excellent source of nutrients, containing high levels of vitamins, minerals, and antioxidants.

Sargassum has been used for centuries in traditional medicine for its anti-inflammatory and anti-microbial properties.

Large amounts of Sargassum have been washing up on beaches around the world in recent years, causing issues for coastal communities, such as unwanted smells and reduced water quality. 

Sargassum is being studied as a potential renewable resource for a range of applications, including biofuels, food, and fertilizer.
As you will see from the above, Sargassum is a critical ecosystem, but it is 'over blooming' due to human activity.

Stephen P. Leatherman, Professor of Coastal Science, from Florida International University published an article in The Conversation detailing the recent change in the amount of Sargassum found.

A knock on effect of climate change and rising sea temperatures is resulting in the seaweed over-blooming as it thrives in warmer water temperatures. Professor Leatherman explains that along with its devastating effects on recreational beaches in the Caribbean and South Florida, Sargassum has important but less visible ecological impacts near the US coast. Large floating mats of Sargassum block sunlight, which is essential for the survival of underwater grasses, such as seagrass. These grasses stabilize the seafloor and provide food and shelter for many species of fish and invertebrates. 
So while our sailors onboard Mālama pick their way north through the Sargassum to their home town of Newport, Rhode Island, have a think about what you can be doing to have a positive impact on the ocean and reduce the temperature of our oceans. Unsure? We have some top tips from all our sailors here.
Remember, it doesn't matter how far you live from the ocean – everyone can have an impact on its health.